True functional ability of chronic stroke patients
Journal of NeuroEngineering and Rehabilitation
2013
10:20
Received: 12 March 2012
Accepted: 5 February 2013
Published: 13 February 2013
Abstract
Background
There is a paucity of information regarding visuospatial (VS) and visuomotor (VM) task performance in patients with chronic right fronto-parietal lobe stroke, as the majority of knowledge to date in this realm has been gleaned from acute stroke patients. The goal of this paper is to determine how VS and VM performance in chronic stroke patients compare to the performance of healthy participants.
Methods
Nine patients with stroke involving the right fronto-parietal region were evaluated against match controls on neuropsychological tests and a computerized visuomotor assessment task.
Results
Initial evaluation indicated that performance between participant groups were relatively similar on all measures. However, an in-depth analysis of variability revealed observable differences between participant groups. In addition, large effect sizes were also observed supporting the theory that using only conventional examination (e.g., p-values) measures may result in miss-identifying crucial stroke-related differences.
Conclusion
Through conventional evaluation methods it would appear that the chronic stroke participants had made significant functional gains relatively to a control group many years post-stroke. It was shown that the type of evaluation used is essential to identifying group differences. Thus, supplementary methods of evaluation are required to unmask the true functional ability of individuals many years post-stroke.
Keywords
Stroke
Visuospatial
Visuomotor
Variability
Functional
Introduction
Visuospatial performance deficits and impaired visually-guided motor control are often reported in individuals with right hemispheric stroke [1, 2]. Specifically, right hemispheric damage involving the fronto-parietal region is thought to affect several sub-processes of visually-guided movements such as goal-directed reaching [3, 4], grasping [5, 6] and pointing [7]. Right hemispheric lesions have also been associated with reductions in reaction time, in the planning of visually-guided movements, and in degraded hand kinematics, specifically when using the contralesional limb [8, 9].
Among the few studies conducted on chronic stroke patients, who may be more likely to exhibit stable performance characteristics, investigators have probed either visuospatial or visuomotor performance [10–12], but not both. Obtaining information on both types of task performance in chronic right fronto-parietal lobe stroke patients may provide insight into the effects of damage to potentially overlapping functional networks required for these tasks.
The research provided within this document suggests that characterizing life-long VS/VM deficits can be challenging and requires sensitive tools in order to provide an accurate representation of one's cognitive and cognitive-motor integration abilities after considerable time post stroke.
Thus, in this investigation, VS and VM performance in a group of chronic stroke patients with substantial right fronto-parietal lobe damage was compared to an age-matched control population to ascertain how performance in patients who were many years post-ictus compared to that of healthy participants. Therefore, it was hypothesized that compared healthy individuals stroke patients would display significant difficulty on standard VS & VM tests and diminished visually-guided motor performance, particularly with the presence of damage to right fronto-parietal lobe. The primary question to be examined is: Do current standard testing measures provide a true characterization of chronic stroke patient's ability as it relates it visually guided motor control?
Results
Neuroimaging
All patients experienced ischemic stroke involving the right hemisphere, and the mean time for MRI was 42.4 months (± 45.1 months, range 2–122 months) post-stroke. Figure
2
displays four representative MRI slices for each patient showing the lesioned brain regions, and Table
2
shows the percentages of tissue that was lesioned in various anatomical regions. The mean patient lesion volume was 124.31 cm
3
(± 106.21, range 41.0-324.9 cm
3
). The overlay of patients' ROIs indicated that lesions exhibited maximal overlap in regions of the supramarginal gyrus, inferior parietal lobule, postcentral gyrus and rolandic operculum (Figure
3
).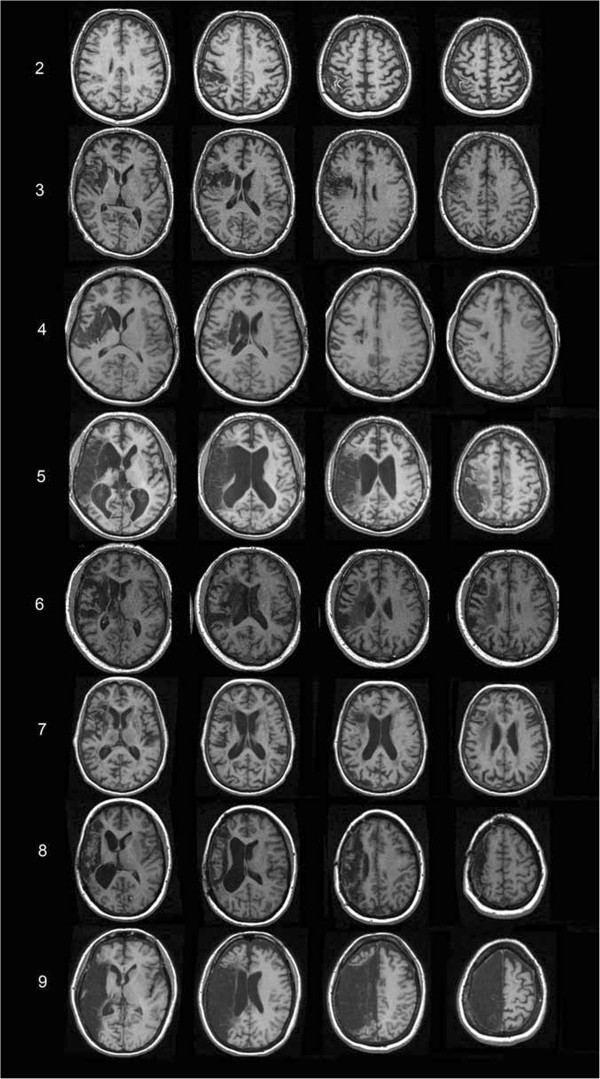 Table 2
Percentages of lesioned tissue in frequently damaged anatomical regions
| Anatomical Region: | Patient 1 | Patient 2 | Patient 3 | Patient 4 | Patient 5 | Patient 6 | Patient 7 | Patient 8 | Patient 9 |
| --- | --- | --- | --- | --- | --- | --- | --- | --- | --- |
| Postcentral | 42.1% | 16.5% | 29.8% | 3.9% | 49.6% | 9.0% | 0.7% | 56.8% | 78.3% |
| Superior Parietal | 0.0% | 6.3% | 0.0% | 0.0% | 12.5% | 0.0% | 0.0% | 5.3% | 59.1% |
| Inferior Parietal | 24.5% | 43.3% | 0.7% | 2.0% | 83.5% | 17.8% | 0.0% | 78.4% | 75.3% |
| Supramarginal Gyrus | 0.0% | 14.8% | 2.4% | 27.1% | 84.0% | 63.5% | 0.0% | 79.1% | 69.8% |
| Angular Gyrus | 0.0% | 0.0% | 0.0% | 0.0% | 76.0% | 6.5% | 0.0% | 66.8% | 72.9% |
| Precuneus | 0.0% | 0.2% | 0.0% | 0.0% | 0.4% | 0.0% | 0.0% | 0.0% | 46.1% |
| Paracentral Lobule | 0.0% | 0.0% | 0.0% | 0.0% | 0.0% | 0.0% | 0.0% | 0.0% | 83.8% |
| Caudate | 0.0% | 0.0% | 25.1% | 34.0% | 0.0% | 24.1% | 0.7% | 0.0% | 2.4% |
| Putamen | 0.3% | 0.0% | 69.9% | 90.3% | 52.2% | 65.6% | 46.6% | 1.5% | 33.4% |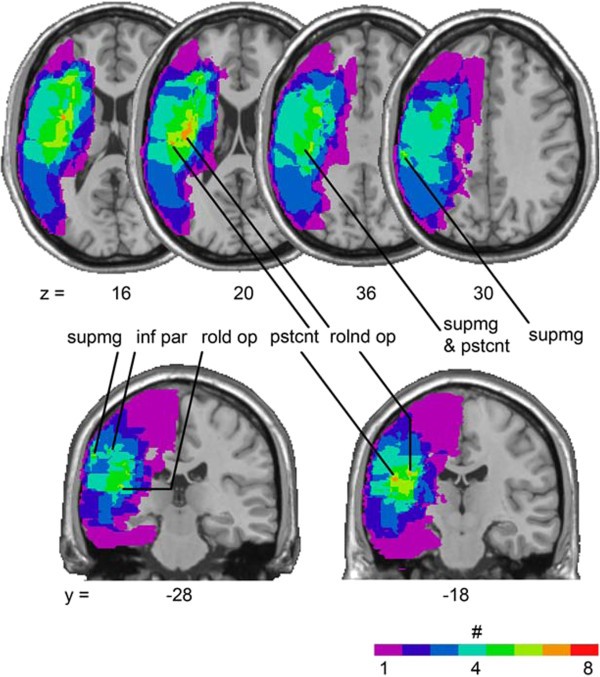 Neuropsychology evaluation
One way analysis of variance (ANOVA) between groups for visuospatial measures showed no significant differences for the Rey-Osterreith figure copy (F1,16 = 2.56, p >0.05), Rey immediate recall (F1,15 = 1.15, p >0.05), Rey delayed recall (F1,15 = 1.34, p >0.05) and MMSE (F1,16 = 0.0, p >0.05). Likewise, there were no significant main effects for group on the Trails A (F1,14 = 0.33, p >0.05), Trails B (F1,13 = 1.72, p >0.05), or Clock Drawing (F1,14 = 1.75, p >0.05). Scores on the BLO were significantly different between stroke patients and the control group (F1,12 = 12.24, p <0.005). There were no within group effects observed (p >0.05). Two of nine patients exhibited tactile extinction, each scoring 1 point on this section of the NIHSS. No patients were found to have visual extinction. On 9 separate occasions, patients fell below normal limits (NL) values and on 10 separate occasions, patients either declined to perform certain neuropsychology tasks or did not pass the initial screening procedures.
Computerized visuomotor procedure
Across all four CbVM conditions, the mean reaction time for the stroke patients was .56 ± .50, .80 ± .40, .80 ± .21 and 1.1 ± .52 seconds, respectively. The mean reaction time for the control participants on all four visuomotor measures were as follows: .63 ± 5.0, .78 ± .61, .85 ± .46 and .93 ± .53. Multivariate analysis (MANCOVA) revealed no significant main effect between groups based on average reaction time values for each participant (F1,18 = p >0.05).
Individual analysis
Despite what appears as a relative comparable performance in this stroke population sample, further investigation (Table 1) showed that 4 patients with at least 1 abnormal neuropsychological test (Trails or Rey-copy, patients 2, 6, 7, 8), and 3 patients had an abnormal CbVM scores (patients 4, 5, 7).
A lesion overlay of patients with an abnormal neuropsychological test showed that the anterior-inferior frontal, mid frontal, centrum semiovale and supramarginal regions was commonly involved in this group (Figure
4
). Commonly lesioned regions for patients with an abnormal VM score included the anterior-inferior frontal, basal ganglia, centrum semiovale, corona radiata and supramarginal regions (Figure
5
). A lesion overlay of all patients with either an abnormal CbVM or neuropsychological score showed maximal overlap in the inferior frontal, basal ganglia, centrum semiovale, and supramarginal regions, which suggests that the CbVM and neuropsychological tasks may rely on common structural regions for successful task completion. CbVM or neuropsychological deficits were noted in patients with lesions involving one or all of these regions, See Table
2
(all regions were not necessarily lesioned in patients that exhibited performance deficits).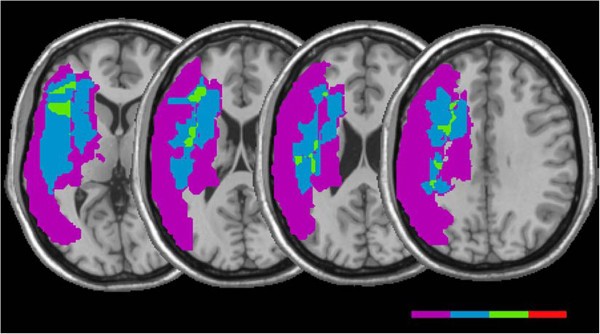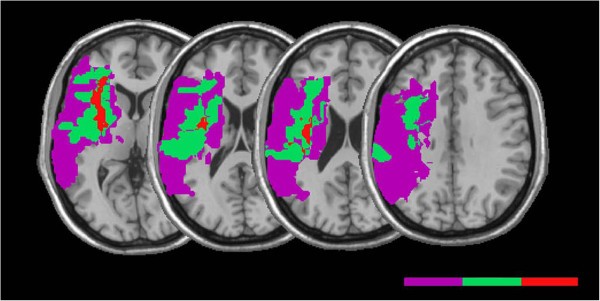 Effect size
In an effort to understand the magnitude of relationships for each measure, effect size values were calculated. The results demonstrate that half of the testing measures used in this experiment did in fact reach a large effect size value (range .76-1.87), which can be observed on both neuropsychological VS/VM tasks and on the CbVM measure. The effect size results presented in Table
3
show that individuals post sub-acute phase of a stroke episode still display significant impairments on a number of the neuropsychological tasks. In addition, to this reduced ability significant differences were also observed on the CbVM as noted by the t-test results in Table
4
.
Table 3
Representative effect size values using Cohen's d
| Test measures | Cohen's d |
| --- | --- |
| IT 1 | .25 |
| IT 2 | .04 |
| IT3 | .41 |
| IT4 | -.11 |
| MT1 | -.48 |
| MT2 | .46 |
| MT3 | -.76 |
| MT4 | -.86 |
| Rey Copy | 1.2 |
| Rey Imm. Recall | .78 |
| Rey delay | -.96 |
| MMSE | -.91 |
| Trails A | .40 |
| Trails B | .63 |
| Clock Draw | .96 |
| Benton Line O | 1.9 |
Table 4
Independent samples t -test, significance levels and 95% confidence intervals
95% C.I. for Odds ratio

Condition

T

Df

p

Lower

Upper

IT1

2.53

17

.022*

21.56

239.14

IT2

4.33

17

.000*

248.60

722.24

IT3

2.44

17

.026*

17.03

235.67

IT4

2.65

17

.017*

65.75

581.48

MT1

2.69

17

.016*

11.98

99.27

MT2

2.43

17

.026*

13.65

193.85

MT3

2.67

17

.016*

33.22

284.05

MT4

3.75

17

.002*

76.37

272.91
Inter-individual variability
In the analysis of group variances, the stroke participants show greater performance fluctuation for all IT and MT conditions (See Table
4
). Figure
6
shows the striking difference in variability between the groups for each condition. Figure
7
shows the spread of variance around the mean RT within a group. Notably, the stroke participants always had a larger spread than the controls. The stroke group was also significantly different from the controls in variability for the Rey, Trails A and Trails B. However, there was no significant difference in variability between the groups for the BLO. Table
5
shows the results of inter-individual variability for the BLO, Rey, Trails A and Trails B.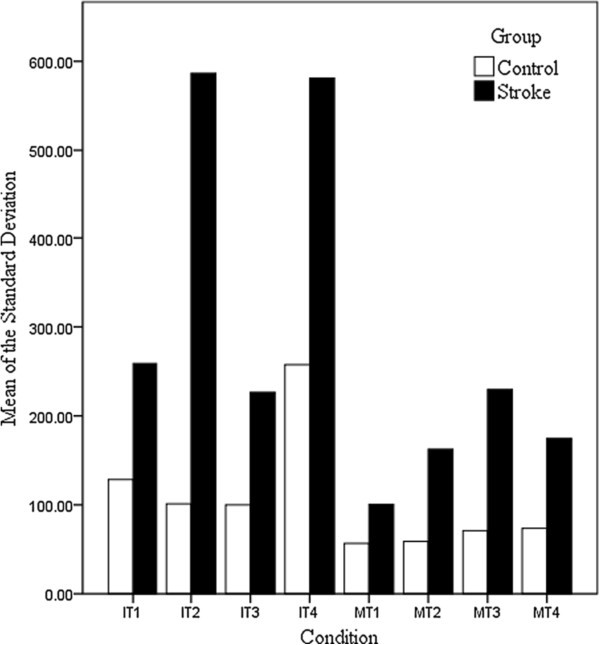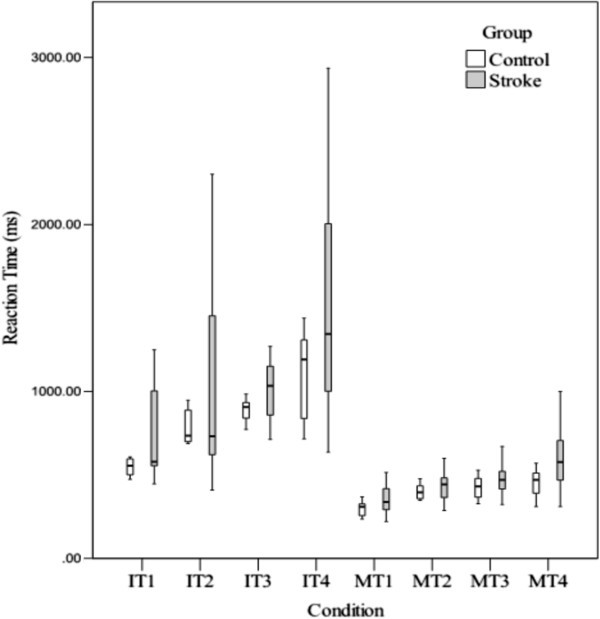 Table 5
Inter-individual variability for the BLO, REY, Trails A and Trails B
95% C.I. for Odds ratio

Test

T

df

p

Lower

Upper

REY

2.18

14

.047

0.11

12.40

BLO

0.43

13

.671

2.35

3.54

Trails A

2.43

15

.028

−153.04

−9.92

Trails B

2.9

15

.010

−78.26

−12.35
In addition as shown in the CbVM results, the average IT and MT coefficient of variation for the patient and control groups indicated significant differences in variability, with the patient group having greater coefficient of variation for IT (0.45 vs. 0.22) and MT (0.38 vs. 0.24) than controls. Table
6
has a breakdown for each condition, which also demonstrated that all patients' responses (as displayed via means and standard deviations) were above that of the control group.
Table 6
Reaction time characteristics and coefficient of variability for the two groups
Group

Condition

Stroke

Control

Mean

Std. Dev.

Coefficient

Mean

Std. Dev.

Coefficient

IT1

745.55

290.94

0.40

628.66

176.09

0.28

IT2

1101.93

715.90

0.65

791.51

111.75

0.14

IT3

1009.56

243.64

0.25

1008.00

195.82

0.19

IT4

1497.08

711.53

0.48

1098.72

291.98

0.27

MT1

369.81

88.71

0.24

328.80

78.18

0.23

MT2

501.12

206.15

0.41

405.30

135.55

0.33

MT3

598.92

303.75

0.51

430.11

88.84

0.21

MT4

599.02

218.51

0.36

453.49

86.42

0.19
Intra-individual variance
We undertook a comparison of IT and MT intra-individual variability for each stroke patient according to lesion location (parietal vs. frontal vs. both frontal-parietal, Table
7
). We observed that individuals with greater frontal regional damage demonstrated consistently higher variability on IT than MT, and vice-versa for individuals with greater parietal regional damage. Moreover, there was an overall strong correlation between injury severity and the measure of variability (r = .69, p < .05). Individuals with damage to both parietal and frontal areas also tended to exhibit higher variability on IT measures. Figure
8
displays the intra-individual variability for IT and MT for each participant. Importantly, one can readily observe a pronounced variability in one of the conditions (IT or MT) depending on the site of lesion (frontal or parietal, respectively).
Table 7
Intraindividual variability for each stroke patient according to lesion location
IT

MT

Lesion

Subject

Mean

SD

Mean

SD

Frontal

3

1268.90

236.37

396.58

88.94

4

738.93

190.00

380.28

76.04

7

827.89

344.23

888.73

222.55

Parietal

1

765.46

318.09

1707.61

530.91

2

422.07

65.27

1434.47

523.24

Frontal-Parietal

5

1162.71

1200.10

425.89

50.40

6

1123.88

615.72

520.16

193.74

8

727.16

226.14

466.27

187.01

9

740.90

276.31

450.36

114.80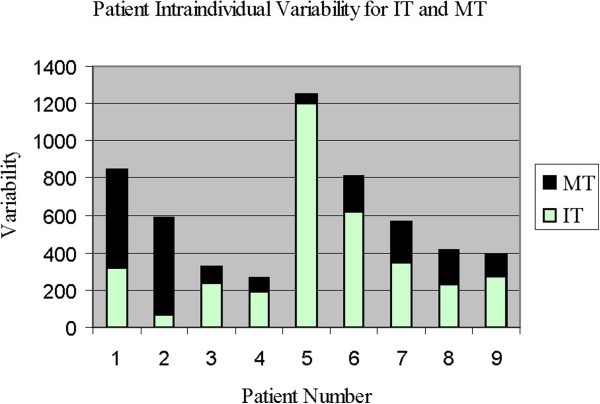 Discussion
Previous investigations have reported that VS/VM deficits occurring in stroke patients with right parietal lobe injury often persist into the chronic stage of stroke [47, 48] and that patient's with right parietal lesions often exhibit deficits on VS/VM tasks similar to those used in the present study. For example, Schaefer and colleagues (2007) found that 5 right hemisphere-damaged chronic stroke patients (average of 7.8 years post-stroke), the majority of whom exhibited some parietal lobe injury, demonstrated impaired final positioning and prolonged movement duration during targeted right arm movements [2]. Likewise, Hermsdorfer et al. (1999) reported that 9 chronic stroke patients (average of 8 months post-stroke) whose lesions encompassed the parietal lobe showed prolonged reaction time and degraded kinematics during prehensile movements with the ipsilesional upper extremity [8]. Also, studies have demonstrated notable right parietal cortex activation in control subjects performing visuospatial tasks using near-infrared spectroscopy and fMRI [15], as well as reported performance deficits in stroke patients with right parietal lobe lesions [49].
In this study we wanted to understand if standard testing measures could provide a true characterization of chronic stroke patient's ability as it relates "normal" visually guided motor control.
We hypothesized that our sample of chronic stroke patients with lesions involving the right fronto-parietal lobe would display marked VS/VM deficits on both conventional and novel testing procedures (e.g., CbVM) as compared to a healthy control group. Using traditional measures only, (e.g., p values) one might argue that the results were contrary to our expectations. However, though statistically a non-significant result is observed on some tasks, there were several occasions where patients fell either below normal limits, declined to perform neuropsychological tasks, or failed to pass screening, all signs lending support that patients do exhibit signs of VS/VM difficulty. As well, as shown through Cohen's d results it's noted that half the procedures utilized, had large effect sizes. Hence these results to a certain extent (e.g., depending on method of analysis), were able to readily distinguish between our population samples, which is remarkable for an additional reason, in that, these were community-dwelling patients participating in research and thus likely experiencing better health than counterparts at a similar stage.
Given that there are limited studies on VS/VM ability in the chronic phase of stroke, the use of effect size enables a smooth comparison to studies examining stroke patients in the acute phase or those having deficits in different cognitive domains. Here, the link between type of lesions, reaction time, and inter-individual variability was explored. Our results suggest that there may be a connection between parietal lesions and MT variability, and frontal lesions and IT variability. As shown an overall strong correlation between injury severity and the measure of variability could be observed. Interestingly, individuals with both frontal and parietal lesions appear to be more susceptible to variability in IT. Thus, it could be postulated that damage to the frontal areas results in chaotic or limited input to the parietal regions which in turn not only causes increases IT variability but also effects MT performance.
For many years the literature has documented that brain damage causes increased variability in performance [34, 36, 37, 43, 44]. The findings of this study lend support to the idea that a unique profile of abnormal variability is created by damage to either the parietal or frontal lobes. In addition, these findings support the idea that structures involved in normal VS and VM performance may operate as a network, whereby injury involving disruption of even one node of the interconnected structures may deleteriously affect task performance.
The increase in variability among the stroke group on the REY, Trails A and Trails B clarifies why these neuropsychological test were unable to expose significant mean performance differences. Evidently, the presence of variability creates "noise" that may eliminate any significant finding. The statistical noise may in fact be related to biological noise imparted into the VS/VM control system by damage to the brain, and as such makes the noise level itself the variable of interest. Analysis of neuropsychological tests requires consideration of performance variability on the tests and the lack of performance consistency demonstrated by the stroke group calls into question the accuracy of diagnosis without an examination of variability. Performance fluctuation may result in a person being classified as abnormal one day and normal the next [50]. For this reason, it is important for clinicians to have an assessment tool that could assist in monitoring performance variability. The CbVM tool used in the present study was successful in accomplishing this. Furthermore, the use of this tool may also be able to shed light on whether performance variability in brain injured populations improves with time or how this may dissociate from general slowness. Fluctuations in performance of a task may underlie some of the difficulties (such as fatigue) that are commonly reported by patients with stroke.
Limitations
It could be argued that with a larger group size we could uncover more deficits that may be subtle and thus more difficult to identify in a smaller sample. Though this a common assumption made by many researchers, we would argue that statistically a nonsignificant result which is observed on several of the procedures examined within, does not signify that the "population effect is in fact zero; it means only that a population effect of zero cannot be ruled out" (O'Keefe 2007 p.296) 46. The number of available participants was limited in this investigation (due to the pool of participants we were able to draw from) and as such, we have provided the effect size values to augment standard p value reporting [33] in addition to an in-depth analysis of participant variability. We believe this provides sufficient support to distinguish sample populations, as well as, demonstrating the importance of these methods of analysis, especially if faced with sporadic patient presentation, particularly with singular patient evaluations.
Conclusion
We make two principle observations. First, subtle performance impairments post-stroke can be quantified using a visuomotor integration assessment. Second, analyzing performance data through a quantification of reaction time variability and effect size, rather than the more standard main-effects analyses on mean reaction time values, can identify subtle yet important group differences. Together, these techniques allow one to understand the present ability of patients many years after their stroke episode to determine if performance is functionally similar to a healthy individual.
The study of variability (or its inverse, consistency) is imperative when examining the abilities of chronic patients with frontal or parietal cortex damage, since success in real-life tasks not only depends on average performance, but on predictability and consistency of performance. The results of this study demonstrate the importance of developing new methods in examining brain injured populations in regards to patient's lesion location (i.e. frontal or parietal, etc.), and assessing the specific form of variability through appropriate assessments. Future work clarifying the relationship between specific lesion sites and specific basic processes of variability could lead to more specific rehabilitation procedures and will provide a performance guideline for rehabilitation assessment.
Abbreviations
VS:

Visuospatial
VM:

Visuomotor
ROI:

Region of interest
BLO:

Benton Judgement of Line Orientation
NIHSS:

National Institutes of Health Stroke Scale
MMSE:

Mini-Mental Status Exam
MT:

Movement times
IT:

Initiation times
RT:

Reaction time
CbVM:

Computer-based visuomotor task.
Declarations
Acknowledgements
We wish to thank the Heart and Stroke Foundation Centre for Stroke Recovery and the L.C. Campbell Cognitive Neurology Unit. The authors also wish to give a special thanks to Cynthia Danells and Jennifer Bray for their support of this work.
Authors' Affiliations
(1)
L.C. Campbell Cognitive Neurology Research Unit, Toronto, Canada
(2)
Sunnybrook Health Sciences Centre Research Institute, Toronto, Canada
(3)
Heart and Stroke Foundation Centre for Stroke Recovery, Toronto, Canada
(4)
School of Kinesiology and Health Science, York University, Toronto, Canada
(5)
Centre for Vision Research, York University, Toronto, Canada
(6)
Department of Medicine at Sunnybrook Health Sciences Centre &, University of Toronto, Toronto, Canada
(7)
Department of Psychology, University of Northern British Columbia, Prince George, Canada
Copyright
© Tippett et al; licensee BioMed Central Ltd. 2013
This article is published under license to BioMed Central Ltd. This is an Open Access article distributed under the terms of the Creative Commons Attribution License (http://creativecommons.org/licenses/by/2.0), which permits unrestricted use, distribution, and reproduction in any medium, provided the original work is properly cited.