Muscle motor point identification is essential for optimizing neuromuscular electrical stimulation use
Journal of NeuroEngineering and Rehabilitation
2014
11:17
Received: 6 May 2013
Accepted: 20 February 2014
Published: 25 February 2014
Abstract
Transcutaneous neuromuscular electrical stimulation applied in clinical settings is currently characterized by a wide heterogeneity of stimulation protocols and modalities. Practitioners usually refer to anatomic charts (often provided with the user manuals of commercially available stimulators) for electrode positioning, which may lead to inconsistent outcomes, poor tolerance by the patients, and adverse reactions. Recent evidence has highlighted the crucial importance of stimulating over the muscle motor points to improve the effectiveness of neuromuscular electrical stimulation. Nevertheless, the correct electrophysiological definition of muscle motor point and its practical significance are not always fully comprehended by therapists and researchers in the field. The commentary describes a straightforward and quick electrophysiological procedure for muscle motor point identification. It consists in muscle surface mapping by using a stimulation pen-electrode and it is aimed at identifying the skin area above the muscle where the motor threshold is the lowest for a given electrical input, that is the skin area most responsive to electrical stimulation. After the motor point mapping procedure, a proper placement of the stimulation electrode(s) allows neuromuscular electrical stimulation to maximize the evoked tension, while minimizing the dose of the injected current and the level of discomfort. If routinely applied, we expect this procedure to improve both stimulation effectiveness and patient adherence to the treatment.
The aims of this clinical commentary are to present an optimized procedure for the application of neuromuscular electrical stimulation and to highlight the clinical implications related to its use.
Keywords
Muscle motor point
Motor entry point
Discomfort
Motor unit recruitment
Evoked muscle tension
Introduction
Transcutaneous neuromuscular electrical stimulation (NMES) involves the application of electrical stimuli to superficial skeletal muscles, with the main objective to trigger visible and valid muscle contractions due to the activation of motor neuron axons or intramuscular axonal branches [
1
]. It is largely adopted in rehabilitation practice to restore or preserve muscle mass and function in case of prolonged periods of disuse/immobilization [
2
], and it is also receiving increasing attention as a preoperative strengthening intervention (i.e. "prehabilitation") [
3
]. Nevertheless, the technique presents some inherent limitations that foster a lack of general consensus on NMES effectiveness and utility in clinical practice. The three main limitations of NMES are: 1) considerable discomfort; 2) limited spatial recruitment that results in low evoked tension and early occurrence of fatigue; 3) poor control of dosage. These limitations are partly due to non-optimal application of NMES by the end-users, who frequently place electrodes in poorly effective locations as recently outlined by Doucet et al. [
4
]. Specifically, the practitioner should consider that benefits are strictly modality- and dose-dependent and, as a consequence, rigorous methods are crucial for optimal NMES delivery. In this view, muscle motor point (MP) identification prior to placement of stimulation electrodes represents a simple, inexpensive and straightforward strategy to improve NMES use in the context of clinical rehabilitation. In fact, the position of the stimulation electrodes critically influences the pathway of the spreading current and therefore its relative density through the different anatomical structures within the current field, namely sensory and motor branches of the peripheral nerve. As depicted in Figure
1
, stimulation via motor points is likely to involve chiefly motor branch excitation, while non-optimal electrode positioning would require higher current levels to reach and excite the motor branch with concomitant greater excitation of pain afferent fibers. For this reason, the proper placement of stimulation electrodes over the identified MP(s) allows to overcome, at least in part, two of the previously described NMES limitations, namely discomfort and limited spatial recruitment.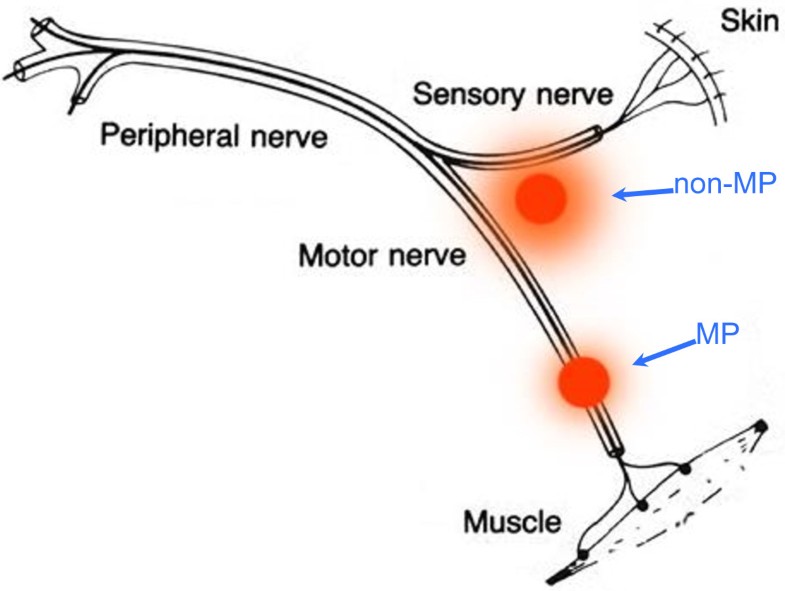 With reference to updated evidence-based knowledge and through a reappraisal of key physiological concepts, aims of this commentary are to present a patient-tailored approach for optimizing NMES delivery in superficial skeletal muscles, namely through individual MP identification, and to highlight the clinical implications related to its use.
Conclusions
Quick and accurate MP identification prior to NMES has the potential to minimize the amount of current injected to the muscle and thus to minimize the sensation of discomfort, while maximizing spatial recruitment and evoked muscle tension.
In light of the recent evidences, we expect the use of the standard patient-tailored approach described in this commentary to improve clinical practice by optimizing NMES application. Therefore, we recommend the systematic implementation of the MP mapping procedure into clinical applications of NMES to further attain beneficial outcomes.
Abbreviations
NMES:

Neuromuscular electrical stimulation
MP:

Motor point.
Declarations
Acknowledgements
The authors' work related to this commentary was supported by the bank foundations "Compagnia di San Paolo" of Turin, Italy (Project "Neuromuscular Investigation and Conditioning in Endocrine Myopathies") and "Fondazione CARIPLO" of Milan, Italy (Project "Steroid myopathy: Molecular, Histopathological, and Electrophysiological Characterization") and by a grant (ex 60%) from the University of Turin (MAM).
Authors' Affiliations
(1)
Department of Clinical and Experimental Sciences, University of Brescia; Laboratory of Neuromuscular Rehabilitation Clinic "Domus Salutis", Brescia, Italy
(2)
Neuromuscular Research Laboratory, Schulthess Clinic, Zurich, Switzerland
(3)
Division of Endocrinology Diabetology and Metabolism, Department of Medical Sciences University of Turin, Turin, Italy
Copyright
© Gobbo et al.; licensee BioMed Central Ltd. 2014
This article is published under license to BioMed Central Ltd. This is an Open Access article distributed under the terms of the Creative Commons Attribution License (http://creativecommons.org/licenses/by/2.0), which permits unrestricted use, distribution, and reproduction in any medium, provided the original work is properly credited.