Intention tremor and deficits of sensory feedback control in multiple sclerosis: a pilot study
Journal of NeuroEngineering and Rehabilitation
2014
11:170
Received: 3 June 2014
Accepted: 12 December 2014
Published: 19 December 2014
Abstract
Background
Intention tremor and dysmetria are leading causes of upper extremity disability in Multiple Sclerosis (MS). The development of effective therapies to reduce tremor and dysmetria is hampered by insufficient understanding of how the distributed, multi-focal lesions associated with MS impact sensorimotor control in the brain. Here we describe a systems-level approach to characterizing sensorimotor control and use this approach to examine how sensory and motor processes are differentially impacted by MS.
Methods
Eight subjects with MS and eight age- and gender-matched healthy control subjects performed visually-guided flexion/extension tasks about the elbow to characterize a sensory feedback control model that includes three sensory feedback pathways (one for vision, another for proprioception and a third providing an internal prediction of the sensory consequences of action). The model allows us to characterize impairments in sensory feedback control that contributed to each MS subject's tremor.
Results
Models derived from MS subject performance differed from those obtained for control subjects in two ways. First, subjects with MS exhibited markedly increased visual feedback delays, which were uncompensated by internal adaptive mechanisms; stabilization performance in individuals with the longest delays differed most from control subject performance. Second, subjects with MS exhibited misestimates of arm dynamics in a way that was correlated with tremor power. Subject-specific models accurately predicted kinematic performance in a reach and hold task for neurologically-intact control subjects while simulated performance of MS patients had shorter movement intervals and larger endpoint errors than actual subject responses. This difference between simulated and actual performance is consistent with a strategic compensatory trade-off of movement speed for endpoint accuracy.
Conclusions
Our results suggest that tremor and dysmetria may be caused by limitations in the brain's ability to adapt sensory feedback mechanisms to compensate for increases in visual information processing time, as well as by errors in compensatory adaptations of internal estimates of arm dynamics.
Keywords
Multiple sclerosisIntention tremorDysmetriaSensorimotorMotor controlNeuromotor control
Introduction
Accurate arm and hand movements are the key to performing many daily tasks, but in individuals with Multiple Sclerosis (MS), the processes that control these movements are disrupted due to demyelination of the axonal projections that transmit information within and between brain areas. Upper extremity motor dysfunction in MS most often manifests as kinetic tremor (uncontrolled rhythmic motion of the joints during goal-directed movements) or dysmetria (a lack of coordination of movements typified by the under- or overshoot of the intended position of the hand or arm). Up to seventy-five percent of individuals with MS experience tremor in the arms and hands, with as many as 27% of those reporting tremor-related disability [1–4]. Drug therapies [5–9] and surgical treatments [2, 10–12] can mitigate some effects of tremor, although their effectiveness decreases over time [13] (for review see [14]). Recently, rTMS has been used to reduce tremor [15], however, the effects are short-lived.
Because neural lesions that develop in MS are distributed throughout the central nervous system, similar movement deficits (i.e. tremor) may result from differing impairments in the sensory feedback control pathways. Consequently, the specific neuroanatomical etiology of tremor and dysmetria remain unclear. Tremor and dysmetria are most often associated with lesions in the cerebellum and/or the thalamic nuclei, suggesting impairment of the cortico-cerebellar sensorimotor control loops used for the planning and adaptive control of movement [16, 17]; for review see Koch, et al. [4]. Recent studies also implicate impairments of the predictive mechanisms used to guide movement and/or degradation of the sensory information upon which such predictions are based, including impairment in sensory transmission of information, which is lengthened in those with MS [1, 2, 18–21]. The many-to-one mapping of the source of impairment onto clinical symptoms poses significant challenges for developing effective therapies. For example, a therapy designed to compensate for one patient's dysmetria caused by increased sensory processing delays may not be effective for another patient whose dysmetria is due to impaired prediction of limb dynamics.
Exercise-based rehabilitation strategies can improve posture and movement control over the short-term, but they have had less success in achieving significant long-term reductions in motor incoordination generally, and tremor or ataxia specifically (for review see Brown and Kraft 2005) [22–28]. Recent studies by Feys and colleagues have demonstrated that motor performance in MS can be enhanced by exploiting the inherent adaptability of sensorimotor control mechanisms. For example, Feys, et al. (2001, 2006) have found that altering visual feedback information can reduce intention tremor and improve performance on functional tasks [22, 23]. Other studies that use robotic devices to introduce mechanical perturbations and practice correcting erroneous movements, can improve movement control, reduce tremor, and improve coordination [27–29]. However, the mechanisms by which these approaches are able to improve functional performance remains unclear.
In this study, we describe a systems-level computational model and an experimental technique that parameterizes subject-specific deficits in sensory feedback control of the elbow joint [30–33] in individuals diagnosed with MS. We used this approach to test the hypothesis that tremor in MS results from subject-specific impairments in the adaptive feedback processes that guide movement. Specifically, we fit the parameters of a dual-feedback, sensorimotor control model to the kinematic data obtained from each subject's responses to perturbations during a series of continuous elbow flexion/extension tasks [31, 33]. We compared the parameters obtained from subjects with MS to those of age- and gender-matched, healthy control subjects to identify the sensory and/or motor processes affected by MS, and the extent to which they correlate with intention tremor. Future studies could use this approach to characterize changes in sensory feedback control induced by therapeutic intervention to advance understanding of how to best mitigate individuals' deficits of motor function as they evolve with progression of the disease.
Results
Tremor frequency and power
Figure
3
A shows selected spiral traces (insets) and corresponding power spectra for a subject with MS (Subject 6; TAS = 3) and an age-matched control subject. In the spiral drawing task, tremor frequencies for subjects with MS ranged from 2.36-5.01 Hz (mean ± SD: 3.38 ± 0.91Hz). Within the 2–6 Hz range associated with tremor, maximum power increased with the speed of movement (data not shown) and ranged from 0.22-5.31 cm
2
-s (mean ± SD: 1.48 ± 1.82 cm
2
-s) across MS subjects for their fastest tracings (Figure
3
B). The power in the 2–6 Hz band corresponded roughly with TAS, with subjects 5 (TAS = 2) and 8 (TAS = 3) exhibiting the worst tremor and subjects 1, 2 (TAS = 1), and 4 (TAS = 2), exhibiting the least tremor on the day of testing. Tremor power was significantly correlated with 9HPT score on the day of testing (r = 0.80; p = 0.006).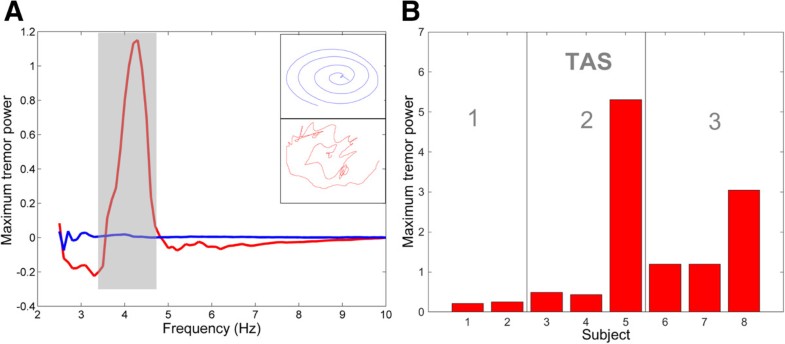 Visual and proprioceptive response delays (Tasks 1 & 2)
Figure
4
A and B show the average visual and proprioceptive response delays for individual subjects with MS and the corresponding range (±SD) for control subjects (shaded bands). The average visual response delay measured across subjects (Figure
4
A-left), was significantly higher in subjects with MS (647.1 ± 192.3 ms), compared with control subjects (450.9 ± 38.2 ms) (t(7) = 2.63, p = .034). In contrast, the average proprioceptive response delay (Figure
4
B-right) did not differ significantly between groups (MS: 201.7 ± 56.5 ms; Controls: 175.1 ± 31.9 ms) (t(6) = 1.39, p = 0.21). In four of the eight MS subjects with elevated TAS scores (subjects 4, 5, 6, and 8), visual response delays were >3σ above the range of control subjects. Across subjects, visual response delay times were not significantly correlated with either TAS or spiral tracing performance (p > 0.25), likely due to the "outlier effect" of subject 7 on the small population sample. Individual proprioceptive response delays for subjects with MS fell within the control group range - excepting subject 4, whose proprioceptive delay was >2σ from the control average.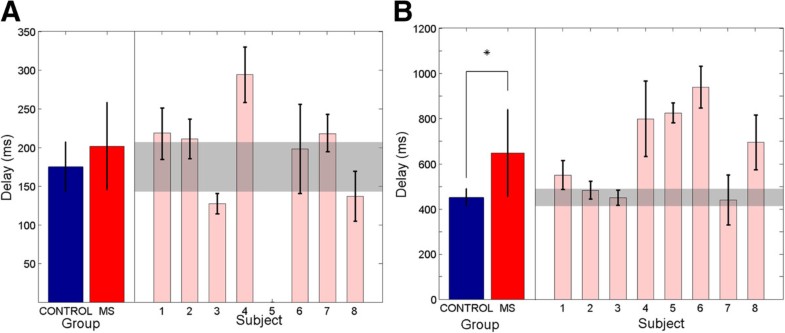 Figure
5
shows representative single-trial velocity profiles within trial and the distributions of visual and proprioceptive submovement intervals across trials for a representative subject with MS in Task 1 (left), which included visual perturbations and in Task 2 (right), which included physical perturbations. For all subjects, distributions were well fit by the Gaussian mixtures model (r
2
 > 0.70 p < 0.001 with 3 Gaussians) wherein the mean of each Gaussian was centered at an integer multiple of the interval associated with the primary distribution. For each subject, internal (predicted) visual and proprioceptive response delays were estimated as the mean submovement interval of the primary distribution.Figure
6
A shows the average visual and proprioceptive submovement intervals across subjects. Proprioceptive submovement intervals did not differ significantly between the MS and age-matched control groups (t(6) = 1.88, p = 0.11). Visual submovement intervals tended to be shorter in subjects with MS compared to controls, however, the difference did not reach statistical significance (t(7) = -1.92, p = 0.097). Figure
6
B compares the duration of visual and proprioceptive response delays for each participant with their corresponding submovement intervals. Proprioceptive submovement intervals and response delays were approximately equal for both control and MS subjects (t(9) < 1.6, p > 0.05). Similarly, visual response delays and submovement intervals did not differ for control subjects (t(9) < 1.4, p > 0.05). By contrast, four of the eight MS subjects exhibited a dramatic mismatch between their visual submovement interval and corresponding visual response delay. In these subjects, visual response delays increased markedly compared to control subjects, resulting in a significant group difference between visual response delay and visual submovement interval (t(7) = 2.55 p = 0.038).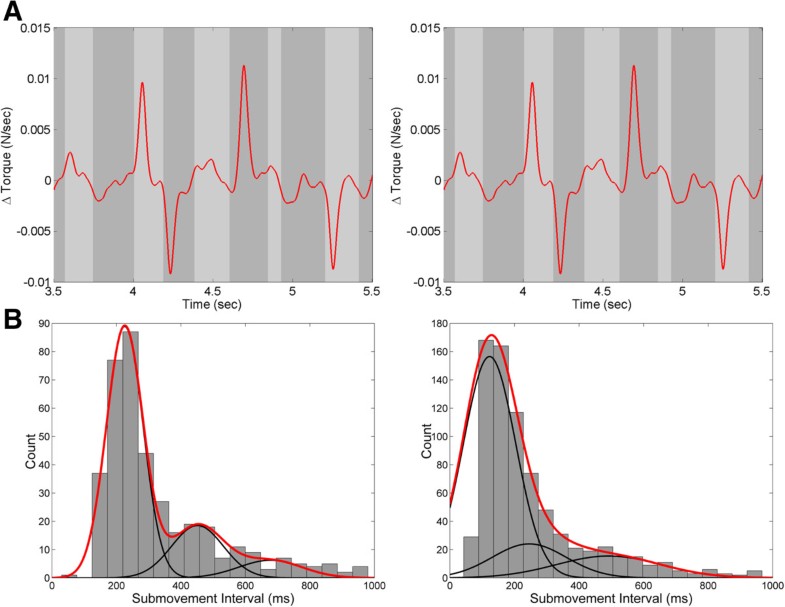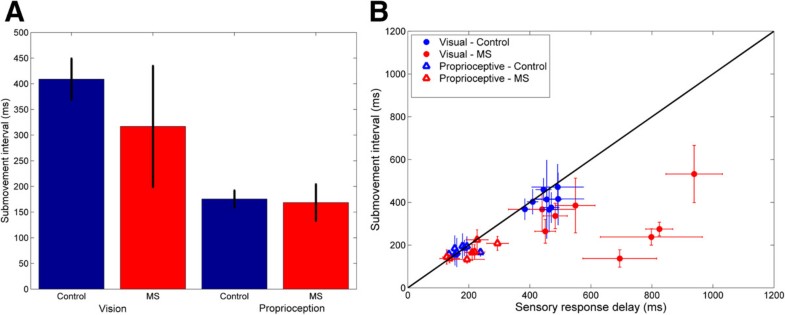 Motor noise (Task 3)
One subject with MS (Subject 5) was unable to complete the task due to time constraints. For the remaining subjects, the scaling of elbow torque variability with mean elbow torque showed no significant differences between groups (control subjects: 0.021 ± 0.010; subjects with MS: 0.025 ± 0.011; paired samples: t(6) = 0.72, p = 0.48).
Frequency response analysis (Task 4)
The frequency response functions (and corresponding best-fit models) relating corrective changes in arm position to the perturbation of cursor position are shown in Figure
7
for subject 4 with MS (right) and the corresponding age-matched control (left). For subject 4, the empirical frequency response function and corresponding model fit both contain a marked resonance peak between 2–4 Hz, closely approximating the tremor frequency observed in the subject's spiral tracing task (i.e., 2.4-5 Hz). The peak frequency identified in the compensatory tracking task was slightly lower than in the spiral tracing task, likely due to the additional inertia of the manipulandum handle and robot, which would act to reduce the resonant frequency of the combined arm + robot system. The magnitude of the FRFs for all subjects (control and MS) were well approximated by the model of Figure
1
(R
2
 > 0.80 in every case). The phase of the FRF was well approximated by the model until approximately 2Hz and 6Hz in the MS patients and control subjects respectively. Within this range, the phase profile was dominated by the phase lag associated with the visual delay (Figure
7
B – gray line). At higher frequencies, phase estimates became too noisy to unwrap reliably, however, model responses fell within the 95% confidence interval of possible phase profiles unwrapped from the FRF phase.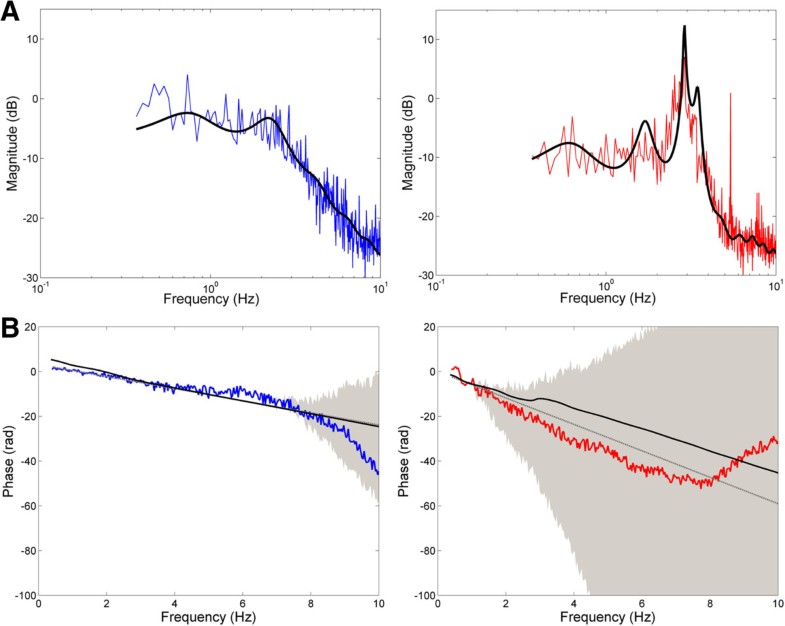 Of the thirteen parameters estimated using the frequency responses analysis, significant differences between groups were observed only for the integral and derivative gains of the generic feedback controller. Subjects with MS exhibited higher integral gains than control subjects (6.86 ± 4.71 vs. 4.71 ± 2.39 Nm/deg-s; t(7) = -3.62, p < 0.01) and higher derivative gains than control subjects (8.3×10-3 ± 3.8 ×10-3 vs. 3.3 ×10-3 ± 1.8 ×10-3 Nm-s/deg; t(7) = -3.38, p < 0.05). In control subjects, the derivative gain was significantly correlated with integral gain, musculoskeletal viscosity, and musculoskeletal stiffness (r = 0.81, 0.71, and 0.75 respectively; p < 0.05). In subjects with MS, these correlations were absent; derivative gain was not correlated with actual (or predicted) musculoskeletal viscosity or stiffness and it was not correlated with tremor assessment score and tremor amplitude measured by the spiral tracing task (r < 0.50; p > 0.25). Instead, the best-fit derivative gain was significantly correlated with visual response delay in subjects with MS (r = 0.77; p = 0.024). This shift in coupling from the plant (in controls) to the visual delay (in subjects with MS) is interesting in light of the derivative gain's traditional role in modulating the transient response of the system. This finding suggests the increased visual processing delay seen in MS may play a central role in causing subjects to alter the effective closed-loop dynamic response of the arm during goal-directed movement.
We next analyzed the best-fit sensory feedback control models from subjects with MS to identify systematic covariations between model parameters and clinical performance measures. We found that subjects with MS displayed a consistent mismatch between the model parameters characterizing predictive arm dynamics (Eq.
4
) and the actual arm dynamics (Eq.
2
). The degree of parameter mismatch - quantified by the mismatch magnitude normalized by the corresponding parameter value from the actual arm dynamics - varied systematically with tremor assessment score (TAS). Mismatches in all three dynamical parameters (
J
,
B
and
K
) increased with tremor severity, although mismatches in the effective viscosity were evident only in subjects with severe tremor (TAS = 3), (Figure
8
A). By contrast, control subjects showed no mismatch between the parameters characterizing internal and actual passive joint dynamics (two-tailed Z < 1.9, p > .05 for each parameter).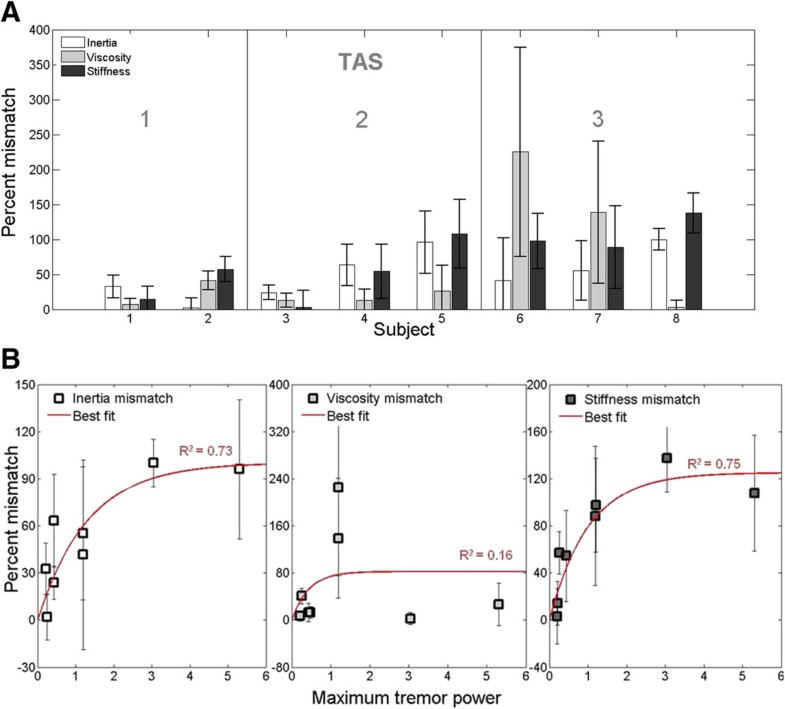 Mismatches in inertia and stiffness also varied systematically with tremor power characterized using the spiral tracing task (Figure 8B); In both cases, the relationship was well approximated by a saturating exponential function (R2 > 0.73). By contrast, no systematic relationship was observed between mismatches in viscosity and tremor power (Figure 8B).
Pursuit tracking of step target displacements
We required subjects to perform a final tracking task to characterize the impact of sensory feedback control deficits on a reach and hold task similar to transporting a cup of water along a tabletop. The task also enabled us to compare movements generated by the subjects to those predicted by the sensory feedback control model of Figure
1
. Subject and model performance were examined using measures of target acquisition time from the onset of the step displacement and steady-state endpoint error following the displacement. Control subjects' performance tended to cluster into one of two general task strategies characterized by either larger endpoint errors and faster response times or smaller endpoint errors and slower (and more variable) response times (Figure
9
; note the two distinct peaks in the bivariate distribution of control subjects' performance represented by the dark shading). For responses emphasizing speed of movement (higher error, lower response time), 95% of trials took less than 1200 ms to reach the target (Figure
9
, top shaded distribution) and resulted in an endpoint MSE's up to 0.02 degrees
2
. For responses emphasizing endpoint accuracy, 95% of trials were completed within 2000 ms with endpoint MSE's less that 0.008 degrees
2
(Figure
9
, bottom shaded distribution).Subjects with MS exhibited similar trends in step-tracking performance, with the exception that the four subjects with high visual delays (Figure
9
, dark red circles) exhibited performances that fell outside the 95% confidence interval bounds of the bivariate distribution of the response times and endpoint MSEs exhibited by control subjects. The subjects with high visual delays all had high TAS and high tremor power. Three of the four subjects (S4, S5, and S6) had significantly higher response times when performing the step-tracking task. Endpoint MSE was also increased, falling within the range of control responses emphasizing speed over accuracy. The fourth subject (S8) showed the reverse pattern with an increase in endpoint MSE but no apparent increase in response time. For all subjects with MS, the corresponding performance of the best-fit model, averaged across trials, is shown for comparison (Figure
9
, triangles). In all cases, model-predictions underestimated actual response times and in all but two cases, model-predictions over-estimated actual terminal mean-squared errors.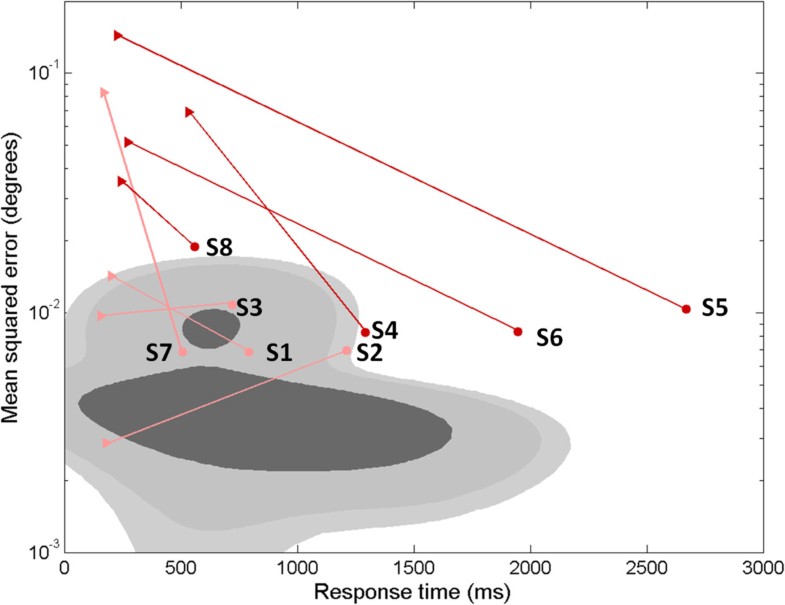 Functional impact of mismatch between actual and predictive limb dynamics
We examined the functional consequence of the mismatch between actual and predictive arm dynamics in a subsequent, post-hoc simulation analysis. For each MS subject we performed two forward dynamic simulations that characterized the model's performance on the step displacement task using (a) the best-fit model parameters, including mismatches between actual and predictive limb dynamics; and (b) "corrected" model parameters wherein the predictive limb dynamics of the forward model were forced to match the actual limb dynamical parameters. Figure
10
shows representative results for a subject with MS with moderate tremor (TAS = 2). Note how the mismatch in limb dynamics actually decreased the time to target acquisition and resulted in lower endpoint error.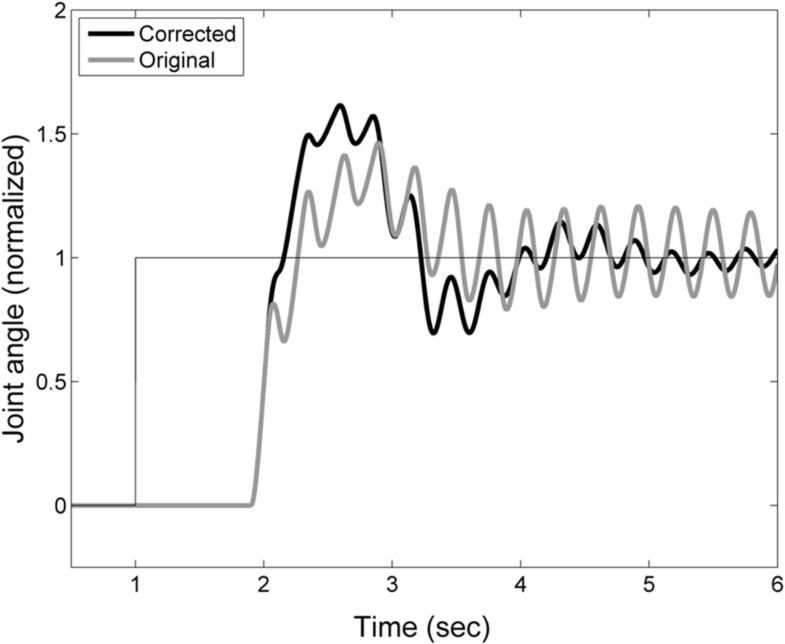 Discussion
We used a multisensory model of sensory feedback control to individually characterize sources of sensorimotor dysfunction in subjects with MS performing a series of goal-directed stabilization and movement tasks about the elbow. In contrast to the initial supposition that MS might impact sensory feedback control uniquely in each subject, the results suggest that upper extremity tremor and dysmetria may result from systematic changes in sensory feedback control. Specifically, subjects with moderate to severe tremor (TAS ≥ 2) exhibited increased visual response delays relative to normal control subjects. They also exhibited systematic mismatches between predictions of arm dynamics (vis-à-vis the forward model) and actual arm dynamics which were not present in normal control subjects; the degree of mismatch in subjects with MS correlated with tremor signal power measured in our spiral tracing task. We also observed group-wise differences in the integral and derivative gains of a generic model of the neural feedback controller. Whereas the controller gain parameters covaried with the dynamic properties (i.e., apparent viscosity and stiffness) of the musculoskeletal system in normal control subjects, the derivative gain parameter in subjects with MS correlated instead with the visual delay. A comparison of actual and simulated responses to step changes in desired performance suggests that the apparent mismatch between subject predictions of arm dynamics and actual arm dynamics may actually serve to improve response times in subjects with MS, despite their long visual delays. Taken together, our results suggest that tremor and dysmetria in MS may be caused by a combination of two factors: an inability of the brain to adequately adapt to increases in the time required to process visual information related to movement and by compensatory – but maladaptative – errors in predictions of arm dynamics.
An increased visual delay such as the one observed here is consistent with reductions in the conduction speed of action potentials due to disease-induced demyelination in MS [47] and it agrees well with the increased time required by MS subjects to perceive visual information and perform visually-guided tasks [47–49]. Proprioceptive conduction time in the lower extremities has also been shown to increase in MS [50], although we did not find a corresponding increase in proprioceptive response delay for the upper extremity. This may be due to the longer path length in the spinal cord for the transmission of motor control signals to the lower extremities.
Interestingly, the increased visual response delay in subjects with MS was not accompanied by an increase in the latency of submovements (i.e. their submovement interval). Submovements have been used previously to study impairments in movement control [51, 52]. Current theories of intermittent control during goal-directed movement associate individual submovements with discretization of sensorimotor control, such that each submovement represents a complete "primitive" movement profile comprised of movement planning, movement execution and sensory feedback phases [42–45]. For the purpose of characterizing feedback control in MS, we have assumed that the combined time delays associated with these three submovement phases form the basis of the expected response delays characterized by the model (Figure 1). Correspondingly, the submovement intervals measured experimentally in response to corrective movements mediated by visual or proprioceptive motion cues (Exp. 1a and 1b respectively) reflect internal estimates of the open-loop sensory processing delays. This interpretation is supported by the consistent match in control subjects between visual and proprioceptive response delays and the measured submovement intervals (Figure 6B).
In subjects with MS, submovement interval and visual response delay differed significantly in four of the eight subjects, suggesting that they failed to adjust (or were unable to adjust) their expectations of visual processing delays to compensate for the full increase in visual processing time resulting from the disease. A previous study by Miall and Jackson has demonstrated that it is possible to adapt to increases in extrinsic feedback delays [46]. However, the visual delays seen here in subjects with MS were markedly larger than those that Miall and Jackson used to adapt their neurologically intact subjects (<300 ms). Moreover, the delays experienced by MS subjects reflect intrinsic, rather than extrinsic sources. It is possible that intrinsic sources of delay may not engage adaptive mechanisms that respond to task-specific changes in the environment (cf. [53]).
Although continuous control models, such as the one used here, make simplifying assumptions that neglect the impact of intermittent feedforward control actions, continuous control models have been shown to accurately predict human performance in a variety of single joint motor tasks that minimize the predictability of environmental or target perturbations [30–33]. Additional simplifications of our model include the use of a 1-D task to characterize movement control and the use of a second-order musculoskeletal plant model. These simplifications were made because the plant model of the arm becomes much more complicated with the inclusion of additional joints or by including higher-order models of muscle activation contraction dynamics [54]. We believe these simplifications are justified because the bandwidth limitations of the plant are dominated by the effects of the arm's inertia and mechanical viscoelasticity rather than by low-pass filter properties of the activation/contraction dynamics - at least in quasi-isometric conditions such as the stabilization tasks studied here.
For subjects with MS, the pattern of mismatch in the limb dynamics (stiffness and inertia) co-varied with tremor assessment score and tremor power calculated from the spiral-tracing task (Figure 8). This was despite marked differences in task design; the model was characterized using single-joint compensatory tracking movements with the arm supported against gravity whereas the clinical assessments and spiral tracing required the subject to generate motion at multiple joints without arm support. Correspondence in the results of these disparate tasks is to be expected; a disease-related increase in visual processing time is expected to impact motor performance in any visuomotor task. The simulation results of Figure 10 suggest that the observed mismatch between internal estimates of plant dynamics and actual plant dynamics may actually help subjects with moderate tremor reduce steady-state movement error despite an inability to compensate for long visual delays. This form of compensation would not be unreasonable, particularly for adaptive mechanisms in the brain that seek to minimize discrepancy between the predicted and realized sensory consequences of actions (cf. [55]). Uncompensated increases in visual delay would yield lagged perceptions of arm position, compromising limb state estimation [20]. Considering that a delay in the limb's response to descending motor commands also occurs when the hand grasps an object that is heavier than expected, an uncompensated lag in the visual perception of limb motion could be misconstrued as an unexpected increase in limb inertia. Therefore, increasing the internal estimate of limb inertia (Figure 10) could, within narrow limits, partially compensate the functional impact of inaccurate predictions of sensory delay. Beyond those limits, changes in the estimated limb dynamics could lead to increased joint torque production (intended to overcome an environmental load that is not in fact present) and inappropriate compensatory responses to the perceived error. This notion is consistent with the suggestion that intention tremor in MS is due, in part, to inaccurate voluntary corrections to errors in position [48]. From a neurological standpoint, cerebellar damage, which has been linked with tremor in previous studies ([16, 17, 56, 57]), could degrade pathways necessary for effective sensorimotor adaptations, causing inappropriate compensatory responses to become more likely, and exacerbate tremor severity.During the reach-and-hold task, subjects with MS tended to move more slowly than the control subjects. They also moved more slowly than the performance predicted by best-fit models of Figure 1. These results are consistent with a favoring of accuracy over speed in the pursuit tracking of step changes in target location and may reflect a strategic choice by subjects to minimize endpoint errors associated with delay and kinematic mismatches. This bias toward accurate (rather than fast) movements is not surprising since in many daily activities (e.g. eating, dressing) it is more important to bring the hand accurately to a desired spatial location than to do so with speed.
Our results suggest a possible reinterpretation of results of prior studies seeking to reduce tremor in MS. Tasks which force subjects to adapt to novel force fields or to perturbations [27–29] could allow subjects to "reset" maladaptive models and form a new model that is better able to compensate for long visual delays. Our results also suggest novel rehabilitative strategies for reducing intention tremor in subjects with MS. We envision at least two possibilities: one approach would require subjects to hold the handle of a rehabilitation robot while making goal directed movements within a simple virtual-reality environment. As training progresses, subjects would be required to adapt to slowly-increasing visuomotor delays while the robot would simulate mechanical loads that vary unpredictably from trial to trial, thus discouraging compensatory mal-adaptation of musculoskeletal property estimates. We speculate that providing practice in compensating for visuomotor delays while discouraging adaptation of limb dynamics will favor appropriate adaptive compensations for physiological visual processing delays, thereby mitigating tremor.
A second approach centers on the idea that the brain's effort to minimize performance error hinders the ability to adapt to changes in the physiological visual delay. That is, we speculate the presence of a non-monotonic relationship between performance error and increases in predictive delay such that small increases in predictive delay would lead to increased errors, while large changes in expected delay could lead to optimal performance. This non-linear relationship may preclude the inherent adaptive mechanisms from matching the predictive delay to the true physiological delay. Rehabilitation under this approach would involve using the feedback control model (Figure 1) to identify and tailor the visual feedback to gradually shift the minimum performance error to the actual visual delay [58].
Conclusion
The preliminary findings presented here demonstrate that systems identification techniques provide an informative framework for investigating how neuromotor disease affects motor control and the neuromotor causes of motor disability. Specifically, we have done so by examining deficits in the neural processes underlying upper extremity motor dysfunction in a small cohort of individuals with clinical diagnoses of Multiple Sclerosis. We found evidence that tremor and dysmetria may be caused by an inability of the brain to adequately adapt to increases in the time required to process visual information related to movement as well as by compensatory mal-adaptations of internal estimates of arm dynamics. Future studies should seek to confirm the findings reported here with a larger cohort of individuals with MS. Subsequent studies could then seek effective ways to reduce intention tremor by identifying strategies that mitigate motor instability due to slowed visual processing caused by MS.
Appendix 1. Subtraction Analysis
A subtraction analysis was used to reduce the impact of noise on the estimate of the subjects' frequency response function (FRF). For each trial, the relationship between the input to the sensorimotor control system and joint angle output can be expressed as:
where X(s) is the power spectrum of the input – either the torque or external perturbation – and N(s) is the power spectrum of all noise sources combined. H(s) is the transfer function relating the input X(s) to the output θ
a
(s). The sum of noise sources n(t) is assumed to be zero mean and characterized by a nominal spectrum N(s). In the frequency domain, the addition of noise results in a frequency dependent offset from the "true" FRF. This offset can be characterized as a random variable N
i
(s) with variance σ
n
2
(s), whose mean corresponds to the average noise spectrum. To eliminate this offset, individual estimates of the FRF were obtained by pair-wise subtraction of the trial-wise input and output spectra. For a pair of trials,
so that the nominal noise spectrum is removed and the variance is now centered around 0. Rearranging this equation, we get:
where the first term characterizes the difference FRF of the system and second reflects the contribution due to noise. The frequency response due to noise has zero mean and variance .
The transfer function for the system, H(s), was estimated by taking the average of the difference FRFs across all pair-wise trial combinations (i, j),
where M is the number of pairwise trial combinations and the contribution of the (zero-mean) noise spectrum decreases as the inverse square root of M.
Declarations
Acknowledgements
This work was supported by the National Center for Advancing Translational Sciences, National Institutes of Health, through Grant Number 8UL1TR000055, and the Clinical and Translational Science Institute through CTSA Grant UL1 RR 031973. Its contents are solely the responsibility of the authors and do not necessarily represent the official views of the NIH. Additional funding was provided by the National Institute of Health under Grant R01 HD53727, the Alvin and Marion Birnschein Foundation, and the Department of Biomedical Engineering at Marquette University. Additional support was provided by a Johnson's Wax Research Fellowship, and an Arthur J. Schmitt Fellowship to M.H.
Authors' Affiliations
(1)
Department of Biomedical Engineering, Marquette University, Milwaukee, USA
(2)
Physical Medicine and Rehabilitation, Northwestern University Feinberg School of Medicine, Chicago, USA
(3)
Department of Neurology, Medical College of Wisconsin, Milwaukee, USA
(4)
Clinical and Translational Science Institute, Medical College of Wisconsin, Milwaukee, USA
(5)
Department of Neurology, Fairfield Healthcare Professionals Neurology, Lancaster, USA
(6)
Department of Biomedical Engineering, Boston University, Boston, USA
Copyright
© Heenan et al.; licensee BioMed Central. 2014
This article is published under license to BioMed Central Ltd. This is an Open Access article distributed under the terms of the Creative Commons Attribution License (http://creativecommons.org/licenses/by/4.0), which permits unrestricted use, distribution, and reproduction in any medium, provided the original work is properly credited. The Creative Commons Public Domain Dedication waiver (http://creativecommons.org/publicdomain/zero/1.0/) applies to the data made available in this article, unless otherwise stated.