New generation of wearable goniometers for motion capture systems
Journal of NeuroEngineering and Rehabilitation
2014
11:56
Received: 8 March 2013
Accepted: 3 April 2014
Published: 11 April 2014
Abstract
Background
Monitoring joint angles through wearable systems enables human posture and gesture to be reconstructed as a support for physical rehabilitation both in clinics and at the patient's home. A new generation of wearable goniometers based on knitted piezoresistive fabric (KPF) technology is presented.
Methods
KPF single-and double-layer devices were designed and characterized under stretching and bending to work as strain sensors and goniometers. The theoretical working principle and the derived electromechanical model, previously proved for carbon elastomer sensors, were generalized to KPF. The devices were used to correlate angles and piezoresistive fabric behaviour, to highlight the differences in terms of performance between the single layer and the double layer sensors. A fast calibration procedure is also proposed.
Results
The proposed device was tested both in static and dynamic conditions in comparison with standard electrogoniometers and inertial measurement units respectively. KPF goniometer capabilities in angle detection were experimentally proved and a discussion of the device measurement errors of is provided. The paper concludes with an analysis of sensor accuracy and hysteresis reduction in particular configurations.
Conclusions
Double layer KPF goniometers showed a promising performance in terms of angle measurements both in quasi-static and dynamic working mode for velocities typical of human movement. A further approach consisting of a combination of multiple sensors to increase accuracy via sensor fusion technique has been presented.
Keywords
Double Layer
Inertial Measurement Unit
Maximum Standard Deviation
Angular Sensitivity
Conditioning Number
Background
Recently, a novel type of wearable sensor capable of detecting strain fields has been proposed [1–11]. Textile based deformation sensors can be produced by coating a thin layer of piezoresistive material on conventional fabrics [1, 4, 6] or by knitting conductive yarns with non-conductive yarns [2, 3, 7, 9]. In other works, conductive threads are stitched [10, 11] or attached [5, 8] to the top of the fabric. The main features of textile deformation sensors are flexibility and the preservation of the mechanical properties of the garments on which they are applied. Textile deformation sensors have several advantages compared to solid-state sensors: negligible weight, thickness and possibility of spreading a high number of measuring points over a flexible substrate. Sensing garments can be designed by applying sensor strips to specific locations on normal cloth. Changes in body shape and/or geometry due to human movements can in principle be estimated by reading variations on the measured strain.
However, it may be difficult to recover the relationship between fabric strains and biomechanics parameters, such as tri-dimensional geometry or angles. Several solutions have been proposed to address this issue. In [12] a multivariate interpolation on a grid of sensors was used. Laviola in [13] reviewed the algorithms for hand posture recognition; Gibbs and Asada [5] described a knee-sensing garment made with conductive fibers attached to flexible skin-tight fabrics. Mattmann et al. [14] combined a supervised learning algorithm with conductive thread sensors for the detection of torso movements. In [15] coated sensing fabrics are obtained by the integration of conductive elastomer (CE) materials on textile fabrics by an ad hoc screen printing procedure with variable topology. An application of CE sensors aimed at detecting the upper limb movement for neurological application is described in [16–18]. Generally, CE based sensing garments perform well for slow and wide movements, while the accuracy, transient time and hysteresis has limited their use in reconstructing fast and small movements, such as anatomical torsion. In addition, retrieving subject posture from textile strain measurements is highly affected by the relative position of sensors with respect to the joint being monitored. This issue has been addressed with the use of tight-fitting garments, which can reduce user acceptance especially in home rehabilitation contexts. Even in the case of adherent garments, it is not easy to obtain reproducible results due to the inevitable sliding/bending of the sensors on the textile and to the difficulty of wearing the garment in the same way after donning and doffing. These latter aspects have limited joint angle tracking due to the necessity of using a complex and long lasting calibration procedure [6] or have restricted sensing garment usage in gesture classification applications [8].
In [19], CE sensors were configured in a double layer structure capable of direct angular measurements for application in rehabilitation and biomechanics. Since these double layer angular sensors are less sensitive to precise positioning and to their intermediate bending profile, they have the potential to solve some of the issues described for textile based strain transducers.
In [7, 9, 20], Knitted Piezoresistive Fabric (KPF) sensors were demonstrated as a good tool for biomechanical and cardiopulmonary data acquisition and constitute an improvement on CEs. Compared to CE, KPF materials perform better in terms of response time, making them more suitable for wearable motion-capture applications. In fact, the transient time of CE sensors is very long and requires dedicated algorithms for predicting the final output after solicitation [6, 21]. In addition, producing CE sensors entails using trichloroethylene with consequent rigid constraints on manufacturing sensors. In [22], a data glove based on KPF used as strain sensors was developed and successfully tested in monitoring human hand gestures.
In this work we exploited KPF technology to create a new generation of wearable goniometers inspired by the methodology introduced in [19]. The use of a new material led to a new theoretical approach compared to previous works aimed at improving the performance of CE sensors.
Discussion
Double layer KPF goniometers performed better than single layer sensors in terms of quasi-static angle reconstruction (5.3° vs. 8.3°).
Commercial electrogoniometers, such as those used in our quasi-static comparison with a declared accuracy of ±2°, are widely used in ambulatory measurements of the joint range of motion (ROM) and movement frequency/velocity/acceleration for both clinical and occupational evaluations [29–31]. Studies on goniometer accuracy have shown errors of a few degrees, with great dependence on the sensor positioning and on the cross talk between joints [32]. In [33] the evaluation of wrist ROM through electrogoniometers was performed with an error of between 2.2° and 6.2° over a flexion-extension range of 80°. Considering the widespread use of electrogoniometers, the reported errors are considered to be acceptable in clinical practice. The above reported KPF goniometer performances are slightly worse than those of commercial electrogoniometers, however they are still comparable with the ones accepted in goniometry applications.
KPF goniometers have also been compared with IMUs within dynamic trials. IMU-based joint kinematic estimations, widely described in [34], have a reconstruction accuracy that is lower than 3° for flexion-extension joint movements [35, 36], making the good agreement of our dynamic test very promising.
The results reported in Figure 15 confirmed that the performance in extension (1.48°) is more accurate than the flexion performance (2.4°). It should also be noted that the angular error of the double layer sensor is mainly due to a hysteretic phenomenon pointed out in Figure 15 (i.e. maximum distance between the increasing and decreasing curve holds 10.4 K Ω corresponding to 10.9°), since the standard deviations (38) and (39) are consistently smaller than those of the double layer sensor (σ M a x ).
Given this finding, the following approach was conceived in order to improve the overall accuracy in terms of biomechanical reconstruction with wearable goniometers. As a practical example we will now consider the problem of hip flexion-extension detection, although the proposed method could be generalized to many joint position reconstruction problems. Two different goniometers can be placed on the anterior and posterior sides of the pelvis girdle (e.g. corresponding to the proximal parts of the rectus femoralis and the gluteus maximus muscles), as shown in Figure
19
. The hip flexion/extension movement is acquired by measuring the mean value
Δ
R
M
between the anterior (
Δ
R
A
) and posterior sensor (
Δ
R
P
). This approach requires an on-body calibration, since the first angle between the abdominal region and the anterior part of the thigh and the second angle between the lumbar region and the surface of the hamstrings are not equivalent due to body structure differences. In this case an on-body calibration is needed to ensure that the two goniometers perform equivalent measurements (e.g. set the 0−
v
a
l
u
e
for each goniometer when the hip is completely extended). After this correction, the two sensor outputs are comparable and can be used to mutually integrate their information. In this approach, one of the two sensors will not return the effective angle between the two surfaces where it is applied, but the bias introduced will provide the re-calibrated sensor with the same behaviour as the other one in numerical terms. Thanks to this configuration, when one of the two sensors exhibits an increasing response, the other one will be decreasing. Our method reduces the error due to hysteresis: the new
Δ
R
M
characteristic will be the mean of the increasing and decreasing responses and the overall standard deviation will be reduced, in the worse case, to the sum of the increasing and decreasing standard deviations. Figure
20
reports the
Δ
R
M
characteristic, obtained by combining the increasing and decreasing responses.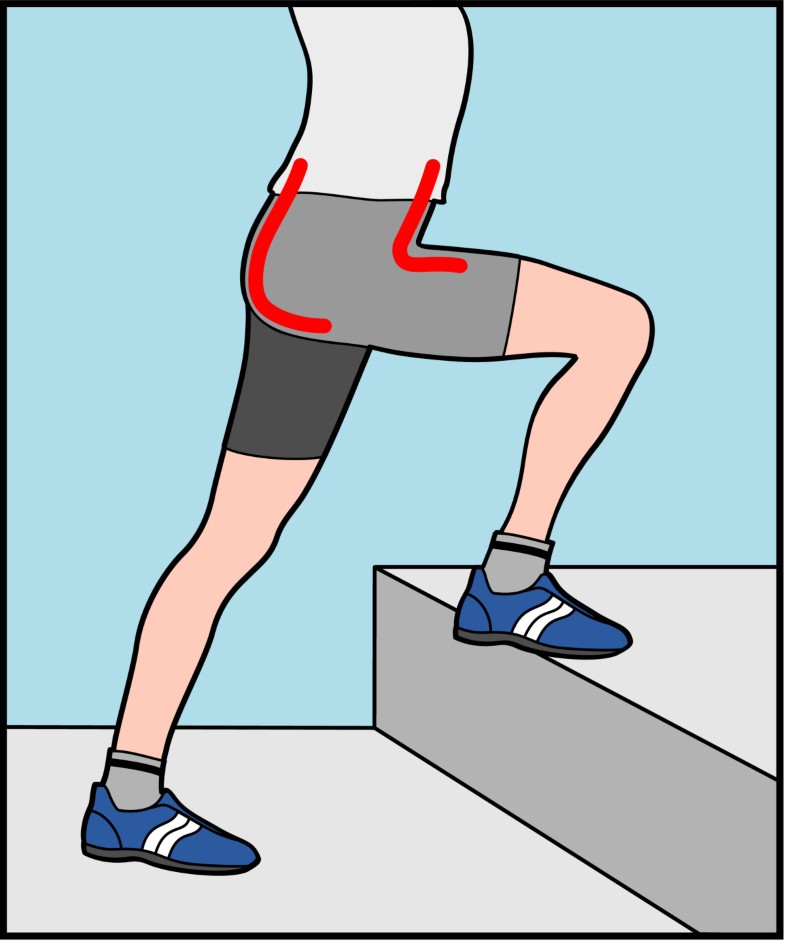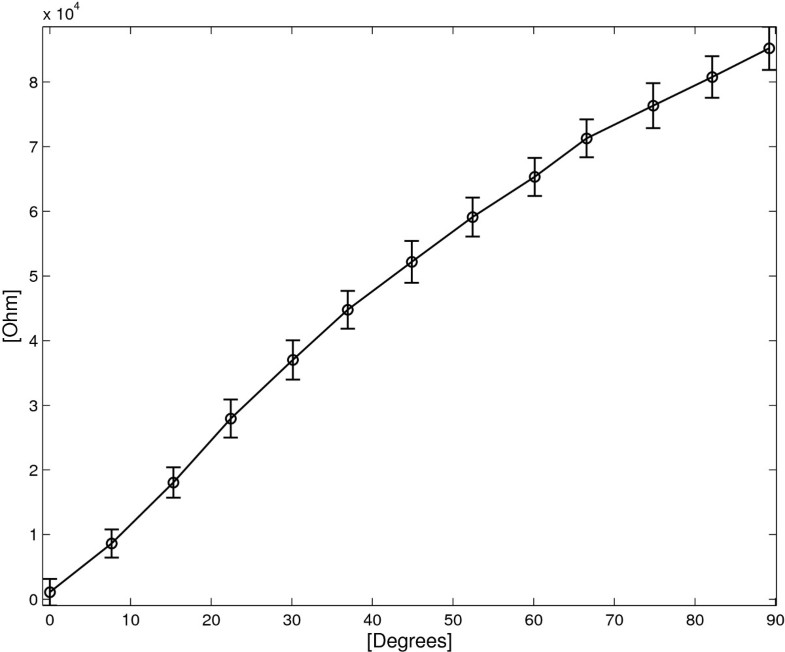 The angular sensitivity was estimated in 960 Ω/° and is almost equal to that of a single goniometer. The maximum standard deviation is 3470 Ω which corresponds to an estimated angular standard deviation of 3.6° and represents a consistent improvement.
Conclusions
We have developed a novel type of wearable goniometer based on KPF technology. In this paper, the working principle and the theoretical approach of single and double layer configurations have been described. On the basis of this theory, sensors were designed and produced on a fabric substrate. A calibration procedure that takes into account the dissimilarity between the two layers was proposed. Both single layer and double layer goniometers were tested in quasi-static conditions and compared with standard instrumentation. Double layer KPF goniometers performed better in terms of angle reconstruction compared to single layer ones (5.3° vs. 8.3° maximum error). In addition, double layer sensors are not sensitive to elongation and thus they are more suitable for applications in wearable motion detection. A preliminary dynamical evaluation showed how the quasi-static results could be extended in dynamic conditions. In addition, we demonstrated the overall sensor performance could be further improved through the fusion of two KPF goniometers per joint. Future work will focus on extending dynamic modeling and testing.
Declarations
Acknowledgements
This research was supported by the EU-ICT 7th framework project FP7-ICT-2011-7-287351 INTERACTION.
The Authors acknowledge Xavier Scarpelli for his support in graphical editing.
Authors' Affiliations
(1)
Research Center "E.Piaggio", University of Pisa, Pisa, Italy
(2)
Information Engineering Department, University of Pisa, Pisa, Italy
(3)
martex S.r.l, Pisa, Italy
Copyright
© Tognetti et al.; licensee BioMed Central Ltd. 2014
This article is published under license to BioMed Central Ltd. This is an Open Access article distributed under the terms of the Creative Commons Attribution License (http://creativecommons.org/licenses/by/2.0), which permits unrestricted use, distribution, and reproduction in any medium, provided the original work is properly cited.