Assessment of Joystick control during the performance of powered wheelchair driving tasks
Journal of NeuroEngineering and Rehabilitation
2011
8:31
Received: 11 September 2010
Accepted: 24 May 2011
Published: 24 May 2011
Abstract
Background
Powered wheelchairs are essential for many individuals who have mobility impairments. Nevertheless, if operated improperly, the powered wheelchair poses dangers to both the user and to those in its vicinity. Thus, operating a powered wheelchair with some degree of proficiency is important for safety, and measuring driving skills becomes an important issue to address. The objective of this study was to explore the discriminate validity of outcome measures of driving skills based on joystick control strategies and performance recorded using a data logging system.
Methods
We compared joystick control strategies and performance during standardized driving tasks between a group of 10 expert and 13 novice powered wheelchair users. Driving tasks were drawn from the Wheelchair Skills Test (v. 4.1). Data from the joystick controller were collected on a data logging system. Joystick control strategies and performance outcome measures included the mean number of joystick movements, time required to complete tasks, as well as variability of joystick direction.
Results
In simpler tasks, the expert group's driving skills were comparable to those of the novice group. Yet, in more difficult and spatially confined tasks, the expert group required fewer joystick movements for task completion. In some cases, experts also completed tasks in approximately half the time with respect to the novice group.
Conclusions
The analysis of joystick control made it possible to discriminate between novice and expert powered wheelchair users in a variety of driving tasks. These results imply that in spatially confined areas, a greater powered wheelchair driving skill level is required to complete tasks efficiently. Based on these findings, it would appear that the use of joystick signal analysis constitutes an objective tool for the measurement of powered wheelchair driving skills. This tool may be useful for the clinical assessment and training of powered wheelchair skills.
Keywords
Expert Group
Expert User
Task Completion Time
Novice User
Novice Group
Background
Impaired mobility, secondary to health conditions such as spinal cord injury, stroke, rheumatoid arthritis, amputation and complication from diabetes, to name a few, are often accompanied by environmental barriers which can restrict activities of daily living [1] and impact the individual's quality of life [2–5]. In this context, the use of a powered wheelchair (PW) by those who face such challenges can be highly beneficial [5–8]. The benefits of PW mobility span a large spectrum of the demographic across age groups and health conditions [9–12]. It can also provide psychological benefits, as users generally report feeling a greater sense of independence [13]. Yet, despite the advantages of using a PW, its maneuverability and speed can pose challenges to the user [14], particularly when negotiating uneven surfaces encountered daily, such as road potholes and sidewalks [15, 16]. Therefore, it is essential that PW users develop the skill-set necessary to operate the wheelchair safely and competently. It is equally important to evaluate and monitor the user's progress of driving skills [11]. In recent years, assessments such as the Wheelchair Skills Test (WST-P) [17, 18] have provided valid criteria for the competent and safe execution of PW driving related tasks [18, 19]. These assessments have shown to be sensitive to change, valid, and reliable as improvements in the efficacy and safety of both manual and powered wheelchair operators were observed after a wheelchair skills training program [17, 20–22]. However, this evaluation process is mainly based on the clinical observations of a trained evaluator.
Implementing PWs with sensors and collecting data during standardized driving tasks could provide objective and sensitive measures for the control and the movement of the PW, thereby complementing observation-based findings [8, 23, 24]. Specifically, they could serve as insightful outcome measures of how well users maneuver the wheelchair to complete a wide array of tasks across varying levels of difficulty [24–26].
In this study, we adopted this approach to evaluate the PW driving skills of novice and expert PW users. The primary objective of this study was to explore the discriminate validity of outcome measures of driving skills based on joystick control strategies and performance recorded using a data logging system.
Results
All subjects were able to complete all tasks successfully according to the WST (v.4.1) guidelines [
17
]. Individual trial data for typical novice and expert participants for
Rolls Backward 5 m
,
Turns 180° in Place
, and
Maneuvers Sideways
tasks are illustrated in Figure
4A-C
respectively. With joystick excursions visually plotted in this manner, clear distinctions can be made between a typical novice and expert user with respect to joystick control (number of movements) and task completion time.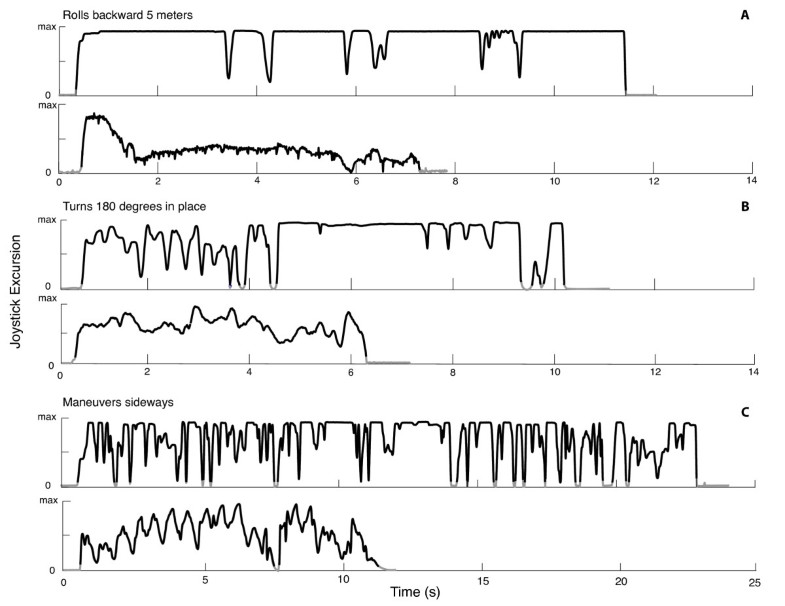 Discussion
The goal of this study was to estimate the extent to which data logging could be used to discriminate PW driving skills in experienced users relative to novice users when completing a series of standardized tasks in a motorized wheelchair. We recruited novice users who reported never using a PW before and pitted their driving skills to more experienced users. These first time users were recruited to represent a new PW user's driving potential. To this end, not only could we estimate the difference in skill level of joystick operation between the two groups, but also outline some of the common challenges that the novice user might face when learning to operate a PW. Using joystick data in tandem with an observational approach such as the one used in this study can contribute to optimizing training strategies for those who require the use of a PW but are new to operating one.
For relatively simple PW tasks, such as Rolls backward 5 m and 90° Turns While Moving Forward, the extent to which the novice group, using a PW for the first time, was able to perform such tasks effectively is seemingly comparable to expert users. Specifically, both groups seemed to require similar amounts of joystick movements, while also completing these tasks in a fairly analogous time frame. Perhaps performing these tasks in optimal conditions (i.e. flat surface, no pedestrians/traffic) may have contributed to the similar joystick control strategies and performance in both groups. In fact, it was only during more challenging and spatially confined tasks, such as the Turns 180° in Place and Maneuvers Sideways, that expert users tended to exhibit greater dexterity relative to their novice counterparts. This is evident in the expert group's reduced joystick movements and time required to complete such tasks. In some instances, these differences were quite marked as joystick excursions for experts were generally reduced to about half with respect to their novice counterparts. The Gets Through Hinged Door in Both Directions task could be also considered a relatively challenging task. Surprisingly, the novice group seemed to complete this task almost as well as the expert group (see table 2). It is possible that this task affected both groups in a different way. For example, all expert users had disabilities affecting the lower extremities and most had disabilities affecting trunk and/or upper extremity control. Thus, they may have been skilled at controlling the PW, but were faced with adaptation challenges when interacting with the environment (i.e. maintaining trunk stability while reaching for the doorknob). Conversely, the novice participants simply had to cope with a novel and relatively involved task, but could compensate with a longer reach by bending the trunk forward or sideways, as required. It is possible that the respective difficulties encountered by both groups in this task lead to comparable joystick control strategies and performance.
Measuring joystick directional variability did not seem to differ between groups, regardless of task difficulty. Nonetheless, these directional variability results suggest that a modification may be required to optimize its effectiveness as a measurement tool. Appropriate modifications to joystick variability measures could perhaps also yield more valid and interesting findings.
To avoid comparing the different dynamics of rear-wheeled and mid-wheeled PWs, rear-wheeled wheelchairs were used in the study since the majority of PWs used in Québec are rear-traction. This may pose as a limitation to our findings since we can not generalize them beyond the rear-traction PW. Since rear-wheeled PWs tend to operate less agilely in tight quarters compared to their mid-wheel analogue, perhaps the rear-wheeled performance observed in the study transfers well to the mid-wheelchair. All of the novice participants used the lowest speed, yet we chose not to control for expert PW speeds because we wanted the expert group to perform driving tasks as they would in their daily lives. Perhaps this poses as a limitation in the methodology. Despite the varying speeds used, no significant differences were found between expert and novice groups with respect to forward and backward velocity. Consequently, we believe that the speed setting differences do not account for the results reported in the time to complete tasks and the number joystick movement measures. In a similar vein, we wanted the expert participants to perform tasks with their normal PW programmed settings. It is possible that some experts used a smaller joystick excursion to attain the same speed. We do not feel that differences in joystick sensitivity could have affected our results, namely the computation of the number of joystick movements, as this was set at a low joystick excursion threshold (5%).
In drawing conclusions from this study, it must be considered that this was a pilot study with a small sample size and that there were no a priori data to estimate effect sizes. As a result, the effect size of the statistical analyses performed varied from .08 to 2.1, which could explain the lack of significant differences for the simpler tasks, such as the 90° turns. Furthermore, it is possible that the metrics used as outcome measures (i.e. number of joystick movements, direction of movement and total time required to execute each trial) may not have the necessary sensibility to discriminate between novice and expert users for the simpler tasks, due to their short duration [27]. It is possible that more sensitive metrics could be devised, based on other metrics and on data from different types of sensors (e.g. accelerometers). It remains to be seen whether such measures can be clinically relevant. From a clinical standpoint, it might be sufficient to know if a participant is able to perform simple driving tasks or not, for the purpose of deciding whether the person can then be trained to safely drive a PW. Quantitative information about performance may be useful for the more complex PW driving tasks in order to provide better guidelines for training.
In this experiment, the measurement of joystick control was provided by a data-logging platform, which also includes other sensors such as accelerometers, gyroscopes, a wheel encoder, seat pressure sensors and GPS [8, 23]. The use of a data logging platform in combination with such sensors can complement observation-based methods of assessing PW driving performance. Offering insights on joystick control strategies could expose users to better and safer driving techniques early on in the learning process. Such outcome measures could also be used as feedback to the new PW user and serve as benchmarks for specific task execution, while also helping to prioritize training components. Future studies will employ more participants and focus on assessing the efficiency of training protocols for PW users, combining both observational and data logging methods. Building on the results of this study, future work can evaluate the effect of training new PW users on a training program by providing ongoing performance feedback with respect to wheelchair tasks. Providing users with such feedback could expose them to better and safer driving techniques early on in the learning process.
Conclusion
In general, tasks drawn from the WSP that are typically associated to more difficult skills tend to show differences in joystick control strategies and performance between expert and novice groups. In particular, the expert group displayed reduced joystick excursions and task completion times compared to their novice counterparts. Lastly, data from movement-sensing joysticks used on PWs during selected driving tasks could provide an effective technique for quantifying key aspects of PW driving skills. Thus, the combination of objective measurement of PW control using joystick data in tandem with observational strategies may be an effective tool for the clinical assessment and training of PW driving skills.
List Of Abbreviations
PW:

Powered wheelchair
WST-P:

Wheelchair Skills Test, Powered Wheelchair Version.
Declarations
Acknowledgements
This study was supported by grants from CIHR (Canada) and NSERC (Canada). We would like to thank Mélanie Amann, Angela Kim and Jacqueline Nguyen for their help with the data collection and Stephanie Tremblay for help with editing.
Authors' Affiliations
(1)
School of Physical & Occupational Therapy, McGill University, Montréal, Canada
(2)
Centre for Interdisciplinary Research in Rehabilitation of Greater Montreal (CRIR), Jewish Rehabilitation Hospital, Montréal, Canada
(3)
Center for Interdisciplinary Research in Rehabilitation and Social Integration (CIRRIS), Institut de réadaptation en déficience physique de Québec, Québec, Canada
(4)
Technical Aids Department, Centre de réadptation Lucie-Bruneau, Montréal, Canada
(5)
Research Centre on Aging, CSS-IUGS, Sherbrooke, Canada
(6)
Université de Sherbrooke, Research Centre on Aging, CSS-IUGS, Sherbrooke, Canada
Copyright
© Sorrento et al; licensee BioMed Central Ltd. 2011
This article is published under license to BioMed Central Ltd. This is an Open Access article distributed under the terms of the Creative Commons Attribution License (http://creativecommons.org/licenses/by/2.0), which permits unrestricted use, distribution, and reproduction in any medium, provided the original work is properly cited.