Recent trends in assistive technology for mobility
Journal of NeuroEngineering and Rehabilitation
2012
9:20
Received: 26 September 2011
Accepted: 20 April 2012
Published: 20 April 2012
Abstract
Loss of physical mobility makes maximal participation in desired activities more difficult and in the worst case fully prevents participation. This paper surveys recent work in assistive technology to improve mobility for persons with a disability, drawing on examples observed during a tour of academic and industrial research sites in Europe. The underlying theme of this recent work is a more seamless integration of the capabilities of the user and the assistive technology. This improved integration spans diverse technologies, including powered wheelchairs, prosthetic limbs, functional electrical stimulation, and wearable exoskeletons. Improved integration is being accomplished in three ways: 1) improving the assistive technology mechanics; 2) improving the user-technology physical interface; and 3) sharing of control between the user and the technology. We provide an overview of these improvements in user-technology integration and discuss whether such improvements have the potential to be transformative for people with mobility impairments.
Keywords
DisabilityAssistive technologyRobotics
Introduction
Mobility encompasses an individual's ability to move his or her body within an environment or between environments and the ability to manipulate objects. Collectively, these activities enable the individual to pursue life activities of their choosing. An individual's ability to perform any mobility task can be compromised by impaired body functions or structures. Impairments can onset gradually, as occurs with multiple sclerosis, or they can begin instantly, as occurs with traumatic spinal cord injury, cerebral vascular accidents, and limb amputations. The link between impairment and restricted mobility is evident for amputations and spinal cord injury. However, mobility is also affected by less obvious impairments. For example, the pain associated with knee osteoarthritis can significantly affect walking ability. Persons with reduced heat tolerance, such as those with multiple sclerosis, experience decreased endurance and increased fatigue as ambient temperature increases [1]. Regardless of which body structure or function is impaired, technology can improve mobility. Wheelchairs, walking aids, and prosthetic limbs are examples of technologies that have provided widespread benefit.
To identify new opportunities for improving assistive technologies for persons with a mobility impairment, the National Science Foundation initiated a study using the World Technology Evaluation Center. A scientific panel of national experts was formed and charged with gathering information about research trends in technology that could transform mobility for people with mobility disabilities. Information gathering involved a 5-day visit by two teams to several of the leading European laboratories working in this area. Given the many pathways by which disability can impact mobility, and given the large number of possible technological solutions, the panel focused on seven mobility-based tasks: posture, balance and transfers, manipulation, walking, stair climbing, other locomotion tasks, and using transportation. Even within this limited scope, the technologies reviewed were not exhaustive, but they did provide insight into some important themes in assistive technology research.
Before describing these trends, we briefly discuss a framework for understanding different types of assistive technology. Although there are several frameworks that conceptualize disability [
2
], the international standard is the World Health Organization's International Classification of Functioning, Disability and Health (ICF) framework (Figure 
1
). Like other frameworks, the ICF framework acknowledges that 'disability' results from the dynamic interaction of the user, technology, and the environment. When environmental demands exceed an individual's mobility resources, participation may be restricted. Technology can facilitate participation by indirectly (via treatment or therapy) or directly (via physical assistance) enhancing and individual's mobility such that their mobility capacity meets or exceeds the demand of the environment (Figure 
2
).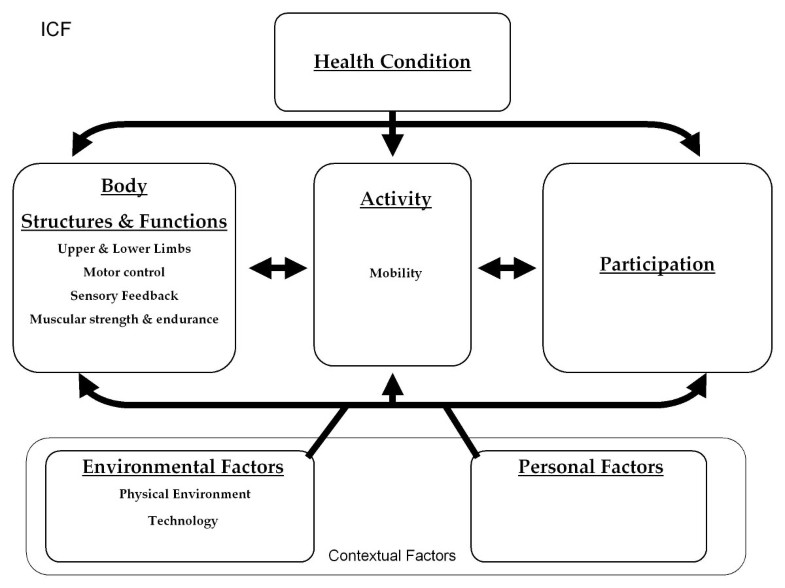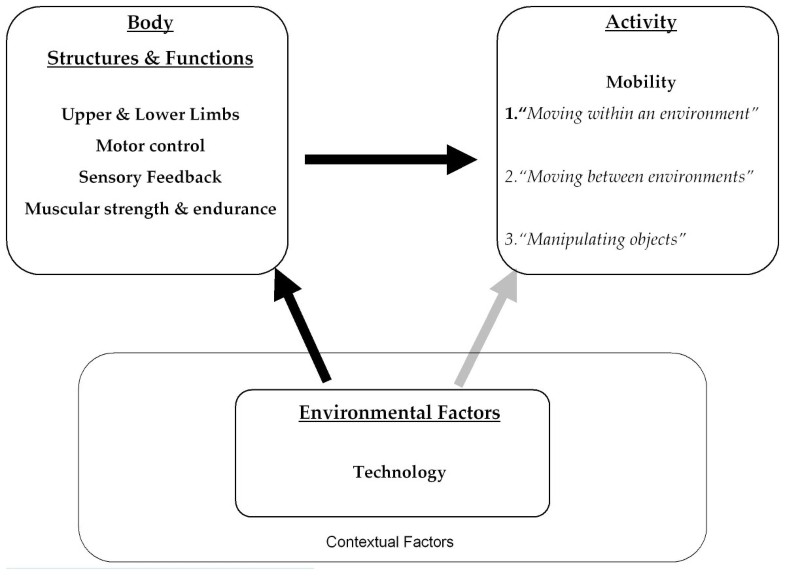 Indirect, or therapeutic, technologies enhance mobility by reducing impairments at the body structure/function level by helping the body in repairing or redressing the body structure impairment, or by supporting rehabilitation of the impaired body function (Figure 2, black arrows). Baclofen pumps are an example of an indirect approach because they facilitate mobility by allowing a person to control his or her spasticity. Robotic therapy devices are another example of an indirect approach because they allow people to reduce impairment through repetitive movement training. Therapeutic technologies typically require clinical oversight to be set-up and operated, are one modality in an overall rehabilitation plan, and are typically not designed to be used to execute daily activities outside the clinic. A companion article reviews recent advances in therapeutic technologies [4].
On the other hand, direct, or assistive, technologies (AT) enhance mobility without altering the impaired body structure/function (Figure 2, grey arrow). Wheelchairs and walkers are prime examples; they enhance mobility, but they do not alter the impairment underlying the mobility loss. Direct technological approaches can augment or support impaired body structure or function, as in the case of a cane or walker, or they can replace the missing or impaired body structure or function, as in the case of a prosthetic limb. In contrast to therapeutic technologies, assistive technologies are operated by the user rather than a clinician and they are designed to be used to execute functional activities in the home and community. The focus of this article is on recent trends in direct technology or AT approaches to enhancing mobility.
Discussion
Factors limiting assistive technology advancements
To recap, the unifying theme of the research we observed was a more seamless integration of the capabilities of the user and the assistive technology. All observed advances were built upon existing assistive technology rather than representing completely new, original, out-side the box technologies. This observation reflects the reality that truly revolutionary, game-changing technology appears very rarely. However, as the below discussion of Oscar Pistorius implies, advances to existing technology can achieve transformative changes in mobility.
Our discussions with our European peers suggest several areas limit our advancement rate. First, the components used to 'build' the assistive technology limits us. Any assistive technology is only as durable, light, and small as the available building blocks. For example, if exoskeletons are to become a viable mobility option for the non-ambulatory, they must be extremely lightweight, and therefore all structural components, actuators, and power sources must decrease in weight. A second core limitation is the relative immaturity of our control algorithms. As an example, using an exoskeleton to recreate the body's ability to move smoothly over varied terrain at varied rates requires intimate access to the user's intended movements, along with sophisticated control algorithms to adjust to the complex, unstable, and varying dynamics of the user's body and the walking environment. Finally, if the developed technologies are to gain user acceptance and widespread adoption, control interfaces must be intuitive, seamless, and non-obtrusive. Component advancements will achieve seamless and non-obtrusive interfaces. Control algorithm advancements will achieve intuitive control. However, only persons with disabilities can provide design specifications for 'intuitive', 'seamless', and 'non-obtrusive'. If we do not make consulting persons with disabilities a priority, we will not meet the demands of the end user, history will repeat itself, and the technology will be abandoned.
Moving towards transformation?
A key goal of the NSF Study was to identify research themes that could "transform mobility for people with a disability." It makes sense to ask what transformative technologies will look like, and, more specifically, will improvements in user-technology integration be transformative, or are entirely new technologies required?
To illustrate "transformative," let us define transformative technology as that which elevates mobility performance by people with a disability to that of their non-disabled peers. An excellent example of this elevation is Oscar Pistorius, a South African paralympic bilateral trans-tibial amputee. With his advanced running prosthesis, Mr. Pistorius competes against non-disabled athletes, winning silver in the 2007 South African 400 m non-disabled track championships and narrowly missing qualification for the 2008 Beijing Olympics. Without his prosthesis, he would not be able to walk, much less compete at an elite level. The transformation provided by the prosthesis and his training is so complete, so dramatic, that for a period, Mr. Pistorius was banned from non-disabled competition because it was thought his prosthesis conferred an illegal performance enhancement. While that ruling has been overturned, the scientific debate continues as to if he has an advantage over his non-disabled competitors [29–32]. Regardless, the gap between what Mr. Pistorius can achieve without his prosthesis and what he achieves with his running prosthesis is transformative.
Mr. Pistorius' transformation was not made possible by a fundamentally new type of assistive technology; rather an existing technology, a below-knee prosthesis, was designed to have mechanical properties that better integrated with his inherent running ability. Thus, while it is unclear whether the improvements in user-technology integration reviewed here will become transformative, the example of Mr. Pistorius illustrates that the enhanced integration approach itself holds tremendous transformative potential.
Ultimately, while both the form and amount of change required to achieve a transformative improvement will vary according to the degree and type of impairment, the ideal path to quantify "transformative" is to ask the person with the disability. Who better to identify the "what" and "how much" of transformative changes? And yet, research groups and funding agencies have struggled to take this approach toward quantifying transformation. If transformative improvements are the end goal, it is important to develop a user-centered quantification system and to employ it throughout the development process. Ideally, individuals with a disability will invent and refine this quantification system, and furthermore, the required assistive technology themselves – who better? At the very least, continuous end-user involvement will help ensure that developed technologies match user needs and wants, as well as capabilities and impairments.
Conclusions
The panel saw no fundamentally new assistive technologies on its trip; rather the primary theme in assistive technology development observed was refinement of existing assistive technology in clever ways so that its capabilities integrated better with the user's capabilities. These refinements are being done on an application-by-application basis through development of improved technology mechanics (e.g., knee-ankle-foot orthosis, kinetic control of a prosthetic limb); improved user interfaces (e.g., tongue or whole-body controllers, electrodes implanted in central and peripheral nervous system) and by automating target control functions in a way that blends the machine's assistance with the natural abilities of the user. Better integrated control systems decrease user burden, enabling more refined control of highly sophisticated prosthetics or enabling persons with the most severe physical disabilities autonomous mobility in power wheelchairs.
Authors' Affiliations
(1)
Department of Neurological Surgery, The Miami Project to Cure Paralysis, University of Miami Miller School of Medicine, Miami, USA
(2)
Department of Mechanical & Aerospace Engineering, University of Florida, Gainesville, USA
(3)
Department of Physical Medicine & Rehabilitation, University of Pittsburgh School of Medicine, Pittsburgh, USA
(4)
Rehabilitation Medicine, Departmen NIH Clinical Center, Bethesda, USA
(5)
Department of Physical Therapy and Rehabilitation Science, University of Maryland, Baltimore, USA
(6)
National Institute of Biomedical Imaging and Bioengineering/NIH, 6707 Democracy Blvd, Bethesda, USA
(7)
Department of Mechanical & Aerospace Engineering, Department of Anatomy and Neurobiology, Department of Biomedical Engineering, University of California, Irvine, USA
(8)
Human Engineering Research Laboratories, VA Pittsburgh Healthcare System, Pittsburgh, USA
Copyright
© Cowan et al.; licensee BioMed Central Ltd. 2012
This article is published under license to BioMed Central Ltd. This is an Open Access article distributed under the terms of the Creative Commons Attribution License (http://creativecommons.org/licenses/by/2.0), which permits unrestricted use, distribution, and reproduction in any medium, provided the original work is properly cited.