Locomotor training through a novel robotic platform for gait rehabilitation in pediatric population: short report
Journal of NeuroEngineering and Rehabilitation
2016
13:98
Received: 17 March 2016
Accepted: 25 October 2016
Published: 14 November 2016
Abstract
Background
Cerebral Palsy (CP) is a disorder of posture and movement due to a defect in the immature brain. The use of robotic devices as alternative treatment to improve the gait function in patients with CP has increased. Nevertheless, current gait trainers are focused on controlling complete joint trajectories, avoiding postural control and the adaptation of the therapy to a specific patient. This paper presents the applicability of a new robotic platform called CPWalker in children with spastic diplegia.
Findings
CPWalker consists of a smart walker with body weight and autonomous locomotion support and an exoskeleton for joint motion support. Likewise, CPWalker enables strategies to improve postural control during walking. The integrated robotic platform provides means for testing novel gait rehabilitation therapies in subjects with CP and similar motor disorders. Patient-tailored therapies were programmed in the device for its evaluation in three children with spastic diplegia for 5 weeks.
After ten sessions of personalized training with CPWalker, the children improved the mean velocity (51.94 ± 41.97 %), cadence (29.19 ± 33.36 %) and step length (26.49 ± 19.58 %) in each leg. Post-3D gait assessments provided kinematic outcomes closer to normal values than Pre-3D assessments.
Conclusions
The results show the potential of the novel robotic platform to serve as a rehabilitation tool. The autonomous locomotion and impedance control enhanced the children's participation during therapies. Moreover, participants' postural control was substantially improved, which indicates the usefulness of the approach based on promoting the patient's trunk control while the locomotion therapy is executed. Although results are promising, further studies with bigger sample size are required.
Keywords
Cerebral palsy
Rehabilitation robotic
Gait
Posture
Exoskeleton device
Spastic diplegia
Case report
Background
One of the most important consequences of Cerebral Palsy (CP) in children is mobility impairment, characterized by reduced speed and endurance or shortened step length during gait [1]. In last decades, robot-based therapy has complemented conventional strategies in CP gait rehabilitation [2, 3]. Several rehabilitation devices have been recently proposed with this aim [4, 5]. The majority of these platforms (e.g. Lokomat [4], GT-1 [5]) includes the approach of Partial Body-Weight Support (PBWS) and guided and repetitive movement. However, therapies carried out with common available devices are similar for all subjects, despite the cognitive and physical differences among them make important to tailor the therapy to the specific patient's needs. Taking into account that maintaining a proper posture during walking is a relevant aspect in the case of children with CP [6, 7], new strategies are needed to improve postural control while over-ground movement is allowed.
In order to address these limitations, a novel robotic platform (CPWalker [8]) has been designed. It can implement new types of therapies in children with CP. The shift that CPWalker introduces on the treatments is supported by three main pillars: a) the option of free and over-ground movement (not restricted to treadmill) in rehabilitation environment; b) the improvement of postural control of head and trunk using a biofeedback strategy; and c) the use of "Assist As Needed" (AAN) strategies in specific and selected subtasks of walking.
Results
Children's 3D gait assessments without the aid of CPWalker were conducted before and after the robot-based therapy. This analysis provided kinematic data and temporal-spatial parameters that were used to evaluate the progression of the therapy.
After 5 weeks of robot-based training with CPWalker system the three children improved the mean velocity, cadence and step length with each leg (Table
3
). Additionally, taking into account the kinematic analysis, the three subjects progressed in their gait as Fig.
4
and Table
3
shown. Post-3D studies revealed that the trajectories for right and left lower limbs are closer to the normal values when compared to pre-3D studies. All children succeeded the goals proposed on Table
2
.
Table 3
Comparison between Pre and Post studies
Pre 3D analysis

Post 3D analysis

Normality

Patient

Parameter

Right side

Left side

Right side

Left side

Patient 1

Mean velocity (m/s)

0.40 ± 0

0.49 ± 0

1.20 ± .20

Cadence (step/min)

73.80 ± 6.00

75.80 ± 7.97

129.60 ± 8.40

Step length (m)

0.30 ± .01

0.24 ± .04

0.33 ± .02

0.27 ± .01

0.58 ± .06

Trunk rotation

Percentage range (max-min)

286.29 %

248.71 %

204.84 %

233.87 %

100 %

Maximum peak

14.83°

0°

4°

10°

4.80°

Minimum peak

−2.92°

−15.42°

−8.70°

−4.50°

−2.40°

Patient 2

Mean velocity (m/s)

0.60 ± .10

0.80 ± 0

1.20 ± .20

Cadence (step/min)

102.20 ± 12.65

120.8 ± 9.38

129.60 ± 8.40

Step length (m)

0.31 ± .03

0.24 ± .05

0.40 ± .01

0.38 ± .02

0.58 ± .06

Hip ROM flex-ext

Percentage range (max-min)

70.63 %

85.82 %

95.19 %

96.20 %

100 %

Maximum peak (flexion)

46.40°

48.40°

41.90°

39.50°

37.10°

Minimum peak (extension)

18.50°

14.50°

4.30°

1.50°

−2.40°

Patient 3

Mean velocity (m/s)

0.20 ± 0

0.40 ± 0

1.20 ± .20

Cadence (step/min)

45 ± 3.70

75 ± .60

129.60 ± 8.40

Step length (m)

0.23 ± .05

0.30 ± .05

0.32 ± .02

0.33 ± .04

0.58 ± .06

Trunk rotation

Percentage range (max-min)

343.55 %

350.48 %

224.52 %

234.35 %

100 %

Maximum peak

20°

2.60°

8.25°

6.28°

4.80°

Minimum peak

−1.30°

−19.13°

−5.67°

−8.25°

−2.40°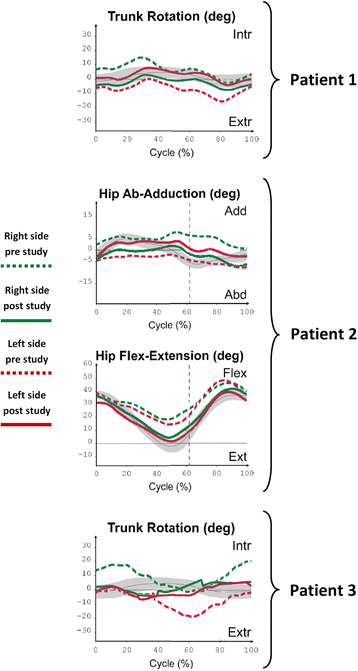 As the therapies were individually tailored for each patient, the results have to be understood as separate case studies.
Discussion and conclusion
This contribution has presented the importance of considering novel robot-based strategies for gait rehabilitation and its previous results from a validation using the CPWalker device with pediatric population. The strength of the robotic platform used in this study is the capability of AAN gait training with displacement in real environment while the apparatus provides feedback in order to correct the child's posture. These functions enabled the definition of tailored therapies for each patient.
Although outcomes are quite promising, we acknowledge that the population size of this pilot trial, the reduced time of intervention (only 10 sessions) and the short-term follow up are the main limitations of this research. Future work will be focused on performing a proper clinical evaluation with an increased number of patients. These studies are necessary to determine if gains will have long-term and lasting impact for children with CP and other similar disorders.
Additionally, we are currently evaluating the effectiveness of a non-invasive way for promoting a more active participation of central nervous system into the rehabilitation strategy in order to allow the implementation of a "Top-Down" approach [13].
Abbreviations
AAN:

Assist as needed
AFO:

Ankle-foot orthoses
CP:

Cerebral palsy
DOF:

Degrees of freedom
GMFCS:

Gross motor function classification system
HSP:

Hereditary spastic paraparesis
IMUs:

Inertial measurement unit
PBWS:

Partial body weight support
ROM:

Range of motion
Declarations
Acknowledgements
Authors would like to thank Made for Movement company for providing and supporting us in the mechanical design of a NF-Walker device. We also greatly appreciate the efforts and contributions from all the testing subjects and their families.
Funding
The work presented in this paper has been carried out with the financial support from the Ministerio de Economía y Competitividad of Spain, under Contract DPI2012-39133-C03-01.
Availability of data and materials
The data supporting the conclusions of this article are included within the article and its additional files.
Authors' contributions
CB developed the control algorithm of the robotic device, designed the control architecture, and drafted the manuscript. SLL aided in the development of the protocol and patient's recruitment and he also collaborated in the review and critique of the manuscript. OR was involved in the development of the hardware of the system. JIS was responsible for the development of the interface with CPWalker. MDC also was involved in the development of the interface with CPWalker. RR collaborated in the review and critique of the manuscript. JMB was responsible for the development of the mechanical design of the robotic platform and he also collaborated in the review and critique of the manuscript. IMC aided in the development of the protocol and patient's recruitment. ER collaborated in all facets of the project. ALL AUTHORS read and approved the final manuscript.
Competing interests
The authors declare that they have no competing interests.
Consent for publication
Consent for publication has been given by parents or legal guardians of involved children.
Ethics approval and consent to participate
The Local Ethical Committee of the "Hospital Infantil Universitario Niño Jesús" gave approval to the study, and warranted its accordance with the Declaration of Helsinki. The study was carried out with the number R-0032/12 from Local Ethical Committee of the Hospital. All patients and families were informed beforehand, and provided consent through parents to participate.
Open AccessThis article is distributed under the terms of the Creative Commons Attribution 4.0 International License (http://creativecommons.org/licenses/by/4.0/), which permits unrestricted use, distribution, and reproduction in any medium, provided you give appropriate credit to the original author(s) and the source, provide a link to the Creative Commons license, and indicate if changes were made. The Creative Commons Public Domain Dedication waiver (http://creativecommons.org/publicdomain/zero/1.0/) applies to the data made available in this article, unless otherwise stated.
Authors' Affiliations
(1)
Neural and Cognitive Engineering group, Centro de Automática y Robótica, Consejo Superior de Investigaciones Científicas, Madrid, Spain
(2)
Hospital Infantil Universitario Niño Jesús, Madrid, Spain
(3)
Instituto de Biomecánica de Valencia, Valencia, Spain
(4)
Postgraduate Program, Universidade Federal do Espírito Santo, Vitória, Brazil