Development and assessment of a hand assist device: GRIPIT
Journal of NeuroEngineering and Rehabilitation
2017
14:15
Received: 4 September 2016
Accepted: 28 January 2017
Published: 21 February 2017
Abstract
Background
Although various hand assist devices have been commercialized for people with paralysis, they are somewhat limited in terms of tool fixation and device attachment method. Hand exoskeleton robots allow users to grasp a wider range of tools but are heavy, complicated, and bulky owing to the presence of numerous actuators and controllers. The GRIPIT hand assist device overcomes the limitations of both conventional devices and exoskeleton robots by providing improved tool fixation and device attachment in a lightweight and compact device. GRIPIT has been designed to assist tripod grasp for people with spinal cord injury because this grasp posture is frequently used in school and offices for such activities as writing and grasping small objects.
Methods
The main development objective of GRIPIT is to assist users to grasp tools with their own hand using a lightweight, compact assistive device that is manually operated via a single wire. GRIPIT consists of only a glove, a wire, and a small structure that maintains tendon tension to permit a stable grasp. The tendon routing points are designed to apply force to the thumb, index finger, and middle finger to form a tripod grasp. A tension-maintenance structure sustains the grasp posture with appropriate tension. Following device development, four people with spinal cord injury were recruited to verify the writing performance of GRIPIT compared to the performance of a conventional penholder and handwriting. Writing was chosen as the assessment task because it requires a tripod grasp, which is one of the main performance objectives of GRIPIT.
Results
New assessment, which includes six different writing tasks, was devised to measure writing ability from various viewpoints including both qualitative and quantitative methods, while most conventional assessments include only qualitative methods or simple time measuring assessments. Appearance, portability, difficulty of wearing, difficulty of grasping the subject, writing sensation, fatigability, and legibility were measured to assess qualitative performance while writing various words and sentences. Results showed that GRIPIT is relatively complicated to wear and use compared to a conventional assist device but has advantages for writing sensation, fatigability, and legibility because it affords sufficient grasp force during writing. Two quantitative performance factors were assessed, accuracy of writing and solidity of writing. To assess accuracy of writing, we asked subjects to draw various figures under given conditions. To assess solidity of writing, pen tip force and the angle variation of the pen were measured. Quantitative evaluation results showed that GRIPIT helps users to write accurately without pen shakes even high force is applied on the pen.
Conclusions
Qualitative and quantitative results were better when subjects used GRIPIT than when they used the conventional penholder, mainly because GRIPIT allowed them to exert a higher grasp force. Grasp force is important because disabled people cannot control their fingers and thus need to move their entire arm to write, while non-disabled people only need to move their fingers to write. The tension-maintenance structure developed for GRIPIT provides appropriate grasp force and moment balance on the user's hand, but the other writing method only fixes the pen using friction force or requires the user's arm to generate a grasp force.
Keywords
Spinal cord injuryAssist deviceWriting aidsAssessmentExoskeleton
Background
The hand is one of the most essential body parts for independent living because so many tasks of daily life, such as writing, eating, and grasping, require a functional hand. People who suffer from permanent paralysis of the hand owing to cerebral palsy, spinal cord injury (SCI), stroke, and other neurological disorders require assistive or rehabilitation devices in order to regain independence and return to work [1, 2].
A selection of commercialized hand assist devices is shown in Fig.
1
. These devices are attached to the user's arm or hand with Velcro
®
or elastic bands, and hand tools such as pens, forks, and paintbrushes are clamped into a hole in the devices. One drawback of these devices is that they can only grasp one type of tool because the receiving hole is a constant size. Users also must sometimes sustain an awkward posture to use a tool because it is mounted into the device in an unfamiliar position. Additionally, the Velcro or elastic band used to fix the device can apply high pressure to the skin if the strapping is too tight, and tools can be too shaky to use if the strapping becomes too loose. These problems reduce the usability of these devices and require users to put in a certain of amount of training time to become familiar with their use.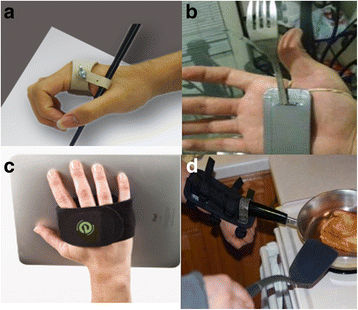 Hand exoskeletons, or wearable robots for the hand, have been developed to change the hand's posture to facilitate tool use, instead of just strapping a tool to the hand. These exoskeletons do not have the disadvantages of conventional hand assist devices because they assist users to grasp tools by helping them to put their hand into a grasp posture. Hand exoskeletons can be classified in two ways, as robots employing rigid materials and robots employing flexible materials. Rigid exoskeletons use hard transmission such as linkages or gears and have the advantage of precise control due to the ease of implementing accurate model. However, rigid exoskeletons require joint alignment between the finger and the robot, making the wearing part bulky and heavy. For this reason, hard exoskeletons are mostly used for rehabilitation purposes [3–6]. Soft exoskeletons, on the other hand, have the advantage of simplifying the wearing part because they are easily locate actuator parts remotely that are separated from the worn portion. Most soft exoskeletons are used for assistance or home rehabilitation purposes because of said advantages [7–10].
In this paper we propose a soft wearable assistive device, GRIPIT, which enables people with spinal cord injuries, SCI, to attain one type of grasp via manual operation. By giving up assistance for various postures and tasks, GRIPIT has been able to reduce its complexity, weight, and volume compared to existing exoskeleton designs. GRIPIT was designed to operate manually, minimizing weight and volume by excluding controllers and actuators. Using a single wire to manually actuate the device reduces the difficulty of manual operation. GRIPIT, provides sufficient grasp stability compared to conventional assist devices because it helps the user grasp objects by applying forces through wire actuation. Developed using previously listed design goals, GRIPIT has a total weight of approximately 40 g and consists of a glove and a small circular structure with 30 mm diameter and 20 mm height [11].
We selected a tripod grasp as the posture that GRIPIT will assist because this grasp is frequently used in school and offices for such activities as writing and grasping small objects [12]. We focused on building an assist device for use in a school or office environment because the second most common age range for SCI is 15 to 29 years old, a time of life when many people are in school or building a career. Hand paralysis for people in this age range means an unavoidable change of occupation or serious problems with finishing their education [13, 14].
Four people with SCI were recruited to measure writing performance using GRIPIT, a conventional assist penholder (shown in Fig. 1a), and their own hand without any devices, because assisting writing is one of the major objectives of GRIPIT. The conventional penholder used in this experiment is the most frequently used device for this task. The device fixes the pen with a hole and is attached to the body with Velcro. We assessed the qualitative performance factors of appearance, portability, difficulty of use, writing sensation, fatigability, and legibility and the quantitative performance factors of writing accuracy and solidity of grasp.
Discussion
We developed GRIPIT to assist SCI people to make tripod grasp for them to go back to occupation or school because this grasp is suitable to make stable grasp force and moment balance while grasping small objects or various pen. The device is designed to be compact, lightweight, and simple by using the underactuated tendon-driven mechanism and the tension-maintenance winder. After the device development, we devised new assessments to measure writing ability from various viewpoints including both qualitative and quantitative methods, while most conventional assessments include only qualitative methods or simple time measuring assessments. Qualitative assessment results show that GRIPIT is more complicated to wear and use than conventional writing assist devices. Experimental participants reported that process of using GRIPIT, consisting of wearing a glove, fixing a glove, inserting a pen, pulling a wire, and manipulating the tension maintaining part, is more complicated than the process of a conventional penholder that consists of fixing a pen into a hole and attaching the splint to the body. However, responders claimed writing with GRIPIT is preferred because it improves the sensation of writing, fatigability, and legibility because it applies a high fixation force to the pen and compensates torque generated by contact forces. Quantitative measurements of writing accuracy and solidity of hand posture show that GRIPIT yields better results than other methods. Writing with a conventional penholder and handwriting show similar results, which means that a conventional penholder is not that useful compared to the handwriting. However, GRIPIT assists users to write accurately without shake of the pen even high force is applied on the pen as the evaluation results show. We believe that reducing the shake of the pen while writing is the most important factor for people with SCI because they cannot use their fingers to control the pen and have to use their arm due to their paralyzed fingers. This factor also attributes writing with GRIPIT to get better results in the total evaluations because GRIPIT assists users to apply sufficient grasp force and form tripod grasp to get high resistance in the torque applied by pentip force.
This study has two major limitations in terms of device development and writing assessment. Although we developed device to assist grasp using a single wire for convenience, tension-maintenance winder requires several kinds of process to prepare grasp and makes the using process complicate according to the interview from the qualitative assessment. Although subjects can wear and use GRIPIT alone, they insisted that it would be more useful if the process of using GRIPIT was simplified. The device will be improved using motor or other tension-maintenance mechanism for the future works. Another limitation of this study, which is concerned with assessment, is a limited sample size; nevertheless, this study should suffice to notify GRIPIT assist users to write better than using other devices and the assessment method is useful for writing evaluation. More experiments with improved GRIPIT using motor or other tension-maintenance mechanism should be considered in future studies.
Conclusions
We developed a glove-type assist device named GRIPIT to assist people with SCI to better use their hands. GRIPIT helps people to grasp tools by using manual actuation to apply force to the fingers via a single wire. In contrast, conventional assist devices only fix tools to the hand by fitting them into a hole on the device and then attaching the device to the hand with Velcro. GRIPIT also has a simpler design and an easier actuation method than other exoskeleton robots, because it consists of only a single glove and a single wire.
GRIPIT has a high potential to increase quality of life for people with hand paralysis because it can help users to grasp a range of tools, whereas conventional devices can accept only the products that fit into their hole. Moreover, GRIPIT can be easily extended to form other grasp postures by changing the routing points of its wire. GRIPIT can be extended to assist most of the hand functions required in daily life by designing new forms of its glove for various grasp postures and by improving its wearability and ease of use.
Additional file 1: GRIPIT wearing process video of spinal cord injured person. (WMV 43662 kb)
Abbreviations
C:

Conventional penholder
DOF:

Degrees of freedom
G:

GRIPIT
H:

Hand writing
SCI:

Spinal cord injury
Declarations
Acknowledgements
The authors would like to thank all the volunteers enrolled in the study and Jamie Jeongryul Song who draw several figures for the paper.
Funding
This work was supported by the Quality of Life Technology Development Program (Commercialization of daily living assistive technology device [hand function, vocal/ respiratory] for people with physical disability using customer participating usability test, 10,050,906) funded by the Ministry of Trade, Industry & Energy (MOTIE), Korea. This work was supported by the National Research Foundation of Korea (NRF) Grant funded by the Korean Government (MSIP) (NRF-2016R1A5A1938472).
Availability of data and materials
Please contact the author for data requests.
Authors' contributions
BC developed GRIPIT, carried out writing assessments, analysed the data, and wrote the paper. HK provided methods to make a model of GRIPIT and experiment analysis. DY provided first concept of GRIPIT which use single wire to grasp and wrote the paper. KJ managed and coordinated the study and wrote the paper. All authors read and approved the final manuscript.
Competing interests
The authors declare that they have no competing interests.
Consent for publication
All authors and subjects read and approved the manuscript for publication.
Ethics approval and consent to participate
The study protocol was approved by the institutional review board of the Seoul National University. All subjects provided informed consent. (IRB No. 1212/001-007).
Open AccessThis article is distributed under the terms of the Creative Commons Attribution 4.0 International License (http://creativecommons.org/licenses/by/4.0/), which permits unrestricted use, distribution, and reproduction in any medium, provided you give appropriate credit to the original author(s) and the source, provide a link to the Creative Commons license, and indicate if changes were made. The Creative Commons Public Domain Dedication waiver (http://creativecommons.org/publicdomain/zero/1.0/) applies to the data made available in this article, unless otherwise stated.
Authors' Affiliations
(1)
School of Mechanical and Aerospace Engineering/SNU-IAMD, Seoul National University, Seoul, Republic of Korea
(2)
Korea Institute of Industrial Technology, Kimje, Republic of Korea