Classification complexity in myoelectric pattern recognition
Journal of NeuroEngineering and Rehabilitation
2017
14:68
Received: 12 October 2016
Accepted: 26 June 2017
Published: 10 July 2017
Abstract
Background
Limb prosthetics, exoskeletons, and neurorehabilitation devices can be intuitively controlled using myoelectric pattern recognition (MPR) to decode the subject's intended movement. In conventional MPR, descriptive electromyography (EMG) features representing the intended movement are fed into a classification algorithm. The separability of the different movements in the feature space significantly affects the classification complexity. Classification complexity estimating algorithms (CCEAs) were studied in this work in order to improve feature selection, predict MPR performance, and inform on faulty data acquisition.
Methods
CCEAs such as nearest neighbor separability (NNS), purity, repeatability index (RI), and separability index (SI) were evaluated based on their correlation with classification accuracy, as well as on their suitability to produce highly performing EMG feature sets. SI was evaluated using Mahalanobis distance, Bhattacharyya distance, Hellinger distance, Kullback–Leibler divergence, and a modified version of Mahalanobis distance. Three commonly used classifiers in MPR were used to compute classification accuracy (linear discriminant analysis (LDA), multi-layer perceptron (MLP), and support vector machine (SVM)). The algorithms and analytic graphical user interfaces produced in this work are freely available in BioPatRec.
Results
NNS and SI were found to be highly correlated with classification accuracy (correlations up to 0.98 for both algorithms) and capable of yielding highly descriptive feature sets. Additionally, the experiments revealed how the level of correlation between the inputs of the classifiers influences classification accuracy, and emphasizes the classifiers' sensitivity to such redundancy.
Conclusions
This study deepens the understanding of the classification complexity in prediction of motor volition based on myoelectric information. It also provides researchers with tools to analyze myoelectric recordings in order to improve classification performance.
Keywords
Classification complexityMyoelectric pattern recognitionElectromyographyProsthesis control
Background
Decoding of motor volition via myoelectric pattern recognition (MPR) has many clinical applications such as prosthetic control [1], phantom limb pain treatment [2], and rehabilitation after stroke [3]. Research on MPR has focused on classifiers [4], pre-processing algorithms [5], and electromyography (EMG) acquisition [6], among other factors that influence the classification outcome. Reaz et al. studied different attributes of EMG signals, such as signal-to-noise ratio, that decrease the complexity of MPR [7]. However, limited studies have been conducted on the complexity of the classification task itself. Information on complexity prior to classification can inform on specific conflicting classes and flawed data acquisition. Understanding of classification complexity can also be used to select optimal features and evaluate trade-offs between the amount of classes and their separability.
Most MPR algorithms use EMG features extracted from overlapping time windows as the classifier input. Therefore, the resulting classification accuracy is dependent on the features used to describe the EMG signals. The performance of a variety of such features, and feature selection algorithms, have been studied previously [8, 9]. Two feature selecting algorithms, namely minimum redundancy and maximum relevance [10], and Markov random fields [11], were applied to an electrode array by Liu et al. [12], who used Kullback–Leibler divergence and feature scatter to rate the relevance and redundancy of features. The features were then ranked and selected into sets according to these ratings. Similarly, Bunderson et al. defined three data quality indices – namely, repeatability index (RI), mean semi-principal axis, and separability index (SI) – to evaluate the changes in data quality over repeated recordings of EMG [13]. Classification complexity estimation was not investigated in the aforementioned studies, but algorithms intended to quantify attributes relevant to the complexity of pattern recognition tasks were introduced.
Classification complexity has been studied outside the field of MPR. Singh suggested two nonparametric multiresolution complexity measures: nearest neighbor separability (NNS) and purity [14]. These complexity measures were compared with common statistical similarity measures, such as Kullback–Leibler divergence, Bhattacharyya distance, and Mahalanobis distance, and were found to yield a higher correlation with classification accuracy. These classification complexity estimating algorithms (CCEAs), along with Hellinger distance, were investigated in the present study with a focus on their relevance for MPR.
In the present study, CCEAs were evaluated based on their correlation with offline classification accuracy and real-time classification performance. Consequently, different attributes were revealed about the CCEAs, classification algorithms, and features descriptiveness. One such attributes – channel correlation dependency – was investigated further. The CCEAs that were found to yield high correlation with classification accuracy (NNS and SI) were then used for feature selection and benchmarked against features sets found in the literature.
The result of these experiments provided evidence of the suitability of CCEAs to predict MPR performance. The algorithms used in this work were implemented and made freely available in BioPatRec, an open-source platform for development and benchmarking of algorithms used in advanced myoelectric control [15, 16].
Discussion
Offline results
Separability index
Modified Mahalanobis was the distance definition that had the greatest correlation with classification accuracy (Table 3). However, the distance definitions based on Bhattacharyya coefficient, being Bhattacharyya distance and Hellinger distance, had a higher correlation with MLP's classification accuracy. The Feature Attributes section shows that Bhattacharyya distance compensates for the change in dependency to MLP classification accuracy caused by input correlation that is found in the other CCEAs. It should therefore be a more adequate distance definition for estimation of MLP classification complexity. However, as features are combined into sets, the feature correlation tend to decrease as larger feature vectors are formed using multiple features. This is probably a reason for the absence of significantly higher classification accuracy for Bhattacharyya distance (Fig. 9).
Nearest neighbor separability
NNS has high correlation with classification accuracy for all classifiers, as shown in Table 4. Figure 10 shows that the best sets corresponding to NNS perform higher overall classification accuracy then both the SI best sets and the reference sets. The greatest benefit of NNS is that it does not assume normality of the distribution, which makes it more general. However, there is a dependency to input correlation, as can be seen in Fig. 16; however, just as for modified Mahalanobis, this influence will decrease as features are combined into sets and input correlation decrease.
The drawback of NNS is that it is more computationally demanding than SI. As implemented for this study, the computation time for NNS using two features is approximately 20 and 16 times longer than for SI with modified Mahalanobis as distance definition using the IM and SM data, respectively. The absolute time to compute SI in the aforementioned configuration for IM data when using Matlab R2015b on a MacBook, 2 GHz Intel Core 2 Duo, 8 GB RAM is approximately 26 ms.
Purity and repeatability index
Purity and RI do not show as high correlation with with classification accuracy as the other CCEAs evaluated in this study, and were therefore not included in the feature set experiment. However, the correlation for RI average result is relatively high and positive. It is worthy of notice that RI measures the inconsistence during recording. Higher RI means larger cluster shifts in feature space between recording repetitions. Larger shifts were expected to limit the classifiers abilities to identify boundaries and thus reduce classification accuracy.
Real time
The statistically significant correlations with completion time in Fig. 12 argue that both NNS and SI are relevant for prediction of performance in real-time. However, SI with modified Mahalanobis as distance definition yields higher correlation with completion time than NNS, while the offline tests show that the NNS best sets are performing with higher classification accuracy for both MLP and LDA also represented in the real-time test. The parametric models of the distributions used for SI are probably more robust to changes present in a real-time situation, similar to what is shown for LDA, also dependent on the assumption of normality [23].
We expected consistent intra-class distribution in feature space, as represented by RI, to be beneficial in the real-time tests, but the low correlation with completion time in Fig. 12 does not confirm that hypothesis.
Even though correlations between the CCEAs and the
completion time
are significant for many CCEAs, the correlations with offline accuracy are clearly higher. The complexity of real-time testing is illustrated in Fig.
17
, where classifier training data is compared to corresponding real-time data for one movement per inset.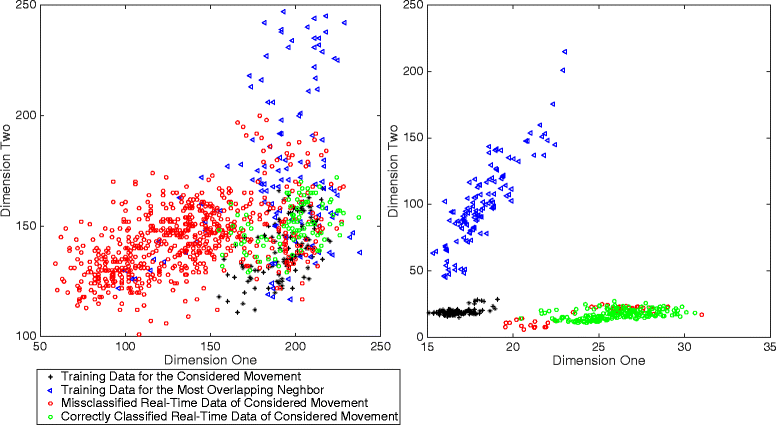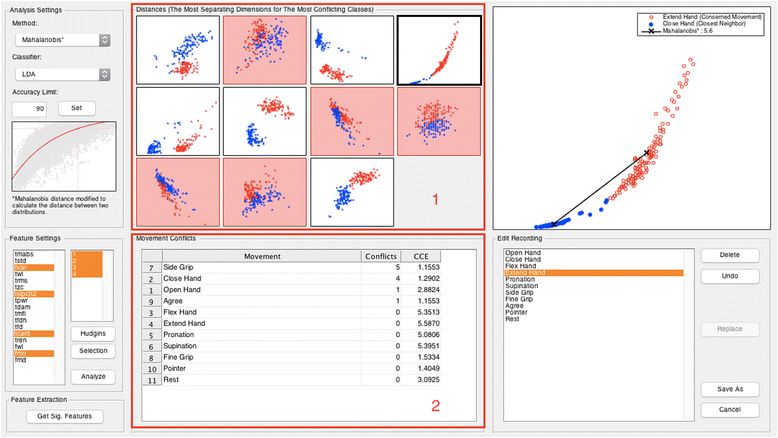 The distribution clearly shifts between the time when training data was recorded and the time when the real-time test was executed.
Channel correlation dependency and feature attributes
The change in dependency between CCEs and classification accuracy due to channel correlation of the features presented in the Channel Correlation Dependency section reveals some interesting attributes of the classifiers. Figure 16 shows that features with high channel correlation result in higher average classification accuracy for MLP compared to LDA, but LDA used in an OVO topology is less influenced by the feature correlation. MLP uses the redundant information in the features more efficiently than what is observed for LDA, which suggests that redundancy reduction is of higher importance when selecting both channels and features for a LDA application.
The feature attributes emphasized in Figs. 13 and 14 provide information about the performance of the features in different setups. The variation in the top five features shows how dependent the features' performance is to other conditions of the classification task, which emphasizes the importance of dynamic feature selection methods for MPR.
Data analysis tool: example
We implemented the best-performing CCEAs found in this work in a new module for data analysis in BioPatRec [15]; namely, Separability Index with both Bhattacharyya distance and Modified Mahalanobis, and the Nearest Neighbor Separability. The graphical user interface of this module is shown in Fig. 18. Scatter plots show the feature space of different movements and their neighbors. Information about the most conflicting classes based on their interference with other movements is displayed in table format. These attributes are derived from the selected algorithm and are useful inputs when deciding whether to re-record or exclude a particular movement(s).
Conclusion
This study compared algorithms that estimates the classification complexity of MPR. Two such algorithms, Separability Index (SI) and Nearest Neighbors Separability (NNS), were found to yield high correlation with classification accuracy. The utility of these algorithms for MPR was demonstrated with the high classification accuracy yielded by the feature sets selected using these two algorithms. SI was evaluated using different distance definitions, from which best performance was achieved using a modified version of the Mahalanobis distance, which also considers the covariance of the neighboring class. Overall, the offline results indicated that NNS is a more stable CCEA, while SI is less demanding to compute. In addition, feature correlation dependency was found to influence the correlation between CCEs and classification accuracy.
Abbreviations
ADC:

Analog-to-digital converter
AMI:

All movements as individual
CCE:

Classification complexity estimates
CCEA:

Classification complexity estimating algorithm
EMG:

Electromyography
IM:

Individual movements
LDA:

Linear discriminant analysis
MLP:

Multi-layer perceptron
MPR:

Myoelectric pattern recognition
NNS :

Nearest neighbor separability
OVO:

One vs. one
RI:

Repeatability index
SI:

Separability index
SM:

Simultaneous movements
SVM:

Support vector machine
Declarations
Acknowledgements
Not applicable.
Funding
This study was supported by the Promobilia foundation, European Commission (H2020, DeTOP project, GA 687905) and VINNOVA.
Availability of data and materials
The data and source code used in the study have been made are freely available as part of BioPatRec (release FRA). Graphical user interfaces (GUIs) to facilitate myoelectric data analysis are also provided.
Authors' contributions
NM and MOC designed the study. NN performed the data analysis and drafted the manuscript. MOC performed data collection, supported data analysis and drafting of the manuscript. BH assisted in drafting the manuscript and provided support during the research. All of the authors have read and approved the final manuscript.
Ethics approval and consent to participate
Ethical approval was granted by the regional ethical committee.
Consent for publication
Not applicable.
Competing interests
NN and BH declare no competing interest. MOC was partially funded by Integrum AB. All of the data and source code used in this study is freely available online as part of BioPatRec (release FRA).
Publisher's Note
Springer Nature remains neutral with regard to jurisdictional claims in published maps and institutional affiliations.
Open AccessThis article is distributed under the terms of the Creative Commons Attribution 4.0 International License (http://creativecommons.org/licenses/by/4.0/), which permits unrestricted use, distribution, and reproduction in any medium, provided you give appropriate credit to the original author(s) and the source, provide a link to the Creative Commons license, and indicate if changes were made. The Creative Commons Public Domain Dedication waiver (http://creativecommons.org/publicdomain/zero/1.0/) applies to the data made available in this article, unless otherwise stated.
Authors' Affiliations
(1)
Department of Electrical Engineering, Chalmers University of Technology, Gothenburg, Sweden
(2)
Integrum AB, Mölndal, Sweden