Estimates of individual muscle power production in normal adult walking
Journal of NeuroEngineering and Rehabilitation
2017
14:92
Received: 2 February 2017
Accepted: 4 September 2017
Published: 11 September 2017
Abstract
Background
The purpose of this study was to determine the contribution of individual hip muscles to the net hip power in normal adult self-selected speed walking. A further goal was to examine each muscle's role in propulsion or support of the body during that task.
Methods
An EMG-to-force processing (EFP) model was developed which scaled muscle-tendon unit (MTU) force output to gait EMG. Active muscle power was defined as the product of MTU forces (derived from EFP) and that muscle's contraction velocity. Passive hip power was estimated from passive moments associates with hip position (angle of flexion (extension)) and the hip's angular velocity. Net hip EFP power was determined by summing individual active hip muscle power plus the net passive hip power at each percent gait cycle interval. Net hip power was also calculated for these study participants via inverse dynamics (kinetics plus kinematics, KIN). The inverse dynamics technique – well accepted in the biomechanics literature – was used as a "gold standard" for validation of this EFP model. Closeness of fit of the power curves of the two methods was used to validate the model.
Results
The correlation between the EFP and KIN methods was sufficiently close, suggesting validation of the model's ability to provide reasonable estimates of power produced by individual hip muscles. Key findings were that (1) most muscles undergo a stretch-shorten cycle of muscle contraction, (2) greatest power was produced by the hip abductors, and (3) the hip adductors contribute to either hip adduction or hip extension (but not both).
Conclusions
The EMG-to-force processing approach provides reasonable estimates of individual hip muscle forces in self-selected speed walking in neurologically-intact adults.
Background
The role of individual hip muscles in normal walking has not been fully described. A more complete understanding of each muscle's role could be established by knowledge of that muscle's force output and power generation. However, direct measurements of muscle force has been obtained for only a few lower extremity muscles (i.E. Achilles tendon [1, 2]), and the techniques used to directly record muscle forces – even when possible – are not practical in a clinical environment. Muscle power is related to muscle force, in that it is the product of force output and muscle-tendon unit (MTU) contraction velocity. Joint power – that is, the power produced by synergistic muscles – may be used to establish the capacity of muscle groups to generate or restrain movement [3–12]. Concentric power typically produces motion, while negative power implies motion restraint. A possible confound is that the presence of muscle power has been used as a proxy for muscle activity, yet studies of amputee locomotion [13] demonstrate non-zero power at the prosthetic ankle. Further, isometric contractions have zero power, due to a contraction velocity of zero. Nonetheless, the power produced by any muscle cannot be directly determined. Hence other methods are required.
An impediment to easy determination of muscle power – and the potential role of individual hip muscles – is that the hip has more muscles than are necessary to perform basic movements. This overabundance of muscles leads to statistical indeterminacy (more unknown muscle forces than solution set of equations). Power calculation approaches thus are based on inverse dynamics techniques. This method solves the actuator-redundancy problem. However, conventional power analysis cannot define the unique power contribution of a single muscle, except in uncommon cases where only a single muscle is responsible for the observed movement. Co-contraction of agonists and antagonists is a further confound. As a result there may not be a direct link between a muscle's power output (via inverse dynamics techniques) and that muscle's true role in gait. These factors show that the muscle power estimates from inverse dynamics can include muscle force, joint angular velocities and other, undefined variables.
Neuromuscular modeling techniques have produced reasonable estimates of in vivo ankle muscle power [14]. It was the purpose of this study to examine if those techniques could be applied to at the more proximal hip joint to determine individual hip muscle power production in normal, self-selected-speed walking.
Methods (overview)
Hip power values at self-selected speed walking were determined by (i) inverse dynamics (kinematics plus kinetics, KIN) and (ii) an EMG-to-force processing (EFP) model during the same gait trial for each study participant. Net power for each method was statistically compared at 1 % gait cycle intervals. Closeness of fit between the EFP and KIN power curves was used to validate the EFP model. If the resulting power curves were sufficiently similar, the EFP power estimates were deconstructed to analyze the power contribution and role of individual hip muscles in normal gait.
Results
EFP and KIN hip power were highly correlated and similar in magnitude (
r
= 0.74, Fig.
1
). Semimembranosus produced the greatest amount of positive power (33 W, which occurred in early stance (6%GC)). Semimembranosus and Biceps Femoris produced 10 W and 11 W of power, respectively, during stance. The largest single muscle hip power magnitude was also produced by Semimembranosus in swing (−55 W). Biceps Femoris also had large negative power (−24 W), while the swing phase peak power produced by Semitendinosus was modest (−5 W).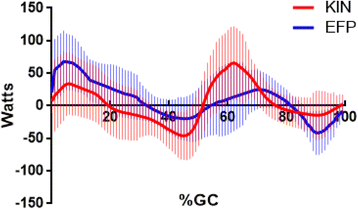 The KIN and EFP curves were similar in shape; that is, they tended to increase (decrease) in value at corresponding times (Fig. 1). However, there were substantial differences in hip power at three intervals in the gait cycle. KIN predicted higher negative power in late single support (≈ − 40 W). This value was surprising, as there is little hip muscle activity (as noted by the paucity of dynamic EMG) during this epoch. In a similar manner pre-swing and early swing phases were notable for elevated KIN positive power, while EFP values remain low. This is little doubt that the hip flexes vigorously in this interval (hence high KIN power), while the only hip flexor producing force at that time was the Rectus Femoris. Finally, EFP indicates much higher negative power than KIN in late swing. This was coincident with high force output by all five hip extensors with active lengthening by all hamstrings and Gluteus Maximus (Adductor Magnus activity is described below).
Notable power production by other muscles included the Gluteus Medius (17 W, in single support). The fact that positive power by this muscle was greater in magnitude than its peak negative power was unforeseen, as its role in stance is generally described as limiting contralateral lateral tilt of the torso (negative power). The Rectus Femoris (RF) produced -14 W during the transition from stance to swing phases. The hip had begun flexing before the onset of RF force and power, while concurrent knee flexion lengthens the bi-articular RF. Thus there was a stretch-shorten cycle for this muscle, with expected augmentation of muscle force during the concentric contraction phase [36, 37]. In contrast the uni-articular Iliopsoas was limited to concentric work to enhance hip flexion (peak power = 7 W). Early swing phase hip flexion was assisted by modest positive power produced by the Gracilis and Sartorius (<5 W, each).
Conclusions
One aim of this study was to determine if an EFP approach could yield reasonable estimates of individual muscle power. This appears to be so. Kinetic analysis (KIN) served as the "gold standard" for EFP validation, and the EFP and KIN power curves were very similar (Fig. 1). While it is possible that there are self-cancelling errors, the closeness of fit between the EFP and KIN power curves indicates that the model's power estimates are reasonable. It is feasible that the match of actual versus predicted power is closer for some muscles than for others. When compared to KIN methods one important distinction in the EFP approach is that the contribution of individual muscles can be determined. It is important to note that all input variables to the model (%MVC, EMD) were determined a priori, and that this approach was not a curve-fitting exercise.
The results presented are encouraging. When combined with individual muscle forces our understanding of normal gait can be substantially enhanced. There may be important clinical implications to this work, as rehabilitation devices and protocols are based – in part – on suppositions of which muscles and joints are essential to generate or restrain movement.
Thus far EMG-to-force processing models – including the one presented here – have been limited to estimating in vivo forces and (rarely) power in neurologically-intact individuals [20, 51–53]. Future studies are needed that successfully adapt the principles and techniques described to persons with neurologically disease or injury.
Abbreviations
EFP:

EMG-to-force processing
EMD:

Electromechanical delay
EMG:

electromyogram
GC:

gait cycle
GRF:

ground reaction force
Hz:

Hertz
Kg:

kilograms
KIN:

combination of kinetics and kinematics
LE:

linear envelope
M:

Moment
MMT:

Maximum muscle test
MTU:

Muscle-tendon unit
MVC:

maximum voluntary contraction
P:

Power
RF:

Rectus Femoris
TFL:

Tensor Fascia Lata
W:

Watts
ω:

angular velocity
Declarations
Acknowledgements
None.
Funding
No external funding (None).
Availability of data and materials
All materials described in the manuscript will be available to any scientist wishing to use them for non-commercial reasons. The data set used/analyzed in the current study are available from the corresponding author on reasonable request.
Authors' contributions
The primary author (RB) developed the model used, was involved in all data acquisition and analysis, and wrote the manuscript draft. The secondary author (LB) developed the software used for data analysis, was critically important for revising the manuscript. Each author gave final approval for the manuscript to be published.
Ethics approval and consent to participate
Subjects consented to participate following explanation of the procedure and review of the informed consent, as approved by the Institute Review Board, and signed the Rights of Human Subjects form.
Consent for publication
All of the study participants were adults. Informed consent was obtained from each study participant prior to their participation in the study.
Competing interests
The authors declare that they have no competing interests.
Publisher's Note
Springer Nature remains neutral with regard to jurisdictional claims in published maps and institutional affiliations.
Open AccessThis article is distributed under the terms of the Creative Commons Attribution 4.0 International License (http://creativecommons.org/licenses/by/4.0/), which permits unrestricted use, distribution, and reproduction in any medium, provided you give appropriate credit to the original author(s) and the source, provide a link to the Creative Commons license, and indicate if changes were made. The Creative Commons Public Domain Dedication waiver (http://creativecommons.org/publicdomain/zero/1.0/) applies to the data made available in this article, unless otherwise stated.
Authors' Affiliations
(1)
Physical Medicine and Rehabilitation Residency Program, Casa Colina Hospital and Centers for Healthcare, Pomona, USA
(2)
B&L Engineering, Santa Ana, USA