Design and preliminary evaluation of the FINGER rehabilitation robot: controlling challenge and quantifying finger individuation during musical computer game play
Journal of NeuroEngineering and Rehabilitation
2014
11:10
Received: 21 August 2012
Accepted: 20 January 2014
Published: 4 February 2014
Abstract
Background
This paper describes the design and preliminary testing of FINGER (Finger Individuating Grasp Exercise Robot), a device for assisting in finger rehabilitation after neurologic injury. We developed FINGER to assist stroke patients in moving their fingers individually in a naturalistic curling motion while playing a game similar to Guitar Hero®a. The goal was to make FINGER capable of assisting with motions where precise timing is important.
Methods
FINGER consists of a pair of stacked single degree-of-freedom 8-bar mechanisms, one for the index and one for the middle finger. Each 8-bar mechanism was designed to control the angle and position of the proximal phalanx and the position of the middle phalanx. Target positions for the mechanism optimization were determined from trajectory data collected from 7 healthy subjects using color-based motion capture. The resulting robotic device was built to accommodate multiple finger sizes and finger-to-finger widths. For initial evaluation, we asked individuals with a stroke (n = 16) and without impairment (n = 4) to play a game similar to Guitar Hero® while connected to FINGER.
Results
Precision design, low friction bearings, and separate high speed linear actuators allowed FINGER to individually actuate the fingers with a high bandwidth of control (−3 dB at approximately 8 Hz). During the tests, we were able to modulate the subject's success rate at the game by automatically adjusting the controller gains of FINGER. We also used FINGER to measure subjects' effort and finger individuation while playing the game.
Conclusions
Test results demonstrate the ability of FINGER to motivate subjects with an engaging game environment that challenges individuated control of the fingers, automatically control assistance levels, and quantify finger individuation after stroke.
Keywords
Robotic rehabilitation
Stroke
Motor control
Mechanism synthesis
Finger individuation
Color-based motion capture
Background
Over the past several decades, researchers have developed robotic devices for rehabilitation therapy after stroke. This is in response to a sizable need, with nearly 800,000 people per year suffering a stroke in the United States alone [1]. Of the survivors, approximately two-thirds experience long-term impairment of their affected upper-extremity [2]. Robotic therapy devices can automate the repetitive and strenuous aspects of conventional physical therapy. Furthermore, robotic therapy devices can serve as scientific instruments for quantifying the recovery process, and thus may provide insight that is not normally available with conventional therapy alone.
Robot assisted therapy of the upper extremity following stroke has been shown to be as effective as, and in some cases modestly more effective than, conventional therapy (for reviews see [3–7]). Research with robotic therapy devices supports the contention that motor recovery increases with therapy intensity [6], i.e. more practice is better. What remains unclear, however, is how a rehabilitation robot should interact with the patient in order to optimize recovery during practice. One approach is to help patients practice movements that they cannot complete without assistance, which may foster somatosensory stimulation that induces brain plasticity [8]. Indeed, most rehabilitation robots are strong enough to complete movements even when patients are completely impaired and/or when tone and spasticity act in opposition. However, care must be taken so that the robot does not "take over" the movement practice from the patient, which may cause the patient to "slack" and reduce their effort at the task being practiced [9, 10]. Patient effort is considered crucial to increasing motor-plasticity during rehabilitation therapy [11, 12]. Thus, it seems important for robotic rehabilitation devices to simultaneously enable movement practice and encourage patient effort during therapy.
Numerous control strategies for robotic therapy have been successfully implemented and tested, as summarized in [13]. Of specific interest are "assist-as-needed" control strategies, which change assistance in response to perceived effort, typically correlated in some way to performance error (tracking error or similar). These controllers alter the assistance level by modifying controller parameters (e.g. feedback gains, desired trajectory shape and/or timing, model based terms, etc.) [9, 14–18]. Tests with these controllers suggest that increased error encourages patient effort, and vice-versa, although the relationship remains unclear. Additional experiments may clarify this and other relationships affecting motor recovery during rehabilitation therapy, although the ultimate validation clearly depends on therapeutic efficacy.
Effectively exploring the factors that promote functional recovery during movement therapy and evaluating "assist-as-needed" and other control strategies depends on the control fidelity of the robotic platform. To quantify baseline motor ability, ideally, the robot should be able to appear both massless and frictionless to the patient, and should be highly compliant and backdriveable. However, it is also important to have a high bandwidth of force control, as to not limit the response of robot during interaction with the patient. Improving the control and impedance characteristics of a rehabilitation robot has the potential to make such devices better scientific instruments as well as allowing more precise investigation of motor learning and the mechanisms of neuroplasticity, as suggested by [13].
Another critical consideration for understanding the mechanisms by which rehabilitation robots promote recovery is the limb of application of the robot. As an integral part of activities of daily living (ADLs), rehabilitation of the hand is particularly important, and a significant need exists for improved hand rehabilitation, as most of those who have suffered a stroke experience some impairment in hand function [19]. Furthermore, the hand and fingers have a highly developed neuro-muscular system to which the brain has dedicated a large portion of resources.
Designing a robot to actuate the hand or finger is a significant challenge, as evidenced by the large variety of robotic devices that have been developed for hand and finger therapy. Previous work has focused often on re-creating the complexity of hand and finger movements, often at the expensive of actuation and control. These hand robots typically fall into the category of end-effector or exoskeleton (for review see [20]). End-effector devices attach distally and do not attempt to align with the joint axis of the patient, as exoskeleton devices typically do.
In the work presented here, we sought to maximize controller fidelity and minimize the mechanical impedance of the device, at the expense of the robot's degrees-of-freedom. Although each finger in the human hand has multiple degrees-of-freedom, most ADLs incorporate a simple finger curling motion, similar to a power grasp [21]. Thus, an opportunity existed to create a finger-curling robot with one degree-of-freedom, high control fidelity, and low friction.
FINGER, the finger curling robot presented here, is capable of individually assisting both the index and middle fingers through a natural grasping motion (Additional file 1). Each finger is individually guided by an 8-bar mechanism that controls the orientation and position of the proximal phalanx and the position of the middle phalanx. Each 8-bar mechanism has a single degree-of-freedom and is actuated by a high bandwidth and low-friction linear electric actuator. Further friction reduction is achieved through feed-forward control compensation.
In the sections that follow, we present the design, controller development, and preliminary testing of FINGER. We present the mechanism synthesis, which is based on motion capture of finger grasping motion, first. We then describe the mechanical design, including sizing adjustments and patient-robot interface. In the third section, we describe the actuation including controller development and friction compensation. Finally, we present some results from pilot testing with several subjects who have suffered a stroke. Portions of this work have appeared previously in conference paper format [22, 23].
Results
Average probability of success in hitting correct notes during gameplay versus time for the sixteen impaired and the four healthy subjects is shown in Figure
13
. At the desired success rates of 50%, 75% and 99% the impaired subjects converged to the average actual success rates of 47.7+/−9.6%, 73.8+/−7.1%, and 97.6+/−1.9%. However, the unimpaired subjects converged to the average actual success rates of 72.2+/−19.5%, 79.3+/−4%, and 99+/−1.1%. This result shows that the algorithm explained in 4.3 is successful in assisting subjects to achieve a desired success rate. It is not surprising that the healthy subjects could achieve success rates higher than algorithm's desired success rate, because the algorithm doesn't prevent subjects from hitting more correct notes than desired. In order to effectively challenge the unimpaired subject, the algorithm would need to have been able to make the game more difficult than it would naturally be with the assistance turned completely off. This is not necessary for the impaired subjects, whose reduced neuromuscular ability provided the increased difficulty.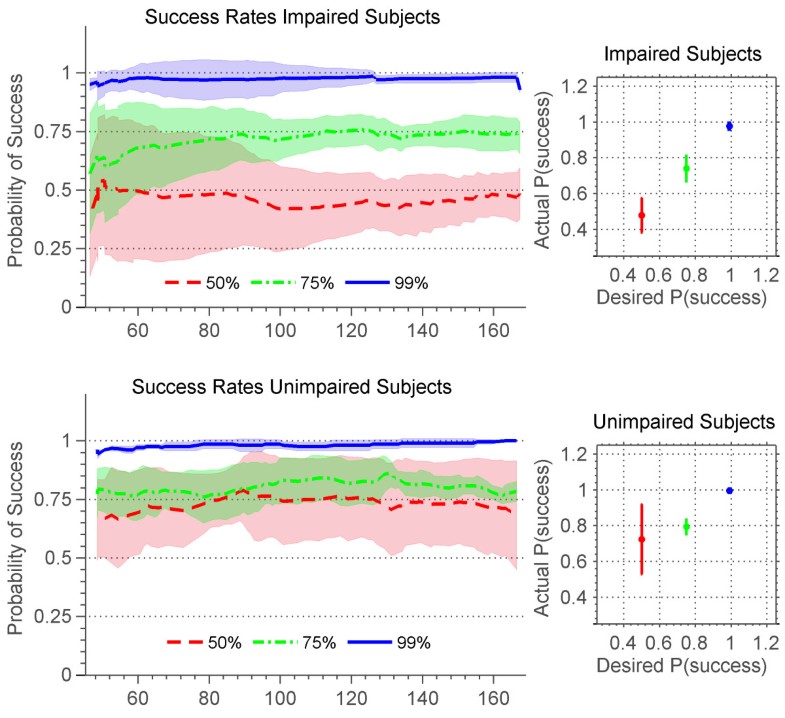 We also measured how success rate and impairment level affected the subjects' effort while playing the game. Success rate was found to have a significant effect on subjects' effort (p = 0.0024, degrees of freedom = 2). The effects of impairment level on effort, approached but did not achieve significance (p =0.0785, degrees of freedom = 2). As shown in Figure
14
, effort decreased when subjects' success rate increased.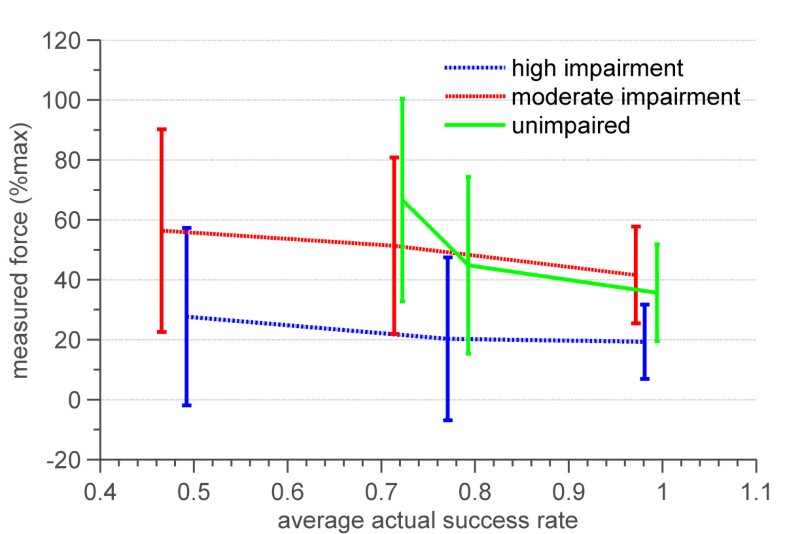 Figure
15
shows the effects of impairment level and the finger being used on finger individuation. Both the finger being used and impairment level were found to have a significant effect on finger individuation (p = .0001, degrees of freedom = 1 and p = .0062, degrees of freedom = 2, respectively). As can be seen in Figure
15
, individuation scores of the index finger were consistently better than those of the middle finger. This means that when the subject tried to move the index finger, he was more successful at moving the index finger only, as compared to when he tried to move the middle finger. Success rate was not found to have a significant effect on finger individuation, and so we combined data across success levels, resulting in Figure
16
, which shows the effect of subjects' impairment level on finger individuation. Subjects' with higher impairment had lower individuation ability. The ability to individuate the index finger was higher than the ability to individuate the middle finger.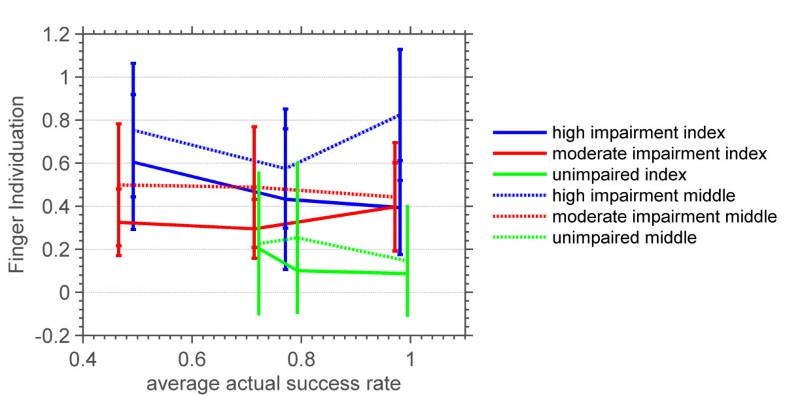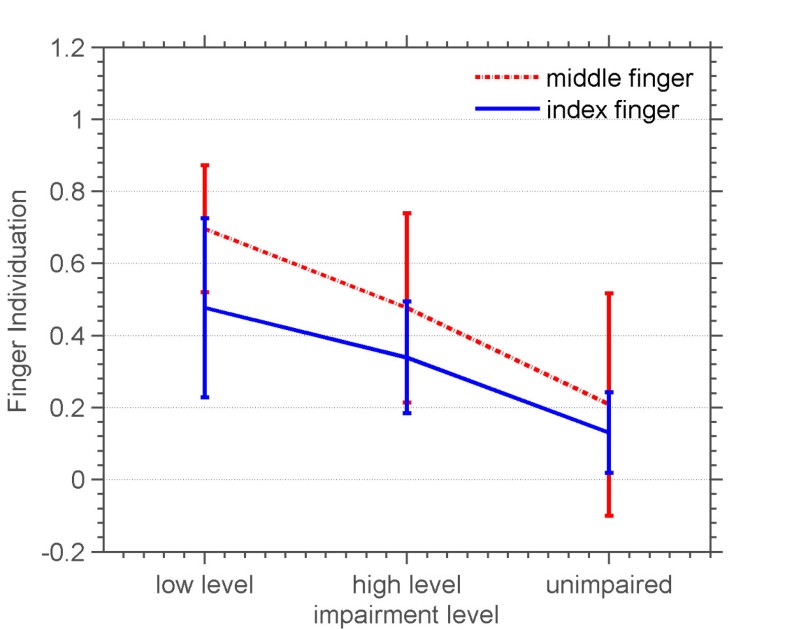 Conclusions
This paper described the design and preliminary evaluation of FINGER (Finger Individuating Grasp Exercise Robot). FINGER makes use of individual single degree-of-freedom 8-bar mechanisms to assist patients in making a naturalistic grasping motion with different fingers, together or separately. The kinematic and mechanical design work was guided by the overall goal of creating a robot with high-control fidelity as an instrument for testing and implementing the widest possible range of control strategies. Thus, we paired the lightweight, low-friction mechanism with high-speed and un-geared linear actuators. The resulting robotic mechanism has a closed loop frequency response of approximately of −3 dB at approximately 8 Hz. The fast speed and frequency response of FINGER make it a good candidate for evaluating control algorithms and therapy tasks that require fast movements and/or precise timing.
Another unique feature of FINGER is that, in contrast to most exoskeleton designs that attempt to align the joints of the robot with the joints of the body, the joints of the 8-bar mechanisms of FINGER are kept to the back of the hand and wrist throughout the curling motion. This facilitates easy attachment to the user and stacking of the mechanisms for multiple fingers, and allows for the possibility of applying sensory stimuli to the volar surface of the palm, for example by having individuals grasp real objects with assistance from FINGER.
The physical parameters of the 8-bar mechanism were determined through a mechanism synthesis process that achieved desired end-effector locations using cost function minimization. Four different sets of desired end-effector locations were created to generate a mechanism that could be easily adjusted to accommodate four different hand sizes. Using low-friction bearings and a balanced joint design, we were able to achieve smooth, low-friction 8-bar mechanisms that are easily backdriven. Further design features include finger-to-finder width adjustment, finger length adjustment, and wrist alignment.
Future upgrades to FINGER are currently under development. Possible upgrades and improvements include adding direct force sensing and impedance control, implementing unstructured "assist-as-needed" adaptive control, and adding a thumb exoskeleton mechanism.
The preliminary tests of FINGER showed that it can allow individuals with a range of impairment levels to play an engaging video game similar to Guitar Hero®. We used FINGER with a simple gain-adaptation algorithm to test the hypothesis that we can assist subjects as needed in achieving predefined success levels at the game, which we confirmed. We also found that the effort of both high level and low level subjects decreased when their success rate increased; this is consistent with previous observations of slacking when a robotic device over-assists its user [9, 10].
According to CPF, there is an intermediate success rate in which learning is maximal. We do not find a success level at which effort was optimal. One possibility is that effort may not decrease unless success is below 50%, the lowest level we tested. Determining the relationship between measures of effort and the optimal challenge point is an important direction for future research.
These tests also demonstrated the ability of FINGER to quantify finger individuation. Using measurements during blocked trials based on patients' force applied by the wrong finger, we found that patients with higher impairment levels individuated less than those with lower levels of impairment. This result supports the findings in the previous literature on individuation that found that stroke reduced the ability to perform selective individuated finger motions, and specifically that the independence of the middle finger is more impaired than that of the index finger [36, 37]. A significant result is that we were able to quantify individuation during the normal course of game play of the game similar to Guitar Hero®. The possibility of generating quantitative measures of movement ability while therapy is delivered may increase the frequency at which these measures can be obtained [38].
The results of the preliminary tests with FINGER demonstrate its unique capabilities to study and implement finger therapy after stroke. Additional testing with FINGER may add insight to the effects of success rate on motor learning and finger movement recovery. We also plan to further explore the mechanisms of finger individuation in subjects with impairment due to stroke. Such knowledge will guide the use of FINGER for post-stroke movement therapy.
Endnote
aGuitar Hero® is a trademark of Activision Publishing, Inc.
Declarations
Acknowledgements
The authors gratefully acknowledge the support for the work described herein by NIH-R01HD062744 from the National Center for Medical Rehabilitation Research at the National Institute of Child Health and Human Development, and the National Center for Research Resources and the National Center for Advancing Translational Sciences, National Institutes of Health, through Grant UL1 TR000153. The content is solely the responsibility of the authors and does not necessarily represent the official views of the NIH.
Authors' Affiliations
(1)
Mechanical Engineering Department, University of Idaho, Moscow, USA
(2)
Department of Biomedical Engineering, University of California, Irvine, USA
(3)
Department of Rehabilitation, University of California, Irvine, USA
(4)
Department of Mechanical and Aerospace Engineering, University of California, Irvine, USA
(5)
Department of Anatomy and Neurobiology, University of California, Irvine, USA
Copyright
© Taheri et al.; licensee BioMed Central Ltd. 2014
This article is published under license to BioMed Central Ltd. This is an open access article distributed under the terms of the Creative Commons Attribution License (http://creativecommons.org/licenses/by/2.0), which permits unrestricted use, distribution, and reproduction in any medium, provided the original work is properly cited.