Perspectives on human-human sensorimotor interactions for the design of rehabilitation robots
Journal of NeuroEngineering and Rehabilitation
2014
11:142
Received: 3 June 2014
Accepted: 30 September 2014
Published: 6 October 2014
Abstract
Physical interactions between patients and therapists during rehabilitation have served as motivation for the design of rehabilitation robots, yet we lack a fundamental understanding of the principles governing such human-human interactions (HHI). Here we review the literature and pose important open questions regarding sensorimotor interaction during HHI that could facilitate the design of human-robot interactions (HRI) and haptic interfaces for rehabilitation. Based on the goals of physical rehabilitation, three subcategories of sensorimotor interaction are identified: sensorimotor collaboration, sensorimotor assistance, and sensorimotor education. Prior research has focused primarily on sensorimotor collaboration and is generally limited to relatively constrained visuomotor tasks. Moreover, the mechanisms by which performance improvements are achieved during sensorimotor cooperation with haptic interaction remains unknown. We propose that the effects of role assignment, motor redundancy, and skill level in sensorimotor cooperation should be explicitly studied. Additionally, the importance of haptic interactions may be better revealed in tasks that do not require visual feedback. Finally, cooperative motor tasks that allow for motor improvement during solo performance to be examined may be particularly relevant for rehabilitation robotics. Identifying principles that guide human-human sensorimotor interactions may lead to the development of robots that can physically interact with humans in more intuitive and biologically inspired ways, thereby enhancing rehabilitation outcomes.
Keywords
Rehabilitation
Human-human interaction
Human-robot interaction
Haptics
Rehabilitation robotics
Introduction
Designing robots that can physically interact and move with humans to cooperatively perform motor tasks, physically assist in achieving motor goals, or aid in rehabilitation of movement is a grand challenge of robotics. Robots have the potential to improve rehabilitation by initiating treatment earlier than may otherwise be possible, increasing the intensity of training, creating enriched environments that simulate real-world conditions, and allowing patients to practice motor tasks that they may otherwise be unable to perform alone. However, for robotics to successfully serve such roles in rehabilitation, the interaction between robot and patient should be one that is intuitive and natural [1]. Many previous studies have examined physical interactions between humans and robots in an effort to determine how such robots should be controlled [2, 3] and what roles they should adopt [4, 5] to train [6–8], collaborate with [9], or assist [10] humans in an intuitive and natural fashion [1]. These approaches generally seek to identify desirable features based on intuitive notions of what would work [11]. As a result, rehabilitation robots have largely been implemented in an ad-hoc fashion [12] based on classical control methodologies. For example, many rehabilitation robots are controlled by specifying desired kinematic trajectories that are enforced by moving a subject's joints along a fixed kinematic path [13]. Other control schemes provide assistance on an assist-as-needed basis, (i.e. when subjects deviate from a specified path) [14–17]. Recent evidence in stroke and spinal cord injury suggest that rehabilitation robots that overly constrain joint motions, are only equal or less effective than more traditional types of movement therapies [18, 19]. In contrast, recent advances in human motor learning suggest that humans learn more when errors are larger [20, 21] or when movement variability is greater [22, 23]. This has sparked a new approach in the control of rehabilitation robots; to augment rather than reduce errors [24, 25] (i.e., or to allow patients to explore new movement strategies [26, 27]. Alternatively, rather than providing assistance or resistance to reduce movement or augment movement errors for an entire kinematic trajectory, rehabilitation robots could be designed to provide assistance or resistance to particular portions of a movement. They may also target specific muscle groups that are impaired as a result of injury or disease [28–30]. The differences in these competing hypotheses about sensorimotor learning have direct implications for how best to design robots that physically interact with humans in a rehabilitation context.
A complementary approach to augment the engineering approaches described above is to identify relevant sensorimotor principles of human-human interactions (HHI) that could guide the design and control of rehabilitation robots. It has been suggested that rehabilitation robots based upon principles of human-human sensorimotor interaction [31] would interact with humans in a flexible and intuitive way [32, 33]. Such designs may have the advantage of minimizing the training required to effectively use them [34, 35]. Despite the successes in developing robots that interact with humans physically, it is not clear the degree to which interacting with a robot invokes the same sensorimotor strategies that would be used in the absence of the robot (i.e. alone) or when interacting with another person. One reason is that interactions with a robot are largely driven by the design of the controller itself. Therefore, the success of the interaction is based upon the human's ability to adapt and learn how to best interact with the robot. While understanding how humans physically interact with each other may be of substantial importance to improving the design of robots that will interact with humans [36], sensorimotor interactions between two or more humans are poorly understood from a scientific perspective.
In this review we define HHI to be any sensorimotor interaction that occurs between two or more physically connected individuals. Participants do not necessarily need to be working towards a common motor goal, but in its application to physical rehabilitation this would generally be the case. Bimanual interactions performed by a single individual could be viewed as an additional form of motor interaction. In fact, bimanual interactions share similarities with HHI including the use of specialization strategies to coordinate the actions of each arm during motor performance [37]. However, bimanual interactions include neural coupling between the two arms, while interactions in HHI must take place exclusively through haptic or other sensory channels between participants. As a result, the exchange and interpretation of shared information differs fundamentally between HHI (two brains, two hands) and bimanual interaction (one brain, two hands). Therefore, this review will focus on physical interactions between two humans with consideration to the perspective of what can be gained for understanding rehabilitation robotics. Readers are encouraged to seek out previous reviews of bimanual interaction [38–40] to supplement the current review on HHI. Similarly, while relevant to the larger dialog on rehabilitation robotics, an extensive discussion of HRI is beyond the scope of the current manuscript. Readers are encouraged to consider other excellent works on this topic to supplement the current review of HHI [12, 41].
To address the gap in our understanding of fundamental principles governing HHI, here we outline areas of study in HHI that may be useful for guiding the design and use of rehabilitation robots. We begin by reviewing proposed taxonomies of HHI, and evaluating their application to physical rehabilitation. We then examine the existing HHI literature, analyzing the principles of HHI that have been elucidated to date, and the experimental paradigms and metrics used in their identification. Finally, we highlight important future directions and unanswered questions about the nature of physical interactions between human partners and how they may reveal general principles of HHI relevant to HRI in the context of rehabilitation.
Review
Taxonomies of human-human sensorimotor interaction in the context of physical rehabilitation
There is currently no widely accepted framework for understanding HHI in the context of its application to rehabilitation robotics. Here we will review the different ways in which HHI have been conceptualized, and elaborate on aspects of HHI classification with respect to the objectives of physical rehabilitation, the roles assigned to participants, and their relative skill level.
As early as 1956, Wegner [
42
] proposed an initial framework for conceptualizing the factors influencing HHI. Wegner [
42
] identified a list of categories of aggregate organism or group behavior including: cooperation, social facilitation, guidance, leadership, problem solving, communication, learning, and transfer. These categories largely classified the factors that could improve HHI performance in the context of a visuomotor tracking task. Relevant to this review, they provided data to support three points as follows.
1)

The greater the number of participants performing simultaneously, the higher the performance level (social facilitation).

2)

The transfer of performance from one team size to another varied (learning and transfer).

3)

The most important determinant of team performance was either the skill of the best solo performer (in quads) or the worst solo performer (in dyads) (leadership) [42].
While all of these questions are germane to the questions facing rehabilitation roboticists, their approach did not examine how the interactions actually occur. This is critical for translating of findings to the design and use of robots that could participate in similar interactions.
More recently, HHI has been classified according to the emergence of specific roles adopted by participants and the resulting interaction forces. Melendez-Calderon [43] used interaction forces and muscle activity in order to infer the various roles that could be adopted in a task. In their example, the motion of each participant's wrist is coupled via a physical linkage and subjects must jointly move their wrist to drive a cursor to a target on a screen. They identified roles that ranged from both agents in the dyad performing overlapping functions, to various combinations of specialization, where each agent in a dyad performed specific portions of a movement [43]. In this study, there was no a prior i role assignment in the partnered visuomotor task. As a result, the roles described are adopted spontaneously and often changed over time. However, it is not clear that such emergent roles are immediately applicable to physical rehabilitation, where roles are typically assigned a priori and generally remain fixed.
Powell and O'Malley [
44
] adopted a more rehabilitation-centric approach by describing a classification scheme of haptic interactions based on
a priori
role assignment. Here, one member of a dyad is consistently directing the movement of another. They proposed that three factors could be used to classify the resulting motor interactions:
1)

the type of interaction force applied (i.e. assistive or resistive);

2)

how task forces, those generated from the dynamics of the task, are differentiated from externally applied guidance forces, and

3)

how the weights of these two types of forces vary over time with respect to motor performance [44].
This approach provides important insights into the characterization of physical interactions within the context of physical rehabilitation and the differential role that each member of a dyad can adopt. One aspect of the interactions that is not considered is how they may differ depending on the goals associated with the motor interaction. For example, the forces may vary depending on whether the leader is providing assistance for a motor deficit, or aiming to train an individual to improve their motor ability beyond the partnered condition.
Jarrasse [36] proposed a comprehensive framework for classifying motor interactions based on minimizing error and effort in each participant [36]. This is a common approached used in predicting motor behaviors with optimal control theory [45, 46]. Different classes of motor interaction were defined by the appearance of the error and effort in the objective function that describes the nature of the task as well as the combination of each agent's behavior. The proposed taxonomy classifies sensorimotor interactions into three main categories: competition, collaboration and cooperation. During competitive sensorimotor interactions both participants consider only their own effort and error. Such interactions typically emerge during the performance of antagonistic tasks, as exemplified by sports such as wrestling, where the gain of one agent results in loss of the other agent. In contrast, during collaborative and cooperative sensorimotor interactions, each participant considers there own effort and error as well as that of there partner, attempting to work together to identify a mutual beneficial resolution to a task. Therefore, unlike competitive interactions, collaborative and cooperative interactions occur in the performance of agonistic tasks, where gains and losses similarly affect both agents in a dyad, such as in rowing. Collaborative and cooperative interactions differ based on how roles are assigned to each participant and how that impacts their contribution to the interaction. In collaborative interactions there is no a priori role assignment. Roles are adopted in a spontaneous manner and subject to change. Emerging from this is an equal distribution of responsibilities or work between the participants. In contrast, during cooperative interactions roles are assigned a priori to each subject, and these roles are maintained throughout the performance of the interactive task. This creates asymmetric interests and an uneven distribution of sub-tasks between the participants such that while both individuals are working towards the same goal, they are doing so by performing different parts of the same task.
Assistance
and
education
are two forms of cooperation identified by Jarrasse [
36
] that are particularly relevant to rehabilitation. During assistance, both members of a dyad are only concerned with the effort and error of the individual who is receiving assistance. This is akin to a robotic exoskeleton being used to perform a motor task where the effort of the exoskeleton is not considered. We would extend assistance to HHI, where one participant is providing assistive forces, cues, or corrections to a second participant to achieve a motor goal that the second participant may not be able to accomplish on his or her own (e.g. getting up from a chair). In this case, haptic cues and interaction forces may be used to monitor a participant's need for assistance as well as to deliver that assistance. During education, a teacher aims to reduce the error of the student while minimizing their own effort, whereas the student is only concerned with minimizing his or her own error and effort. The goal of education is for the teacher to eventually become obsolete, allowing the student to perform the task independently [
36
]. From the perspective of physical rehabilitation, education most resembles that of a therapist training a patient in the clinic to improve their motor performance beyond the clinic (i.e. at home or in the community). We believe that an important distinction between assistance and education is that assistance represents an end-solution to motor impairment such as provided by an assistive device, rather than an attempt to improve independent motor performance beyond the partnered condition, as in education (Figure
1
).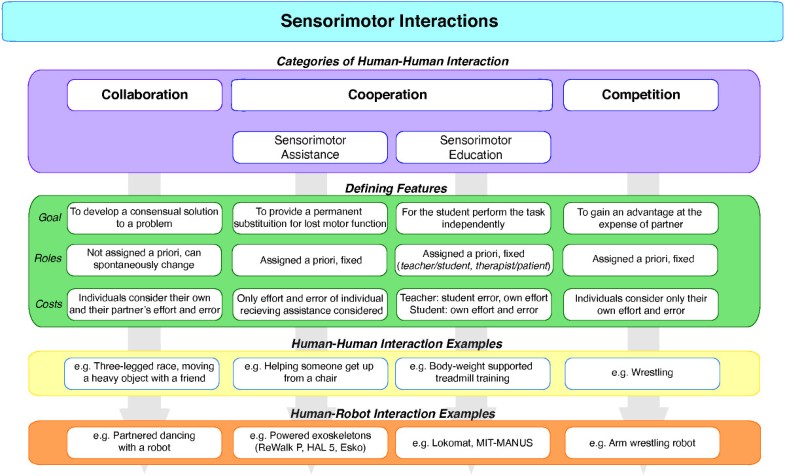 One important difference across these taxonomies is the ways in which the roles of the participants are defined. In the taxonomy proposed by Jarasse [36], roles are based on the objective function of each participant. In contrast, in experimental work reviewed below, the role(s) of each participant are inferred from the interaction forces that emerge during a HHI task where there was no explicit a priori role assignment [43]. Finally, in some cases, roles are defined a priori by which participants are expected to direct the other, and the manner in which they do so [44]. Such a priori role assignment could be explained by asymmetries in the objective functions of the participants, but these may differ from the specific objective functions proposed by Jarrasse [36]. For example, recent human sensorimotor research suggests that learning may be increased when errors are augmented [25, 47, 48] or when performance is more variable [22, 23, 49], not when errors are minimized. As a result, in contrast to an error minimization objective, a therapist may wish to augment errors by resisting the actions of a patient, thereby increasing rather than decreasing error. Further, a priori role assignment could also occur in collaborative interactions in which the goal is neither education nor assistance. For example, in partner dance the leader and the follower may have different objective functions where the leader may care about his own error as well as the error of the follower, and the follower only attends to his or her own error. Nevertheless, the classification scheme proposed by Jarasse [36] is a reasonable starting point for beginning to understand how HHI is relevant to rehabilitation robotics.
Prior work relevant to human-human sensorimotor collaboration
Of the three forms of HHI behavior defined by Jarasse [
36
], cooperative interactions predominate in rehabilitation (
i.e. education and assistance
). Here, leader-follower or teacher-student roles are predefined. However, the vast majority of the prior research involving HHI has focused on sensorimotor
collaboration.
Here, two individuals share a common goal, but have no pre-defined roles
.
Next we review prior studies in HHI, discussing the experimental paradigms, performance metrics, and the influence of haptic information during sensorimotor collaboration between two human partners (Table
1
).
Table 1
Overview of the interactions used to study human-human interaction to date and the resulting outcomes
Principal findings

Papers

Experimental paradigms

1. HHI research has predominantly focused on sensorimotor collaboration, not cooperation

Sensorimotor collaborations

Reed [56, 65], Groten [70], Melendez-Calderon [43], Ikeura [50], Rahman [51], Basdogan [52], Sallnas [53], Gentry [54, 64], van der Wel [55], Feth [66]

Sensorimotor cooperation

2. The majority of HHI research has used visuomotor tasks with limited degrees-of-freedom

Constrained visuomotor tasks

Melendez-Calderon [43], Ikeura [50], Rahman [51], Basdogan [52], Sallnas [53], Gentry [54, 64], van der Wel [55], Reed [56]

Whole-body non-visuomotor tasks

Galvez [86]

3. In most HHI research, specific roles for each member of a dyad are rarely defined ahead of time

Unassigned roles

Reed [65], Groten [70], Melendez-Calderon [43], Rahman [51], Basdogan [52], Sallnas [53], Gentry [54, 64], van der Wel [55], Reed [56, 65], Feth [66]

Assigned roles

Experimental outcomes

4. Dyads typically perform as well or better than either member of a dyad alone

Superior dyad performance

Equivalent individual and dyad performance

van der Wel [55]

5. The addition of haptic feedback improves dyad performance compared to visual feedback alone

6. Members of a dyad apply higher forces than during either of their individual performances

7. Members of a dyad spontaneously assume specific roles, performing portions of a joint motor task

Starting or ending movement

Adding or absorbing energy

Feth [66]
Discussion
Open questions and future directions regarding principles of sensorimotor cooperation
While the work summarized above has begun to provide some valuable insight into aspects of HHI, general principles that could be translated to the design and use of rehabilitation robots have not yet been identified. The field of HHI is relatively young. As such, the results reviewed above must be confirmed through additional studies aimed at testing specific hypothesis about sensorimotor cooperation, particularly in the context of sensorimotor assistance and education. While exploratory studies are necessary to characterize interactions, detailed and controlled experiments designed to isolate the role of specific features of the interaction are necessary. Thus hypotheses must be systematically tested against control conditions over a variety of different cooperative motor tasks in order to identify general principles of sensorimotor cooperation. Here we pose several unanswered questions about HHI to frame further experiments in sensorimotor cooperation. These considerations may help identify novel experimental paradigms to study cooperative HHI, which in turn may reveal important principles of haptic interaction relevant to the design and use of rehabilitation robotics.
Conclusion: moving HHI research forward
Our desire to develop robots that can physically interact with humans in intuitive and biologically inspired ways has revealed a vast field of human-human physical interaction that has only begun to be studied. It may be advantageous to design robots that can be optimized to the functioning of the human nervous system. However, much work is to be done in human-human sensorimotor interactions before any general principles of cooperative sensorimotor control can be firmly established. As a first step, we have identified some areas of potentially fruitful investigation to reveal principles of sensorimotor cooperation in HHI that are directly relevant to the design of physical interfaces and control schemes for rehabilitation robots. Specifically, we propose that new experimental paradigms should be developed that can address open questions of how motor redundancy, varying skill level, specific role assignment, and reliance on haptic feedback play a role in the haptic cues and physical interactions between individuals. In particular, more attention in the specific areas of sensorimotor assistance and sensorimotor education could provide some guidance in the design of haptic interfaces and controllers for rehabilitation robots. Possible motor tasks that could be used in such paradigms include but are not limited to: handshake, partner dance, sawing, carrying objects, leading an individual with visual impairment, and as a more direct clinical task, therapist-patient interactions during rehabilitation. While several of these tasks have served as motivation for a number of HHI studies, we still lack a basic understanding of the magnitude of forces used in these tasks. Additionally, how interaction forces contribute to task performance, or provide a channel for communicating information about motor performance, intent, and skill remains unknown. The identification of general principles of sensorimotor interaction between human partners may also be applicable to an alternative perspective of human-robot interaction in rehabilitation. While the application of HRI in rehabilitation has traditionally focused on the robot-patient interaction, future work may also wish to consider HRI in rehabilitation from the perspective of a robot interacting with a therapist. How might a robot that is focused on the therapist assist him or her in achieving their goals for the patient? While the nature and challenges presented by the interaction between robot and therapist are likely to be different from those of robot-patient interactions, principles derived from the study of HHI may serve to inform such interactions as well. Overall, the identification of guiding principles that drive human-human sensorimotor interactions have the potential to further the design, control and use of rehabilitation robots that can physically interact with humans in intuitive and biologically inspired ways, thereby enhancing rehabilitation outcomes.
Abbreviations
HHI:

Human-human interaction
HRI:

Human-robot interaction.
Declarations
Acknowledgements
The authors wish to thank J. Lucas McKay, Madeleine Hackney and Charles C. Kemp for assistance in revising the manuscript, as well as Karen Liu, Tiffany L. Chen and Tapomayukh Bhattacharjee for helpful feedback. The National Science Foundation Grant EFRI-1137229 supported this work.
Funding
This work was supported by the National Science Foundation Grant EFRI-1137229.
Authors' Affiliations
(1)
Wallace H. Coulter Department of Biomedical Engineering, Emory University and Georgia Institute of Technology, Atlanta, USA
Copyright
© Sawers and Ting; licensee BioMed Central Ltd. 2014
This article is published under license to BioMed Central Ltd. This is an Open Access article distributed under the terms of the Creative Commons Attribution License (http://creativecommons.org/licenses/by/4.0), which permits unrestricted use, distribution, and reproduction in any medium, provided the original work is properly credited. The Creative Commons Public Domain Dedication waiver (http://creativecommons.org/publicdomain/zero/1.0/) applies to the data made available in this article, unless otherwise stated.