Multi-finger coordination in healthy subjects and stroke patients: a mathematical modelling approach
Journal of NeuroEngineering and Rehabilitation
2011
8:19
Received: 9 September 2010
Accepted: 20 April 2011
Published: 20 April 2011
Abstract
Background
Approximately 60% of stroke survivors experience hand dysfunction limiting execution of daily activities. Several methods have been proposed to objectively quantify fingers' joints range of motion (ROM), while few studies exist about multi-finger coordination during hand movements. The present work analysed this aspect, by providing a complete characterization of spatial and temporal aspects of hand movement, through the mathematical modelling of multi-joint finger motion in healthy subjects and stroke patients.
Methods
Hand opening and closing movements were examined in 12 healthy volunteers and 14 hemiplegic stroke survivors by means of optoelectronic kinematic analysis. The flexion/extension angles of metacarpophalangeal (MCPJ) and proximal interphalangeal joints (IPJ) of all fingers were computed and mathematically characterized by a four-parameter hyperbolic tangent function. Accuracy of the selected model was analysed by means of coefficient of determination (R2) and root mean square error (RMSE). Test-retest reliability was quantified by intraclass correlation coefficient (ICC) and test-retest errors. Comparison between performances of healthy controls and stroke subjects were performed by analysing possible differences in parameters describing angular and temporal aspects of hand kinematics and inter-joint, inter-digit coordination.
Results
The angular profiles of hand opening and closing were accurately characterized by the selected model, both in healthy controls and in stroke subjects (R2 > 0.973, RMSE < 2.0°). Test-retest reliability was found to be excellent, with ICC > 0.75 and remarking errors comparable to those obtained with other methods. Comparison with healthy controls revealed that hemiparetic hand movement was impaired not only in joints ROM but also in the temporal aspects of motion: peak velocities were significantly decreased, inter-digit coordination was reduced of more than 50% and inter-joint coordination patterns were highly disrupted. In particular, the stereotypical proximal-to-distal opening sequence (reversed during hand closing) found in healthy subjects, was altered in stroke subjects who showed abnormally high delay between IPJ and MCPJ movement or reversed moving sequences.
Conclusions
The proposed method has proven to be a promising tool for a complete objective characterization of spatial and temporal aspects of hand movement in stroke, providing further information for a more targeted planning of the rehabilitation treatment to each specific patient and for a quantitative assessment of therapy's outcome.
Keywords
Root Mean Square Error
Hand Opening
Stroke Subject
Finger Extension
High Root Mean Square Error
Background
In the last decade, kinematic analysis of upper limb movements has been increasingly investigated [1, 2]. Quantitative characterization of upper limb movements are, indeed, highly required in clinical research and practice, not only to obtain information about pathophysiological aspects of neural control but also to quantify impairment of upper limbs, to plan the appropriate therapeutic approach and to quantify the effectiveness of treatment [3]. This is particularly important in the case of stroke which is the leading cause of disability in the adult worldwide with an estimated incidence of 16 million new cases per year [4]. Approximately 60% of stroke survivors experience upper extremity dysfunction limiting execution of functional activities and independent participation in daily life [5]. Chronic deficits are especially prevalent in the hand, as finger extension is the motor function most likely to be impaired [5].
Within recent years, progress in technology has provided several instruments and methods to objectively quantify hand kinematics [3]. The most common are electrogoniometers [6], instrumented gloves [7], electromagnetic systems [8] and optoelectronic kinematic analysers [9–12]. Some of these methods have been used for the evaluation of anomalies in hand kinematics due to hand injury [9], focal dystonia [13] and stroke [8, 11, 14]. Most of these studies are mainly focused on the analysis of initial and final position of fingers during a specific movement to evaluate active range of motion, while there is still a lack of studies aimed at analysing temporal aspects of hand motion (i.e. the movement process) and multi-finger coordination that is also highly impaired in people with stroke [15].
Motion coordination among long fingers (index to little finger) has been investigated in healthy subjects during unrestricted flexion/extension movements [16, 17] and during object-grasping [18, 19]. Analysis of temporal aspects of these multi-joints movements revealed the existence of task-specific motion coordination patterns between metacarpophalangeal joints (MCPJ) and proximal interphalangeal joints (IPJ) of digits 2-5. In particular, a proximal-to-distal sequence (i.e. MCPJ start moving first, followed by IPJ) was noticed during free hand opening [16] and hand opening before cylinder-grasping [18], while a reversed sequence (i.e. IPJ-MCPJ sequence) was found during unrestricted hand closing [16]. Temporal coordination of finger motion during the movement to grasp an object was analysed also by Santello et al [19] in unimpaired individuals. Their results demonstrated a high degree of covariation among the rotations of the MCPJ and IPJ of long fingers. Specifically, all joint of the same type (i.e. MCPJ and IPJ) tended to extend and flex together, simultaneously reaching a maximum excursion.
These results gave additional insight into finger motion control in healthy subjects and provided a useful starting point for the analysis of changes in the patterns of joint motion due to neuromuscular disorders, even though in these studies the role of the thumb was often lacking.
Following these considerations, in the present work a quantitative analysis of unrestricted hand opening and closing movements, with particular attention to inter-joint, inter-finger coordination was performed on a group of healthy subjects and on persons with hemiparesis due to stroke.
The selected task (hand opening and closing) was chosen as it represents the most elemental multi-finger movement and has previously been demonstrated to be a reliable early predictor of recovery of arm function in stroke patients [8, 20].
The analysis was performed by using the method proposed by Braido & Zhang [18], based on the mathematical characterization of fingers joint motion. This specific method was chosen since the parametric modelling of hand kinematics can provide a synthetic representation of actual movements and facilitate the extraction of spatial, temporal and coordinative features of motion, not immediately computable from measured data.
With respect to the study of Braido & Zhang [18], which reported results related to healthy subjects only and didn't consider the role of the thumb, the present work had three main purposes: i) evaluation of the accuracy of the chosen method in characterizing hand opening/closing movements, including thumb motion, in healthy subjects and persons with hemiparesis due to stroke, ii) evaluation of the method's capacity to discriminate motor performances of stroke subjects from that of healthy controls and iii) analysis of the repeatability of the method, and thus, the minimal detectable change in hand performance that could potentially be used in future work to monitor the progression of hand function in each stroke subject.
Methods
Subjects
Twelve healthy volunteers (2 women and 10 men, mean age: 36.6 ± 10.8 years), with no history of injury or surgery to the hand, and fourteen subjects with hemiparesis caused by stroke (7 women and 7 men, mean age: 58.4 ± 14.8 years) participated in the study. All hemiplegic patients had sustained a single ischemic (8 subjects) or hemorrhagic (6 subjects) stroke from 3.5 months to 7.5 years before the experiments. Three subjects had right hemiparesis and eleven had left hemiparesis. All stroke subjects showed a clinically significant reduction of the paretic upper limb function as indicated by the Action Research Arm Test [
21
] scores ranging from 5 to 46 points (maximum score of 57 points indicates a normal upper limb function). Demographic and clinical data are presented in Table
1
. Exclusion criteria were: coexistence of orthopedic, neurological or other medical conditions that limited the affected upper limb, inability to bring the affected hand to the mouth, inability to extend the paretic elbow to at least 120°, spasticity of hand muscles rated more than 3 points on the Ashworth scale [
22
], botulinum toxin injections in the upper extremity musculature in the last three months, presence of severe hemispatial neglect, aphasia and/or hemianopsia.
Table 1
Demographic and clinical data of stroke subjects.
Subject

Age

[years]

Gender

Stroke

Type

Time after stroke

[months]

Side of

hemiparesis

ARAT score

[points]

ST1

77

M

ISC

80.0

RX

9

ST2

72

F

ISC

36.8

LX

10

ST3

45

F

HEM

90.6

RX

36

ST4

39

M

HEM

78.2

LX

28

ST5

64

F

ISC

3.7

LX

6

ST6

33

F

HEM

8.4

LX

10

ST7

82

F

HEM

8.5

LX

10

ST8

64

M

ISC

37.5

LX

5

ST9

63

F

ISC

48.0

LX

46

ST10

70

M

HEM

58.8

LX

38

ST11

54

M

ISC

8.7

LX

10

ST12

57

M

ISC

3.5

LX

32

ST13

56

F

ISC

10.9

LX

39

ST14

41

M

HEM

4.6

RX

9

Mean

58.4

7M/7F

8ISC/6HEM

34.2

3RX/11LX

20.6

SD

14.8

32.0

14.9
All subjects had given written, informed consent to the experimental protocol, which was conformed to the standards for human experiments set by the Declaration of Helsinki (last modified in 2004) and approved by the local ethical committee.
Experimental protocol
Subjects were asked to sit upright in a chair behind a table. The forearm was maintained semi-prone on the table, the elbow was flexed of about 120° while the wrist was kept in a neutral position (see Figure
1
). Healthy subjects were required to maintain the hand relaxed for 2-3 seconds, open the hand at self-selected speed, rest with the hand maximally opened for 2 seconds, close the hand at self-selected speed and rest with the hand maximally closed for 2 seconds. The sequence was repeated 5 times. Both hands were tested (
Nco = 24
). Subjects with stroke performed, with the paretic hand (
Nst = 14
), the same task but with a resting period of at least 10 seconds between two sequences of hand opening/closing, in order to reduce the effect of fatigue and to minimize the onset of co-contractions [
23
].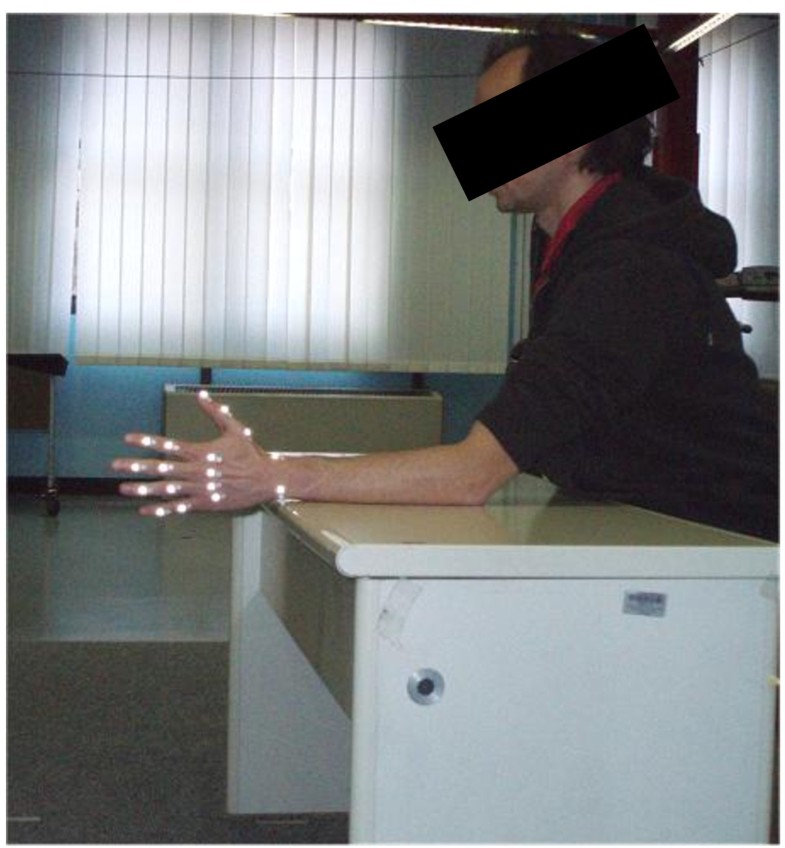 In order to analyse test-retest variations in hand kinematics, all healthy subjects were tested a second time after markers repositioning. A random hand of each subject was evaluated following the same experimental protocol described above.
Experimental set-up and data pre-processing
Hand kinematics were recorded by an optoelectronic motion analysis system (Smart, EMotion, Italy) consisting of nine infrared video cameras (sampling rate = 60 Hz). The working volume (70 × 70 × 70 cm
3
) was calibrated to provide an accuracy of less than 0.3 mm. Seventeen retro-reflective hemispheric markers, with diameter of 6 mm were attached to the hand of the subjects, according to the protocol described in Carpinella et al.[
11
], on the bony landmarks shown in Figure
2
. After the acquisition, marker coordinates were low-pass filtered using a 5th order, zero-lag, Butterworth digital filter, with a cut-off frequency of 6 Hz.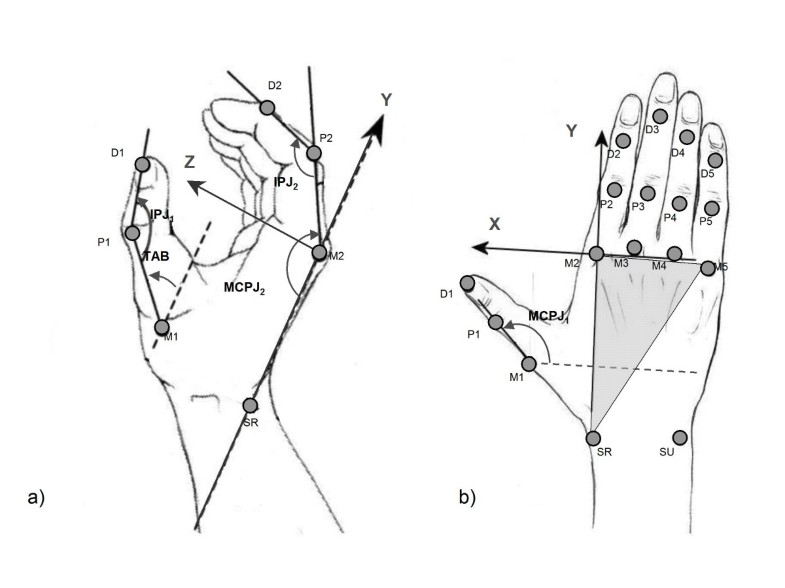 Data processing
All data processing and analysis procedures were implemented using MATLAB® software (The MathWorks, Inc., Natick, MA).
Joint angle calculation and normalization
A local Cartesian coordinate system XYZ was established, following the procedure described in [11] and the time-courses of the following joint angles computed: metacarpophalangeal joint (MCPJi) flexion/extension angles, proximal interphalangeal joint (IPJi) flexion/extension angles of finger i (i = 1-5) and thumb abduction angle (TAB) (see Figure 2 for more details). An automatic algorithm was established to identify the initiation and termination of hand opening and closing separately. The initiation time of hand opening/closing (Tstart) was defined as the instant in which the first joint reached an angular velocity value equal to 10% of its own peak velocity (Vpk), while movement termination (Tend) was defined as the instant in which the angular velocity of the last joint fell below the 10% of Vpk. Thereafter, angular profiles were segmented in separated movements of hand opening and closing and normalized in time as a percentage of the movement duration (%Dur).
Joint angle mathematical characterization and accuracy
After data normalization, each joint angular profile was mathematically characterized to obtain a synthetic representation of motion and facilitate the extraction of spatial, temporal and coordinative features of multi-finger movements. The chosen mathematical model was a hyperbolic tangent function with four parameters as suggested in [
18
,
24
]. The function, graphically represented in Figure
3
, is described by Equation
1
: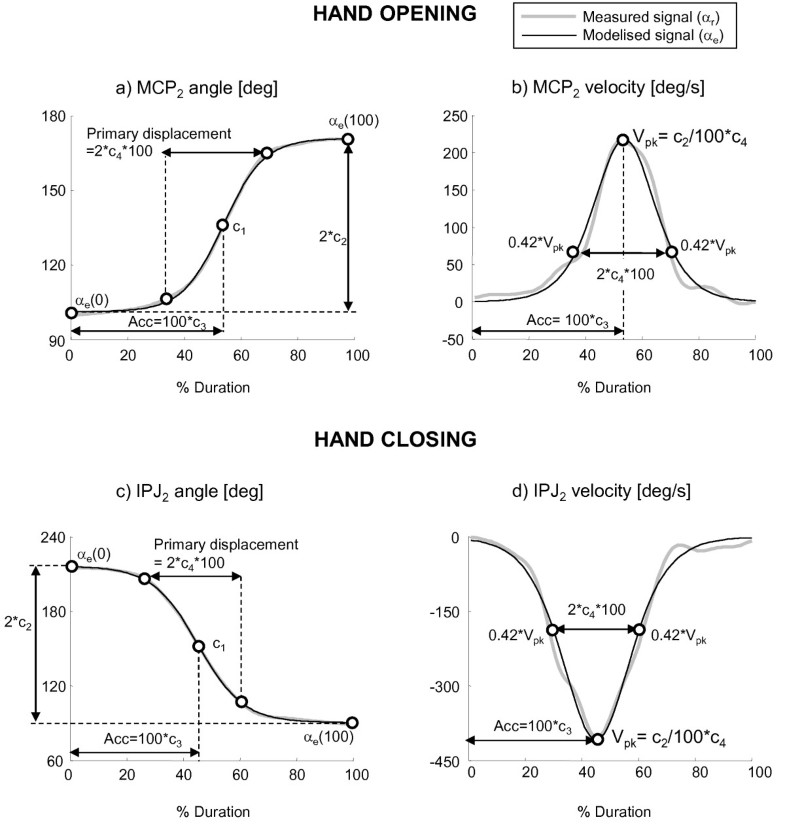 where
α
e
(t)
represents the estimated value of a specific joint angle
α
r
(t)
at instant
t
(
t
= 0,...,
ΔT
),
ΔT = T
end
-T
start
is the total opening/closing movement duration,
c
1
= [
α
e
(
0
)+ α
e
(ΔT)
]
/
2 is the average of the initial and final angles,
c
2
= [
α
e
(ΔT)- α
e
(0)
]
/
[tanh((1-c
3
)/c
4
) + tanh (c
3
/c
4
)] approximates a half of the total angular displacement (i.e. [
α
e
(ΔT)- α
e
(0)
]
/
2) when c
4
is sufficiently small with respect to c
3
(e.g. c
4
< = 0.5* c
3
)
1
,
c
3
represents the acceleration portion of the total movement duration and
c
4
corresponds to the half of the primary displacement time, where the primary displacement is considered the steepest ascending or descending portion of the signal characterized by a velocity (
V
) higher than 42% of peak speed (
V
pk
) [
18
], as shown by Equations
2
and represented in Figure
3
.
A non-linear least square curve fitting approach was used to obtain the set of four parameters that best fit each joint angle profile. The initial estimate of the four parameters were set according to [24]: c 1 = [α r ( 0)+ α r (ΔT)]/ 2, c 2 = [α r (ΔT) - α r ( 0)]/ 2, c 3 = 0.5 and c 4 = 0.25.
To analyse the accuracy of the model, the coefficient of determination (R2) and the root mean square error (RMSE) were computed. An angular profile was considered well fitted by the model and included in the subsequent group analysis if R2 was greater than 0.8. Values of R2 below this threshold would suggest that the corresponding joint motion didn't show a sygmoidal-shape profile and for this reason were treated separately.
Test-retest reliability
To analyse the test-retest variations on the four parameters c
1
, c
2
, c
3
, c
4
, data from the 12 healthy subjects tested two times for reliability purposes were considered. Test-retest reliability was statistically evaluated using intraclass correlation coefficient, model 2,1 (ICC
2,1
) calculated following the procedure described by McGraw & Wong [
25
]. ICC
2,1
is represented by Equation
3
:
where σn2 is the inter-subject variance, σs2 is the inter-session variance and σr2 is the intra-session variance. The following guidelines were used to grade the strength of reliability: 0.50-0.60 fair, 0.60-0.75 good, 0.75-1.00 excellent reliability [12, 26]. Within-subject variability (σw) was evaluated by the Standard Error of Measurement (SEM), computed, from Equation 3, as √(σ s 2 +σ r 2 ). The percentage ratio between intra-session standard deviation (σr) and within-subject standard deviation (σw) was also computed. For all angular profiles and for each parameter, the absolute difference between the values obtained from the two sessions was computed (absolute test-retest error). Maximum test-retest error and, thus, minimum significant change detectable by the protocol was calculated as mean absolute error + 2 standard deviations, following the principles of Bland-Altman analysis [27].
Extraction of specific parameters
From data included in the group analysis (R
2
> 0.8), the following variables were calculated to analyse three distinct aspects of hand motion:
1)

Finger kinematics were analysed through the following parameters:
Dur = Tend -Tstart, movement duration

αmin = c1-c2, angle of maximum flexion

αmax = c1+c2, angle of maximum extension

ROM = 2*c2, range of motion

Vpk = c2/100*c4, peak velocity
2)

Inter-joint coordination was inspected by looking at the level of synchronization between MCPJ and IPJ, which was defined by the temporal delay (Δ i ) between IPJ and MCPJ angles of finger i in the instant of peak velocity (100*c3). The value of Δ i was calculated as 100*[c3(IPJ i )-c3(MCPJ i )].

3)

Inter-digit coordination was evaluated considering the variability among IPJ-MCPJ delays (Δ i ) of all fingers: a high level of inter-digit coordination is represented by similar values of Δ i (low variability), while poor coordination is implied by higher differences among Δ i (high variability). This concept was represented by the coordination index among long fingers (COILF) and among all digits (COIHAND). COILF was defined as 100*CVLF(co)/CVLF(j), where CVLF(j) = standard deviation(Δ 2 , Δ 3 , Δ 4 , Δ 5 )/mean(Δ 2 , Δ 3 , Δ 4 , Δ 5 ) was the coefficient of variation for long fingers of hand j and CVLF(co) was the mean CVLF value of healthy control subjects. COIHAND was calculated in the same way but considering the coefficient of variations among all 5 fingers. COI values below 100% indicated lower coordination with respect to the mean value of control subjects, while values above 100% represent a level of coordination higher than the average value of healthy subjects.
Data not well fitted by the selected model (R2 < 0.8) were treated separately and only αmin, αmax and ROM, as calculated from the measured data, were included in the analysis.
Statistical analysis
Considering the small sample of data, comparisons were made using nonparametric tests. Differences between IPJ and MCPJ were analysed using Wilcoxon matched pairs test (Wt), variations among fingers were evaluated with Friedman test (Ft) and Bonferroni post-hoc comparisons, while differences between healthy controls and stroke subjects were analysed by means of Mann-Whitney U test (MWt). Level of significance was set to 0.05.
Discussion
At present, there is still a lack of studies investigating the temporal features of hand movement and the inter-joint coordination aspects of multi-joint fingers motion in subjects with stroke. The present study focused on this aspect.
Conclusions
The quantitative method proposed in the present study has been demonstrated to be a valid tool to i) accurately characterise hand opening/closing movements in healthy subjects and persons with hemiparesis due to stroke ii) objectively evaluate changes of performance with an adequate sensitivity provided by low test-retest errors, iii) quantify hemiparetic hand motor deficits and discriminate motor performances of stroke sufferers from those of healthy controls. Correlation of the present results with electromyographic data and clinical tests related to hand function and lesion localization will be warranted to evaluate the efficacy of the proposed method to predict the potential of motor recovery and to plan rehabilitation treatments tailored to the specific hand deficit of each person with stroke.
Note
For example, if c 3 = 0.45 and c 4 = 0.2, then c 2 = .[α e (ΔT)- α e (0)]/[tanh(2.75) + tanh (2.25)]~ [α e (ΔT)- α e (0)]/2.
Declarations
Acknowledgements
This work is partly supported by funding from Italian Ministry of Health (Ricerca Finalizzata RFPS-2006-4) and from Lombardy Region (Bando Ricerca indipendente).
We thank Paolo Mazzoleni for data acquisition.
Authors' Affiliations
(1)
Biomedical Technology Department, Found. Don C. Gnocchi Onlus, IRCCS, Milan, Italy
(2)
Department of Neurorehabilitation, LaRiCE: Gait and Balance Disorders Laboratory, Found. Don C. Gnocchi Onlus, IRCCS, Milan, Italy
Copyright
© Carpinella et al; licensee BioMed Central Ltd. 2011
This article is published under license to BioMed Central Ltd. This is an Open Access article distributed under the terms of the Creative Commons Attribution License (http://creativecommons.org/licenses/by/2.0), which permits unrestricted use, distribution, and reproduction in any medium, provided the original work is properly cited.