Accelerometry-enabled measurement of walking performance with a robotic exoskeleton: a pilot study
Journal of NeuroEngineering and Rehabilitation
2016
13:35
Received: 5 October 2015
Accepted: 22 March 2016
Published: 31 March 2016
Abstract
Background
Clinical scores for evaluating walking skills with lower limb exoskeletons are often based on a single variable, such as distance walked or speed, even in cases where a host of features are measured. We investigated how to combine multiple features such that the resulting score has high discriminatory power, in particular with few patients. A new score is introduced that allows quantifying the walking ability of patients with spinal cord injury when using a powered exoskeleton.
Methods
Four spinal cord injury patients were trained to walk over ground with the ReWalk™ exoskeleton. Body accelerations during use of the device were recorded by a wearable accelerometer and 4 features to evaluate walking skills were computed. The new score is the Gaussian naïve Bayes surprise, which evaluates patients relative to the features' distribution measured in 7 expert users of the ReWalk™. We compared our score based on all the features with a standard outcome measure, which is based on number of steps only.
Results
All 4 patients improved over the course of training, as their scores trended towards the expert users' scores. The combined score (Gaussian naïve surprise) was considerably more discriminative than the one using only walked distance (steps). At the end of training, 3 out of 4 patients were significantly different from the experts, according to the combined score (p < .001, Wilcoxon Signed-Rank Test). In contrast, all but one patient were scored as experts when number of steps was the only feature.
Conclusion
Integrating multiple features could provide a more robust metric to measure patients' skills while they learn to walk with a robotic exoskeleton. Testing this approach with other features and more subjects remains as future work.
Keywords
Spinal cord injury (SCI)
Lower limb exoskeleton
Outcome measure
Walking skills
Paraplegia
Wearable accelerometer
Naive Bayes
Background
Clinical scores of walking ability are crucial in many areas of physical rehabilitation to assess the efficacy of a therapeutic intervention or an assistive device, as well as to discriminate the ability between different patients [1, 2]. One domain of interest is evaluating functional ambulation in individuals who suffered a spinal cord injury (SCI). Even though many outcome measures target the SCI population [3, 4], currently there exist no specific measures targeting the ability of a patient to use a lower limb robotic exoskeleton to walk overground and achieve functional ambulation.
Lower limb exoskeletons are bilateral powered orthoses designed to provide assistance for sit-to-stand and for walking and, in some cases, to assist lower extremity function in individuals with incomplete or complete SCI [5–8]. Currently, several exoskeletons are transitioning from purely research and rehabilitation devices to personal mobility systems that individuals with SCI could use to walk inside their home and in their communities [9, 10]. A paradigmatic case is the ReWalk™, which has been approved by the Food and Drug Administration to be sold to individuals with SCI as a take-home personal mobility device.
Quantitative clinical assessment of exoskeletons is fundamental to evaluate their safety and effectiveness when used by individuals with disabilities. Specifically, individuals with complete SCI, who aim at taking an exoskeleton home as a personal mobility device, require an intensive training protocol to become independent users. Such training is typically delivered in a clinical setting and therefore clinicians need a robust metric to evaluate if a patient has reached a level of ability and expertise to independently use the device at home and in the community. Obtaining a robust index of the patients' walking skills with an exoskeleton could also be used to inform health insurance companies about the actual improvements in functional mobility for potential reimbursement. This point is crucial as the cost of these devices is extremely high and therefore any support funding has to be justified.
The primary clinical outcome measures currently used to assess functional ambulation with exoskeletons are the 6-Minute-Walk-Test (6MWT) and the Ten-Meter-Walk-Test (10mWT) [11, 12]. These two tests measure, respectively, the distance walked in six minutes and the time to walk over a distance of 10 m, while walking at a constant speed. Despite being validated in spinal cord injury populations [13], it is questionable whether these measures are sufficient to fully evaluate a patient skill and the device efficiency. Indeed, other studies have measured additional features to characterize walking skills with robotic exoskeletons.
Specifically, amongst the features quantified there are: the kinematics of the hip, knee and ankle joints in patients trained to use the ReWalk™ [14], as recorded via a motion capture system; the exertion level based on the heart rate normalized to the walking speed (i.e. physiological cost index) [15] and the oxygen uptake [16, 17]. Other metrics used include the variation in vertical and lateral amplitude of the head motion [18], ground reaction forces analysis [19] and the ability to maintain eye contact to assess cognitive effort [20]. Even when multiple features were measured, each study reports the values of each feature individually to characterize functional ambulation with exoskeletons. Therefore it is unclear how each feature contributes to the overall expertise of a subject. Furthermore, some of the captured features require complex and expensive lab equipment, commonly seen only in large hospitals and university settings.
In the current study, we propose to combine multiple features of walking performance by estimating their probability distribution over a set of expert users who have been previously trained extensively to use the exoskeleton. New participants are then scored based on how well their features fit the experts' probability distribution. Building on this principle, we define a new score to quantify walking ability with exoskeletons: the Gaussian Naïve Bayes surprise. The term surprise is derived from information theory and represents the amount of unexpected information provided by an event [21]. We apply our score to quantify the walking skills of four individuals with complete SCI, as they are trained to use the ReWalk™ exoskeleton. Four features are computed from the trunk accelerations, which are recorded using a commercial wearable accelerometer while subjects perform a 6MWT with the exoskeleton. We estimate the parameters of the features probability distribution from seven expert subjects (1 SCI and 6 able-bodied) that received extensive prior training with the device, and compute the Gaussian naïve Bayes surprise of the four SCI participants with respect to the experts. The score based on all four features is compared with one based only on number of steps (an equivalent of distance walked), in terms of the separation between experts and patients that is yielded by the two indices.
Results
Expert subjects' scores
Probability distributions of features were computed by fitting Gaussians to the walking data of expert subjects (Fig.
2a
). Mean step frequency and number of steps across experts were 0.97 ± 0.014 Hz and 57.3 ± 1.67 steps, respectively (mean ± standard deviation). Mean standard deviation of trunk frontal tilt and counts (approximated energy expenditure) were 4.8° ± 0.24° and 24.7 ± 2.02 counts, respectively. These values are the average across each minute of the 6MWT for all subjects. Step frequency was the feature with the lowest standard deviation (0.014 Hz) across subjects. These distributions characterize successful control behavior.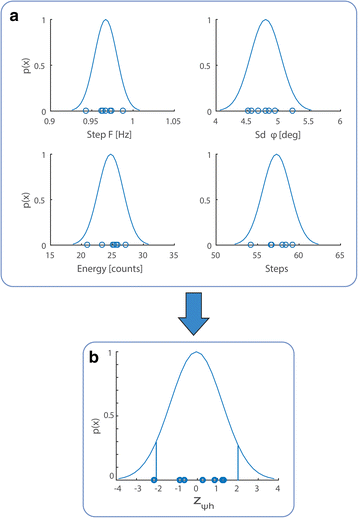 In order to combine the individual features into a joint score, the degree to which the subject's behavior differs from that of the expert population is quantified for each feature. From the Gaussian fit, we can read out the probability and, according to naïve Bayes, we then multiply these probabilities across all features. Each expert subject was scored relative to the others by computing the z-score of the Gaussian naïve Bayes surprise (10): individual scores were all within ±2, except for one able-bodied subject who had a score of -2.2 because the robot malfunctioned and stopped twice during her test, thus affecting her total number of steps. The mean z-score across experts was -0.04 (Fig. 2b). Importantly, the SCI expert did not score differently from the able-bodied: therefore, her features fit the distribution of the able-bodied subjects, thus confirming that performance was comparable and consistent across all expert subjects. This result indicates that the features characterizing expert performance are not significantly different across experts and therefore our pool of subjects is sufficiently uniform. We thus have a measure that quantifies deviation from typical expert performer level.
Patients' scores during training
Improvements in patients were reflected in the features values getting closer to the mean values of expert subjects (Fig.
3
). Step frequency (
x
1
) and number of steps (
x
4
) were positively correlated with session for all patients (Pearson's
r
 > 0.87, 
p
< 0.001); standard deviation of the trunk angle
φ
(
x
2
) and energy expenditure (
x
3
) decreased over time for all patients (Pearson's
r
 < − 0.6, 
p
< 0.05), except for patient R11, whose acceleration counts (energy) were about the same than that of the experts for the entire training. Learning rates and initial values of each feature varied drastically across patients, confirming that different features captured different aspects of learning.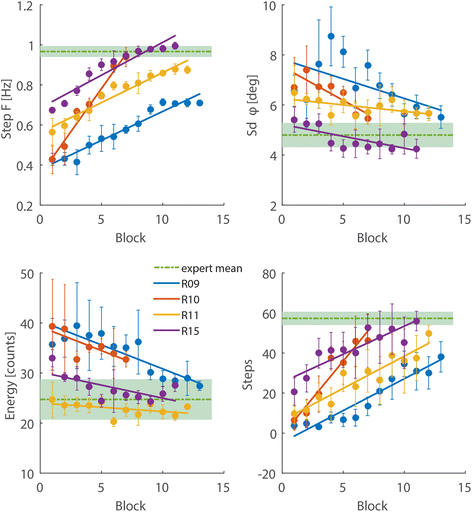 We compared the z-scores when using only steps as feature with that obtained when all the features are used. Both scores showed that patients improved as a result of training (Fig.
4
). Using all the features magnified separation across patients as well as from experts, and overall reduced the standard deviation of the score within sessions, thus aiding detection of improvements towards optimal expertise.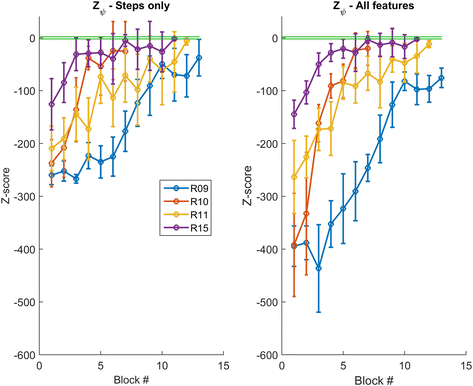 We compare the two scores in terms of their discriminatory power, by testing which patients have a z-score that is above -2 standard deviations from the experts in the last two training sessions. Using the score based on steps yielded that 3 patients (R10, R11 and R15) were not significantly different from the experts (One tailed Wilcoxon signed rank test,
p
 > 0.13). In contrast, when all features are used, only patient R15 is classified as expert (
p
 = 0.42), with the others all being scored as non-experts (
p
 < 0.001) (Fig.
5
). The result of the combined features model was in agreement with the evaluation of the physical therapist that trained the patients and evaluated their skills independently from the model prediction.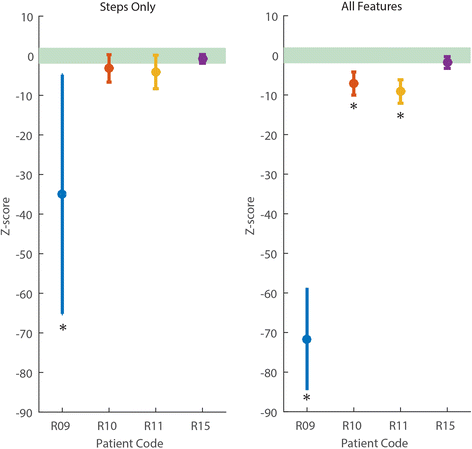 Discussion
In this study, a simple setup consisting of a wearable accelerometer was used to quantify walking skills in subjects with spinal cord injury who were trained to walk with an exoskeleton. A set of features was computed from the trunk accelerations of the subjects as they were trained to use the ReWalk™. Features were combined into a single index of walking quality, the Gaussian naïve Bayes surprise, which scored patients relative to expert subjects, who received extensive prior training with the exoskeleton. We found that our index has a higher discriminatory power than the index that used number of steps as the only feature. A discriminatory score with increased sensitivity can better support clinicians' decisions on whether a participant needs more training or is ready to use the robotic exoskeleton at home. This is crucial, given that an individual with complete SCI and walking with a 50 lb powered exoskeleton using a walker or forearm crutches is in a precarious situation, and significant expertise is required to avoid adverse events while moving in a community environment, even in the presence of a companion.
Previous studies trying to assess how SCI individuals perform with lower limb exoskeletons have used a combination of standard clinical outcome measures and other specialized analysis, including kinematics, dynamics and physiological features [14–20]. Despite using multiple features to characterize walking skills with a particular device, these previous studies have looked at each variable individually. It is thus unclear which features are more important to evaluate the performance of a subject for independent walking. In our combined score model, each feature is weighted by the inverse of its variance, as estimated from a pool of expert users. Therefore, our method automatically infers the feature importance from the experts' data, in order to evaluate the walking skills of a new subject.
Furthermore, previous exoskeleton research measured performance at a single time point, usually following training. In this work the change in individual features across training sessions was tracked, which allows analyzing the learning curve of participants. This information could help clinicians at predicting patients' expertise and determine how much additional training is needed to reach expert proficiency. Furthermore, given the early stage of development of robotic exoskeletons, additional insights into the patients' learning curve could guide the design of future exoskeletons and the planning of training sessions, by considering how each feature changes for different patients.
Our work has several limitations: considering our sample size, a study with a larger pool of subjects is crucial to validate the results and remains as future work. Secondly, only 4 features from the trunk accelerations to evaluate walking quality were computed; incorporating other features could capture additional factors that affect walking skills with the exoskeleton. Similarly, deriving features that directly quantify safety, such as walking stability or probability of falls, could provide a significant improvement over the current model. Interestingly, other studies have tried to infer the stability of walking from body accelerations in both healthy and subjects at risk of falls [26–28]; however all these studies were performed on freely walking subjects and how to translate these methods to subjects walking with an exoskeleton should be investigated.
Ideally the features should be independent, which is not true in our case, as the standard deviation of the trunk tilt and the acceleration counts are expected to be strongly correlated. The feature independence (naïve Bayes) assumption was chosen to keep the model simple and to prevent overfitting of the probability distribution parameters. This assumption could be relaxed if data from more subjects are available. On the other hand, the naïve Bayes assumption proved to work well in several problems even where the features are actually not independent [29]. Similarly, it has been shown that redundant features can still describe different aspects of walking skills during training in individuals with spinal cord injury [30].
Conclusion
The current study provides a first step towards the construction of an index that quantifies walking skills in exoskeletons, by integrating multiple features (metrics) in a principled way. Combining multiple features could help clinicians to determine when a patient has reached a level of ability to walk safely at home and in the community with a robotic exoskeleton. We used a simple sensor to infer relevant quantitative data about walking skills in individuals with complete SCI and were able to track their progress over time. More advanced wearable sensors [31, 32] could be used to derive additional features, as well as to provide feedback on the optimality of the subject movements and potentially facilitate learning. Future work is necessary to determine the most effective feedback system to address this question. Overall, the proposed approach of constructing an index of walking performance could be applied to any other situation where expert performance is measured along with existing performance. This could be useful across a wide range of rehabilitation studies and beyond.
Abbreviations
6MWT:

6 minute walk test
10mWT:

10 meter walk test
CGA:

contact guard assistance
LOA:

level of assistance
SCI:

spinal cord injury
Declarations
Acknowledgements
The study was completely supported by the U.S. Department of Education, National Institute on Disability and Rehabilitation Research, NIDRR-RERC, Grant Number H133E120010
Open AccessThis article is distributed under the terms of the Creative Commons Attribution 4.0 International License (http://creativecommons.org/licenses/by/4.0/), which permits unrestricted use, distribution, and reproduction in any medium, provided you give appropriate credit to the original author(s) and the source, provide a link to the Creative Commons license, and indicate if changes were made. The Creative Commons Public Domain Dedication waiver (http://creativecommons.org/publicdomain/zero/1.0/) applies to the data made available in this article, unless otherwise stated.
Authors' Affiliations
(1)
Max Nader Lab for Rehabilitation Technologies and Outcomes Research, Rehabilitation Institute of Chicago, Chicago, USA
(2)
Department of Physical Medicine and Rehabilitation, Northwestern University, Chicago, USA
(3)
Sensory Motor Performance Program, Rehabilitation Institute of Chicago, Chicago, USA