Can Lokomat therapy with children and adolescents be improved? An adaptive clinical pilot trial comparing Guidance force, Path control, and FreeD
Journal of NeuroEngineering and Rehabilitation
2017
14:76
Received: 19 October 2016
Accepted: 28 June 2017
Published: 14 July 2017
Abstract
Background
Robot-assisted gait therapy is increasingly being used in pediatric neurorehabilitation to complement conventional physical therapy. The robotic device applied in this study, the Lokomat (Hocoma AG, Switzerland), uses a position control mode (Guidance Force), where exact positions of the knee and hip joints throughout the gait cycle are stipulated. Such a mode has two disadvantages: Movement variability is restricted, and patients tend to walk passively. Kinematic variability and active participation, however, are crucial for motor learning. Recently, two new control modes were introduced. The Path Control mode allows the patient to walk within a virtual tunnel surrounding the ideal movement trajectory. The FreeD was developed to support weight shifting through mediolaterally moveable pelvis and leg cuffs. The aims of this study were twofold: 1) To present an overview of the currently available control modes of the Lokomat. 2) To evaluate if an increase in kinematic variability as provided by the new control modes influenced leg muscle activation patterns and intensity, as well as heart rate while walking in the Lokomat.
Methods
In 15 adolescents with neurological gait disorders who walked in the Lokomat, 3 conditions were compared: Guidance Force, Path Control, and FreeD. We analyzed surface electromyographic (sEMG) activity from 5 leg muscles of the more affected leg and heart rate. Muscle activation patterns were compared with norm curves.
Results
Several muscles, as well as heart rate, demonstrated tendencies towards a higher activation during conditions with more kinematic freedom. sEMG activation patterns of the M.rectus femoris and M.vastus medialis showed the highest similarity to over-ground walking under Path Control, whereas walking under FreeD led to unphysiological muscle activation in the tested sample.
Conclusions
Results indicate that especially Path Control seems promising for adolescent patients undergoing neurorehabilitation, as it increases proximal leg muscle activity while facilitating a physiological muscle activation. Therefore, this may be a solution to increase kinematic variability and patients' active participation in robot-assisted gait training.
Keywords
YouthsCerebral PalsyNeurological gait disordersRobot-assisted gait therapyImpedance controlFreeD motionSurface ElectromyographyKinematic variability
Background and technical introduction
Walking disorders are a common problem in patients with neurological impairments. Accordingly, robot-assisted therapy is used in neurorehabilitation to increase the dose of task-specific gait training. The most frequently applied gait orthosis is the Lokomat (Hocoma AG, Volketswil, Switzerland). The Lokomat is a robotic exoskeleton, used in rehabilitation centers to complement conventional therapies since it appears to be a feasible and promising therapeutic tool for adults as well as for children and adolescents [1–5]. Nevertheless, its effectiveness is being controversially discussed. Some studies concluded that robot-assisted therapy is superior to manual or conventional therapy in patients with stroke [6, 7] while other studies came to the opposite conclusion for stroke survivors as well as for patients with spinal cord injury [8–11]. Recent research, especially with patients following stroke, pointed out that a combination of robot-assisted therapy and conventional physical therapy might be the most promising solution [1, 3]. Thereby, robotic devices could offer a safe, simplified, and supportive environment for the therapy while also supporting visual feedback and haptic learning, which is thought to lead to the best learning performance of movements [12, 13]. However, clinical routine and scientific evidence showed that the provision of such a supportive environment comes with a price: the full and constant guidance of the robot often leads to patients being passive which might result in reduced muscle activity [14–16]. It furthermore limits active participation, dynamic walking pattern adaptation, variability in movements, and the possibility to make errors. These are all important factors for motor learning and for improving gait performance [16–20]. Patients have to train in many different ways and as often as possible ("repetition without repetition") [21]. In an animal study, Cai et al. [22] demonstrated that spinal cord-transected mice showed a faster and a more distinct recovery when they trained with variable compared to fixed robotic trajectories for movements of the hind limbs. Although these results are encouraging, it remains unclear if these findings also translate to humans. Anyhow, improvement of rehabilitation robots, especially for functionally more advanced patients, is essential.
Consequently, new approaches have been developed that take into account the patient's functional ability. These are based on the technical reduction of the supportive force to ensure active participation of the patient as well as to increase the possible variability of the movement [23]. The following paragraphs provide a comprehensive overview of the commercially available control soft- and hardware of the Lokomat.
Control modes of the Lokomat
Currently, two different commercially available modes exist to quantify and modify the amount of support the patients receive during walking: Guidance Force and Path Control.
Guidance force
The original mode Guidance Force can be set from 0 to 100%. Walking at 100% guidance (impedance control) corresponds to a position-controlled mode, i.e. there is a predetermined cyclical movement trajectory for the knee and hip in the sagittal plane from which no deviation is possible [24–26]. Therefore, theoretically, no active participation of the patient is needed. From a clinical perspective, this might be a solution for severely affected patients [27].
As soon as the Guidance Force parameter is <100%, the impedance is reduced, which means that the restoring forces that push the patient's hip and knee towards the reference trajectory are reduced. Therefore, small deviations from the given trajectory are allowed, and the greater the deviation is, the larger becomes the force that pushes the patient back to the trajectory (like a spring). When Guidance Force is set to 0%, the Lokomat will not provide support for the patient's movements and should only compensate for robotic dynamics (gravity and Coriolis forces) but not for inertia. The downside of robotic devices using classical impedance control is the temporal restriction in walking. They hinder the patients to vary their timing without losing control in space and to experience kinematic variability in a safe and supporting way [26].
Path control
The first solution to solve this issue with the limited variability in kinematics of exoskeleton robots was proposed by Cai et al. [
28
] in mice, and it was adapted to stroke patients by Banala et al. [
29
]. A virtual tunnel was implemented, in which the patients could modify their trajectories with a certain spatial and temporal freedom while a moving force supported them to conduct the movement in accordance with the treadmill speed. For the Lokomat, the first version of this strategy called
Path Control
was implemented by Duschau-Wicke et al. [
26
], and it has been commercially implemented in all Lokomat Pro version 6.0 devices since 2014. In
Path Control
, kinematic variability is offered by a torque field tunnel in joint space which controls the spatiotemporal characteristics of the gait pattern by applying corrective torques if the leg position is outside of the tunnel. The width of the tunnel can be set to narrow (small deviations allowed), middle, and wide (large deviations allowed). The "Support Force" (0–100%) assists the patient with the step timing. It provides an extra "wind" of force in the direction of the gait trajectory and can help the patient temporally to overcome weakness. It also reduces the uncompensated inertia of the robot (Fig.
1
, for technical details, see [
26
,
30
,
31
]). Since
Guidance Force
and
Path Control
are superimposed mechanisms, the
Guidance Force
mode must be set to lower than 30% to enable
Path Control
to unfold its advantages.

Only a few studies have investigated Path Control in adult humans. They could show an increased active participation [30], a more physiological gait pattern [27], and improvements in clinical gait parameters when training with Path Control instead of Guidance Force [14, 32]. So far, no study exists that implemented the Path Control mode in children and adolescents with neurological gait disorders.
FreeD
Up to this stage, the pelvis and its motions were constrained to the sagittal plane and also the leg cuffs were fixed preventing lateral movements during Lokomat walking. However, lateral pelvic displacement is physiological and necessary for a natural gait pattern [33]. Different studies with robot-assisted devices concluded that restrictions in pelvic motions severely affect gait dynamics [34] and alter muscle activation patterns [8, 15] and, therefore, should be avoided.
In October 2014, a new module for the Lokomat was introduced: The
FreeD
. With this hardware and software approach, the pelvis is now movable in the frontal plane to a lateral translation of up to 4 cm (per side) and in the transversal plane to a pelvic rotation of up to 4° (per side). Additionally, the cuffs have a laterally movable range (Fig.
2
). This should support the natural lateral pelvis displacement as well as weight shifting during walking and might enable an additional balance training [
35
] which would be useful since balance is often particularly affected in patients with neurological disorders [
34
]. Another study showed that with rhythmic weight-shifting training, gait performance in children with spastic diplegic cerebral palsy could be increased [
36
]. Therefore, the
FreeD
might be a promising renewal for robot-assisted gait training, "making the walking pattern more physiological and more natural" [
35
].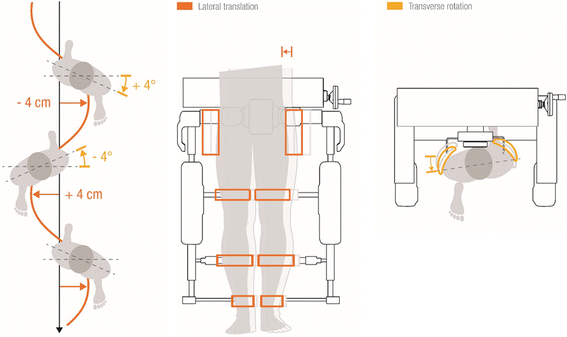 Although a substantial amount of work has been done during the last years in this rapidly growing field, the question concerning the most effective control algorithm for robot-assisted gait training still remains open [23]. Therefore, the aim of this study was to investigate the new control modes Path Control and FreeD in children and adolescents with neuromotor disorders and to compare them to Guidance Force. To examine the influence of these control modes on sEMG parameters during Lokomat walking, we formulated the following research questions: (1) Quantitative gait analysis: Does training in the Lokomat under a condition with more kinematic freedom leads to an increase in muscle activity and heart rate (Guidance Force < Path Control < FreeD)? and (2) Qualitative gait analysis: Does a change in muscle activity go along with maintaining a physiological gait pattern?
Results
Fifteen patients (5 girls, 10 boys) with a mean age of 16 ± 2y completed the trial. Details about the patients' characteristics are listed in Table
1
. In one participant, the measurements had to be stopped immediately after the beginning for safety reasons (patient ID 13), as the therapist noted during the robot-walking familiarization period that the patient would not be able to walk with less than 100%
Guidance Force
.
Table 1
Patients' characteristics
ID

Age (years)

Main diagnosis (GMFCS Level)

More impaired leg

Walking speed (km/h)

Daily life mobility aids

1

19

CP, bilateral ataxic (III)

right

2.2

Dorsal walking frame for longer distances

2

19

Hereditary spastic paraplegia

right

2.2

None

3

14

CP, bilateral ataxic (II)

left

2.0

Dorsal walking frame, ankle-foot orthoses

4

14

ABI a (unilateral paresis)

left

1.9

Foot-up orthosis

5

16

ABI a (unilateral spastic paresis)

left

2.0

None

6

19

CP, bilateral spastic (III)

right

2.0

Crutches, orthopedic shoes

7

13

CP, bilateral spastic (II)

left

2.0

Foot-up orthosis

8

15

MMC L3/L4

right

1.8

Crutches

9

16

CP, bilateral spastic (II)

right

1.8

Ankle-foot orthoses

10

16

CP, bilateral spastic (III)

left

1.9

Dorsal walking frame for longer distances, ankle-foot orthoses

11

14

CP, bilateral spastic (III)

right

2.1

Ankle-foot orthoses

12

20

ABI a (bilateral spastic paresis)

right

1.8

None

13

19

CP c, bilateral spastic (IV)

right

1.4

Wheelchair, ankle-foot orthoses

DROP-OUT

14

15

CP, unilateral spastic (I)

left

1.8

None

15

14

ABI a (unilateral spastic paresis)

left

1.8

None

16

12

ABI b (unilateral paresis)

left

2.1

None
Since some of the participants had to wear lower leg orthoses for ankle-stabilization, we had missing data of the M.tibialis anterior for 2 participants and the M.gastrocnemius lateralis for 3 participants, respectively.
Quantitative changes in sEMG activity and heart rate
We found an increase in quantitative muscle activation in several muscles when the kinematic freedom of the Lokomat was enlarged. Significant group differences between the three conditions could be found for the M.rectus femoris (P = 0.038), the M.vastus medialis (P = 0.004) and the M.tibialis anterior (P = 0.018). Heart rate did not reach significant results but a trend could be detected (P = 0.085). sEMG amplitudes, the heart rate, and the p-values of the 3 conditions and the five muscles are presented in Fig. 5.
Additional file
7
: Fig. S1 shows that the chosen protocol was adequately timed to approximately allow heart rate to reach a steady state during the conditions and return to baseline during the breaks.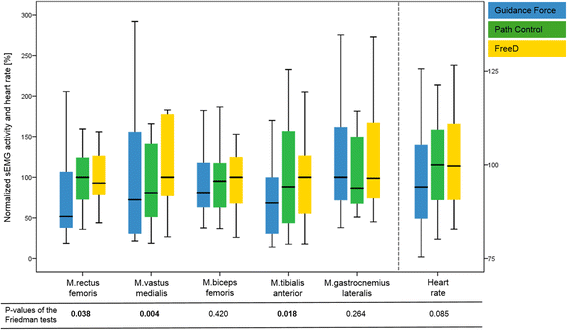 Significant differences in quantitative muscle activation were found for M.rectus femoris, M.vastus medialis and M.tibialis anterior. Pairwise post-hoc comparisons with effect sizes of the different conditions are presented in Table
2
.
Table 2
Comparison of the sEMG amplitudes between conditions. P-values of the Wilcoxon tests before and after FDR correction for multiple testing and effect sizes are shown
Comparisons

p-values of the Wilcoxon test

FDR corrected p-values

Effect sizes

M.rectus femoris

GF - PC

0.100

0.150

−0.30

GF - FreeD

0.061

0.150

−0.34

PC - FreeD

0.496

0.496

−0.13

M.vastus medialis

GF - PC

0.173

0.173

−0.25

GF - FreeD

0.020

0.030

−0.43

PC - FreeD

0.002

0.006

−0.56

M.biceps femoris

GF - PC

0.955

0.955

−0.01

GF - FreeD

0.363

0.545

−0.17

PC - FreeD

0.125

0.375

−0.28

M.tibialis anterior

GF - PC

0.133

0.199

−0.30

GF - FreeD

0.023

0.069

−0.45

PC - FreeD

0.701

0.701

−0.08

M.gastrocnemius lateralis

GF - PC

0.209

0.582

−0.26

GF - FreeD

1.000

1.000

0.00

PC - FreeD

0.388

0.582

−0.18

Heart rate

GF - PC

0.069

0.104

−0.33

GF - FreeD

0.047

0.104

−0.36

PC - FreeD

0.427

0.427

−0.15
Qualitative changes in sEMG activity and walking patterns
The grand-averaged gait cycle profiles for each muscle and each condition are displayed in Fig.
6
together with reference curves of normally developing children adapted from Chang et al. [
48
].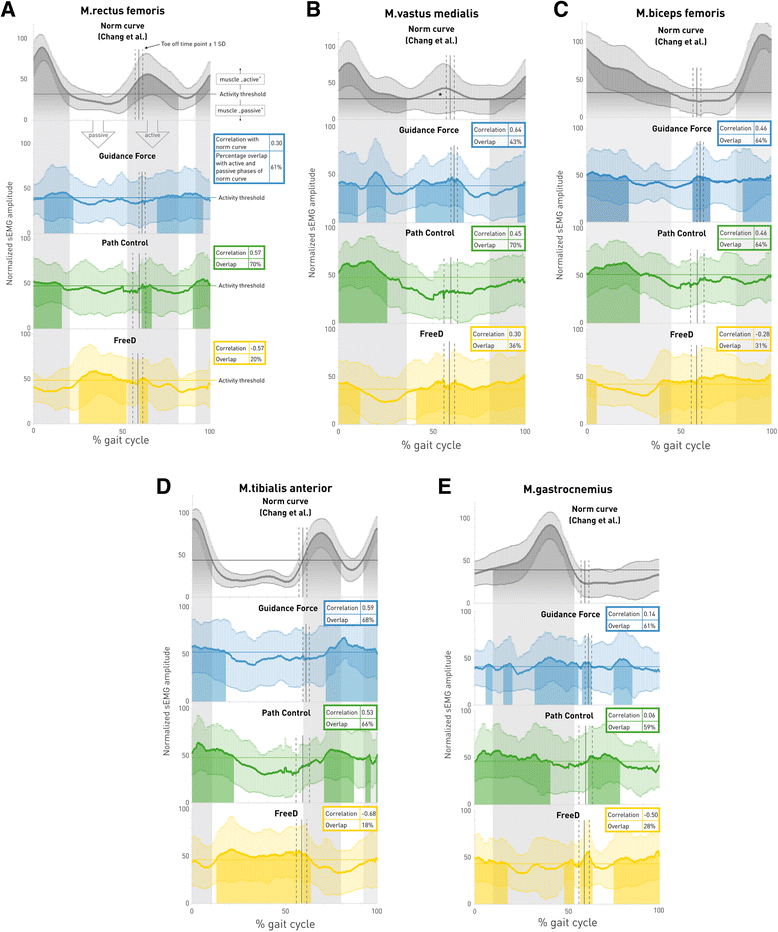 Focussing on the therapist's and patient's scorings, the following results could be observed: During the
Guidance Force
condition, the therapist scored the gait pattern as "physiological" for all 15 patients while 13 patients rated the condition to be "comfortable" (15/13). These numbers were 8/9 during
Path Control
and 7/10 during
FreeD motion
, respectively. Apparently, all of the patients walked physiologically during the
Guidance Force
condition, whereas fewer patients were scored with a physiological gait pattern during
Path Control
and
FreeD
conditions. Table
3
summarizes the correlations and overlaps of the sEMG patterns with the norm curves and presents the therapist's and patients' scorings.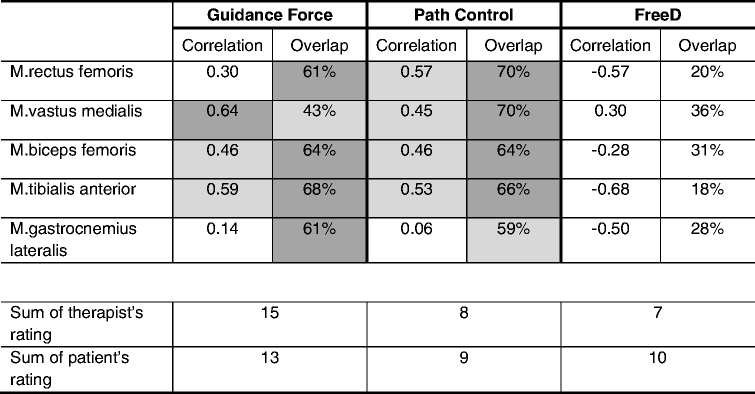 Conclusion
With this study, we could show that alterations in muscle activity (amplitude and pattern) can occur when different control modes are used during training with the Lokomat. Therefore, it seems that patient-cooperative tools are able to address the main point of criticism against robot-assisted gait training: the passivity of the patient. Additionally, especially with Path Control, patients can train walking in an active and physiological way. Further studies should clarify, why the FreeD as tested in this study seems to be less applicable for physiologic walking in moderately affected children and adolescents with neurological gait disorders and which requirements patients must meet to train physiologically also with FreeD. Furthermore, longitudinal studies should be performed to address the effectiveness and long-term effects of these new control modes. However, the therapist is still the most important factor for evaluating and influencing the performance during robot-assisted gait therapy. It is his/her responsibility to guide the training process and to choose an adequate training mode to reach patients' individual aims and goals of gait rehabilitation.
Abbreviations
BF:

M.biceps femoris
FDR:

False Discovery Rate
GL:

M.gastrocnemius lateralis
GMFCS:

Gross Motor Function Classification System
RF:

M.rectus femoris
SD:

Standard deviation
sEMG:

Surface electromyography
TA:

M.tibialis anterior
VM:

M.vastus medialis
Declarations
Acknowledgements
We thank the physiotherapist Sandra Ricklin (Rehabilitation Center Affoltern am Albis, Switzerland), who made an important contribution to the data acquisition, and Alexander Duschau-Wicke (Hocoma AG, Switzerland) who provided technical support with the new hardware and software modes. A special thanks goes to all patients and their parents for participating in the study. We further acknowledge the Neuroscience Center Zurich (ZNZ).
Funding
This research was financially supported by the "Mäxi" Foundation, the Fondation Gaydoul, and the CRPP Neurorehabilitation of the Medical Faculty of the University of Zurich, Switzerland.
Availability of data and materials
The datasets supporting the conclusions of this article are included within the article and its additional files.
Authors' contributions
TA: Research project conception and execution, data acquisition review and critique, manuscript writing. FG: Research project organization and execution, data acquisition, statistical analysis, writing of the first draft. HvH: Research project conception, statistical analysis review, manuscript review. RL: Research project conception, statistical analysis, manuscript review and critique. All authors approved the final manuscript.
Ethics approval and consent to participate
This study was approved by the Cantonal Ethics Committee of Zurich (reference number KEK-ZH-Nr. StV. 07/07). All participants ≥14 years and all legal guardians gave written informed consent to participate, participants <14 years provided assent.
Consent for publication
All authors have approved the manuscript for submission. All participants and/or their legal guardians gave written informed consent to publish these data.
Competing interests
The authors declare that they have no competing interests and there are no financial competing interests to declare in relation to this manuscript.
Publisher's Note
Springer Nature remains neutral with regard to jurisdictional claims in published maps and institutional affiliations.
Open AccessThis article is distributed under the terms of the Creative Commons Attribution 4.0 International License (http://creativecommons.org/licenses/by/4.0/), which permits unrestricted use, distribution, and reproduction in any medium, provided you give appropriate credit to the original author(s) and the source, provide a link to the Creative Commons license, and indicate if changes were made. The Creative Commons Public Domain Dedication waiver (http://creativecommons.org/publicdomain/zero/1.0/) applies to the data made available in this article, unless otherwise stated.
Authors' Affiliations
(1)
Rehabilitation Center Affoltern am Albis, Children's University Hospital Zurich, Affoltern am Albis, Switzerland
(2)
Children's Research Center, Children's University Hospital Zurich, Zurich, Switzerland
(3)
Department of Health Sciences and Technology, ETH Zurich, Zürich, Switzerland