Adaptive robot training for the treatment of incoordination in Multiple Sclerosis
Journal of NeuroEngineering and Rehabilitation
2010
7:37
Received: 6 August 2009
Accepted: 29 July 2010
Published: 29 July 2010
Abstract
Background
Cerebellar symptoms are extremely disabling and are common in Multiple Sclerosis (MS) subjects. In this feasibility study, we developed and tested a robot therapy protocol, aimed at the rehabilitation of incoordination in MS subjects.
Methods
Eight subjects with clinically defined MS performed planar reaching movements while grasping the handle of a robotic manipulandum, which generated forces that either reduced (error-reducing, ER) or enhanced (error-enhancing, EE) the curvature of their movements, assessed at the beginning of each session. The protocol was designed to adapt to the individual subjects' impairments, as well as to improvements between sessions (if any). Each subject went through a total of eight training sessions. To compare the effect of the two variants of the training protocol (ER and EE), we used a cross-over design consisting of two blocks of sessions (four ER and four EE; 2 sessions/week), separated by a 2-weeks rest period. The order of application of ER and EE exercises was randomized across subjects. The primary outcome measure was the modification of the Nine Hole Peg Test (NHPT) score. Other clinical scales and movement kinematics were taken as secondary outcomes.
Results
Most subjects revealed a preserved ability to adapt to the robot-generated forces. No significant differences were observed in EE and ER training. However over sessions, subjects exhibited an average 24% decrease in their NHPT score. The other clinical scales showed small improvements for at least some of the subjects. After training, movements became smoother, and their curvature decreased significantly over sessions.
Conclusions
The results point to an improved coordination over sessions and suggest a potential benefit of a short-term, customized, and adaptive robot therapy for MS subjects.
Keywords
Expand Disability Status ScaleTraining ModeStroke SubjectCerebellar SymptomMultiple Sclerosis Subject
Background
Multiple Sclerosis (MS) is associated with a variety of symptoms and functional deficits, in proportions that change widely from patient to patient. About 30% of subjects show functionally relevant cerebellar deficits [1]. The most common symptoms are tremor [2, 3] and ataxia [4]. Cognitive deficits have been reported as well [5]. Ataxia in particular implies an inability to perform coordinated movements that involve multiple joints [6]. In these subjects, movements typically result in curved trajectories and prolonged durations. All these symptoms are highly disabling and resistant to treatment.
Even though evidence for efficacy of rehabilitation came from studies with subjects with chronic progressive MS [7], there is growing evidence that subjects with relapsing-remitting MS may benefit from rehabilitation interventions [8]. Recent reviews suggest that exercise therapy can be beneficial for subjects with MS [9] and that multi-disciplinary rehabilitation programs may improve their experience in terms of activity and participation, but cannot change the level of impairment [10]. Due to the different degrees of impairments in different MS subjects, it is crucial that in these subjects the timing and mode of rehabilitation treatment are set individually.
As regards cerebellar symptoms in MS subjects, there is no conclusive evidence on the efficacy of neuro-rehabilitation treatments [11]. Physiotherapy approaches have resulted in small, short-term improvements in gait [12], balance [13, 14] and arm [13] functions. Repetitive transcranial magnetic stimulation (rTMS) on the motor cortex has been reported [15] to induce a short-term improvement in coordination. Cooling of the limbs was reported to decrease tremor, but not incoordination [16, 17].
Robot therapy has been shown effective in promoting the recovery of stroke subjects [18]. It is natural to wonder if it can be of any use in MS subjects, in particular those with cerebellar symptoms. Very few studies have addressed the application of robot-assisted treatments to MS subjects, targeting gait [19, 20] and movements of the upper limb [21].
A prerequisite for rehabilitation, either robot- or therapist-assisted, is that subjects preserve their ability to adapt to novel dynamic environments [22]. Recent studies have demonstrated that MS subjects with no disability have a preserved capability of predicting the effects of robot-generated forces [23]. Moreover, MS subjects with severe impairment have at least a residual capability for sensorimotor adaptation in arm [24] and posture [25] control.
Cerebellar deficits have been associated with an inability to adapt to novel dynamic environments [26, 27]. These subjects may possibly benefit from adaptive training protocols [28], in which robots do not just assist subjects while they practice movements but, rather, they provide unfamiliar dynamic environments to which subjects are required to adapt. These approaches have been investigated in the rehabilitation of chronic stroke survivors [29]: improvement is greater when robot-generated forces are directed toward magnifying the original movement errors (i.e. lateral deviation), with respect to situations in which forces tend to reduce (and possibly reverse) such errors.
In this study, we investigate a robotic approach to neuro-motor rehabilitation of MS subjects that combines, in the same protocol, the evaluation of motor performance and the fine tuning of the training exercise. More specifically, we developed a personalized adaptive training protocol, where subjects are required to adapt to dynamic environments that either enhance or oppose (i.e., reduce or even reverse) the motor errors which result from impaired coordination.
We specifically asked (i) which approach (error-enhancing, error-reducing) would be more effective and, more in general, (ii) whether robot therapy - more specifically, adaptive training - could be beneficial to cerebellar MS subjects.
Results
Seven subjects successfully completed the protocol. Subjects were allowed to rest between consecutive blocks of trials. However, no one did, and in fact the task was well tolerated. Furthermore, there was no degradation of performance at the end of the adaptation phase as compared to the final portion of the wash-out phase. One subject (S8) did not complete the second half of the trial, for reasons unrelated to the study protocol. This subject was excluded from all subsequent analyses.
Figure
3
shows typical trajectories from the center position to the three targets, during the different phases of an error-enhancing (top) and an error-reducing session (bottom).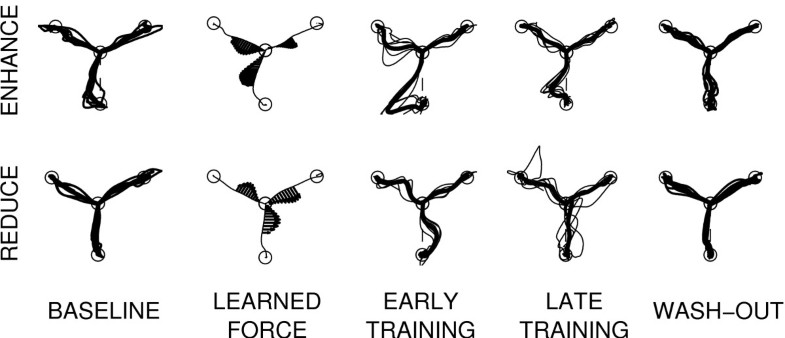 As expected, the forces learned by the robot at the end of the Robot Training phase reflect the average patterns of curvature observed during the baseline phase.
Primary outcome
We first tested for differences in the training mode. We found a significant effect of period (F(1,6) = 16.004; p = 0.00283). On average, the decrease in the NHPT score was -9 ± 3 s in period 1 and -1 ± 3 s in period 2. However, we found no significant treatment and baseline effects. On average, the NHPT score decrease was -9 ± 5 s in period 1 of error-enhancing sessions, and -9 ± 5 s in the same period of error-reducing sessions.
These results indicate that most of the improvement occurs in period 1, irrespective of treatment type and baseline value.
We then looked at the NHPT change from baseline (T0) to the end of the treatment (T3), irrespective of the training mode. In this case, the NHPT score decreased from 61 ± 14 s to 48 ± 20 s, a 24% change (F(1,6) = 16.495, p = 0.007); see also Figure
4
. In four subjects, the improvement was greater than 20% (the threshold for clinical significance). One subject displayed a 47% change; no subjects showed significant worsening.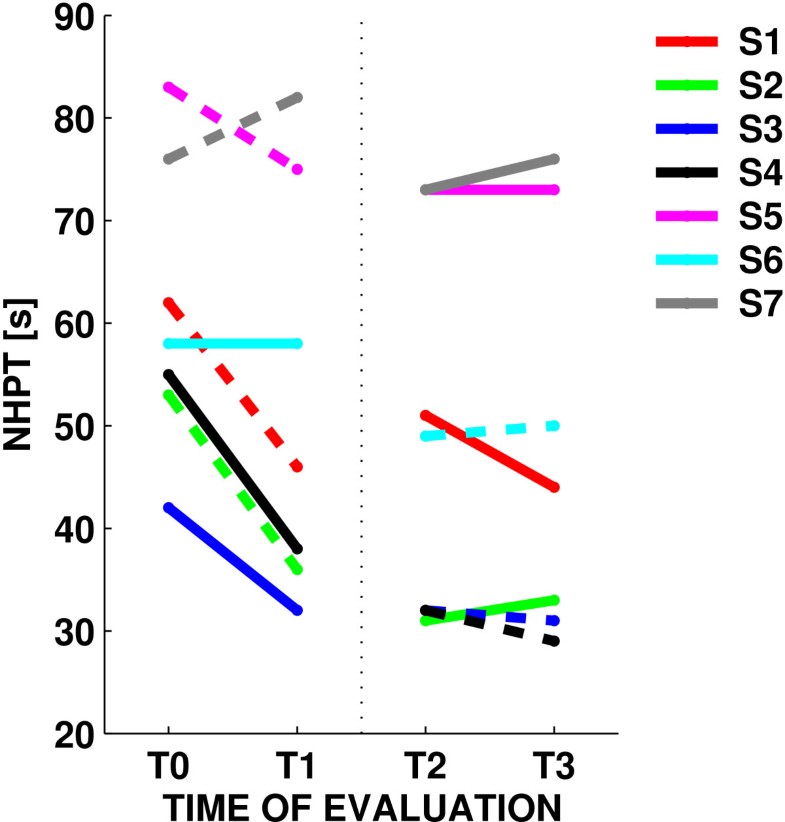 During the first four sessions, irrespective of the training mode, the average score decreased (F(1,6) = 6.7955, p = 0.04021) from 61 ± 14 s to 52 ± 20 s (a 21% change). A smaller decrease, from 49 ± 18 s to 48 ± 20 s (a 4% change) was observed during the last four sessions. Although these results suggest a plateau effect for the improvement in the NHPT score, subjects who improved during period 1 exhibited an additional improvement in period 2 (correlation between changes in the two periods: 0.61); see Table
2
.
NHPT [s]

NHPT change [s]

Subject

Sequence

T0

T1

T2

T3

Period 1 (T1-T0)

Period 2 (T3-T2)

Overall (T3-T0)

S1

EE+ER

62

46

51

44

-16

-7

-18

S2

EE+ER

53

36

31

33

-17

2

-20

S3

ER+EE

42

32

32

31

-10

-1

-11

S4

ER+EE

55

38

32

29

-17

-3

-26

S5

EE+ER

83

75

73

73

-8

0

-10

S6

ER+EE

58

58

49

50

0

1

-8

S7

EE+ER

76

82

73

76

6

3

0

S8*

ER+EE

57

61

NA

NA

4

NA

NA

Total

61 ± 14

52 ± 20

49 ± 19

48 ± 20

-9 ± 9

-1 ± 3

-13 ± 9
Secondary outcome: clinical scales
The Ataxia score decreased from T0 and T3, irrespective of the training mode (F(1,6) = 6.1935, p = 0.04725). The decrease occurred during the first four sessions (F(1,6) = 10.500, p = 0.01768); no further decrease was found in the late sessions. As regards tremor, the TADL score decreased in the first four sessions, but only with EE training (F(1,6) = 14.087, p = 0.00947); see Table
3
. Other clinical scales showed small improvements for at least some of the subjects, but no significant effects were observed.
Table 3
Changes in clinical scales.
Subject

Scripps' NRS (5-0)

Ataxia (0-8)

TADL (25-100)

VAS tremor (0-10)

Scripps' NRS (5-0)

Ataxia (0-8)

TADL (25-100)

VAS tremor (0-10)

M

S

C

M

S

C

S1

T0

5

5

1

5

37

5

T2

5

5

1

3

35

4.5

T1

5

5

3

3

32

3.5

T3

5

5

1

3

35

4

S2

T0

3

3

1

5

42

5

T2

3

3

3

3

40

4

T1

3

3

3

3

40

4

T3

3

5

3

3

40

3

S3

T0

3

5

3

3

45

5

T2

5

5

3

2

45

5

T1

5

5

3

2

45

5

T3

5

5

3

2

45

5

S4

T0

3

3

1

5

63

5

T2

5

3

1

3

62

4

T1

5

3

1

4

62

5

T3

5

3

3

2

60

4

S5

T0

5

3

3

3

47

8

T2

5

3

3

3

45

6

T1

5

3

3

3

47

7

T3

5

3

3

3

45

6

S6

T0

5

3

3

3

51

5

T2

5

3

3

3

45

5

T1

5

3

3

3

51

5

T3

5

3

3

3

45

5

S7

T0

5

5

1

3

44

6

T2

5

5

1

3

41

5

T1

5

5

1

2

44

5

T3

5

5

1

3

41

5

S8*

T0

5

5

1

3

63

9

T2

-

-

-

-

-

-

T1

5

5

1

3

71

10

T3

-

-

-

-

-

-
Secondary outcome: changes in movement kinematics
We found no significant effects of Robot Training (baseline 1 vs baseline 2). As regards the effect of Subject Training (baseline 2 vs wash-out), we found a decrease in the jerk index (F(1,6) = 13.632, p = 0.01018), i.e. after Subject Training movements tend to be smoother - but this same effect was no longer significant when considering baseline 1 vs late wash-out; see Figure
5
.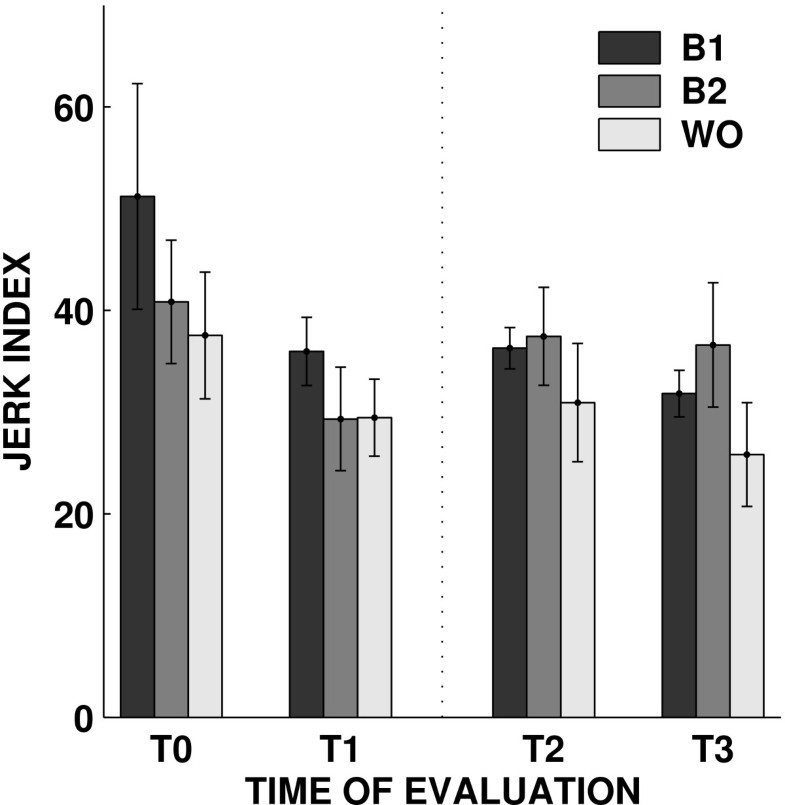 Moreover, we found no significant improvements in movement duration, speed profile symmetry and trajectory curvature (as measured by the lateral deviation). Overall, these results suggest that Subject Training consistently increases movement smoothness, whereas mere exercise - the Robot Training phase - does not have a consistent effect. As regards the effect of session, we found no significant effects for duration, speed profile symmetry or the jerk index. However, we found a significant decrease in trajectory curvature (F(1,6) = 19.801, p = 0.00433); see Figure
6
.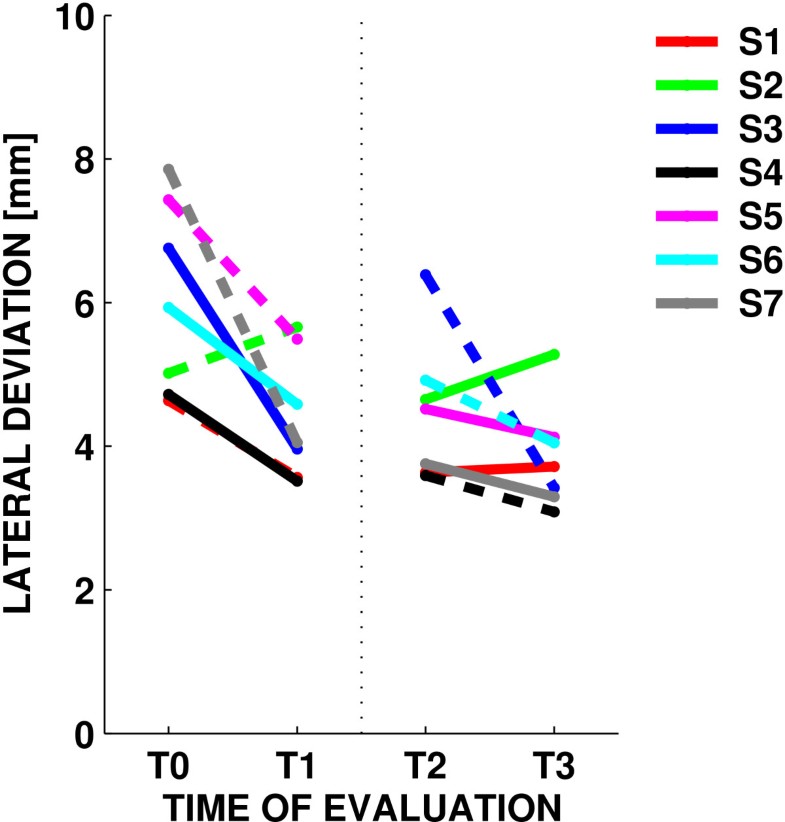 Error-enhancing vs error-reducing training
In all indicators the effect of the training mode (EE vs ER) was not significant except the TADL secondary outcome that significantly decreased only in EE training (F(1,6) = 14.087, p = 0.00947). Likewise, in no indicator we found significant interactions between the training mode and the other factors. Finally, as regards trajectory curvature, we found that most of the decrease occurred during the first block of four sessions, irrespective of the training mode (F(1,6) = 17.767, p = 0.00559, sessions 1 vs 4; and F(1,6) = 8.6312, p = 0.02602, sessions 5 vs 8).
Force field adaptation
To assess the capability of adapting to the forces generated by the robot during the Subject Training phase, we used a 'learning index' [
26
] that compared some signed measure of execution error (here, maximum lateral deviation) in movements where force is turned on (force trials) and where force is turned off (catch trials). If adaptation had occurred, the execution error observed in early force trials should be negatively correlated with the same motor error, observed in the late catch trials. For each subject we displayed the error in early force trials versus the error in late catch trials. The results, for each subject and for each training mode, are shown in Figure
7
.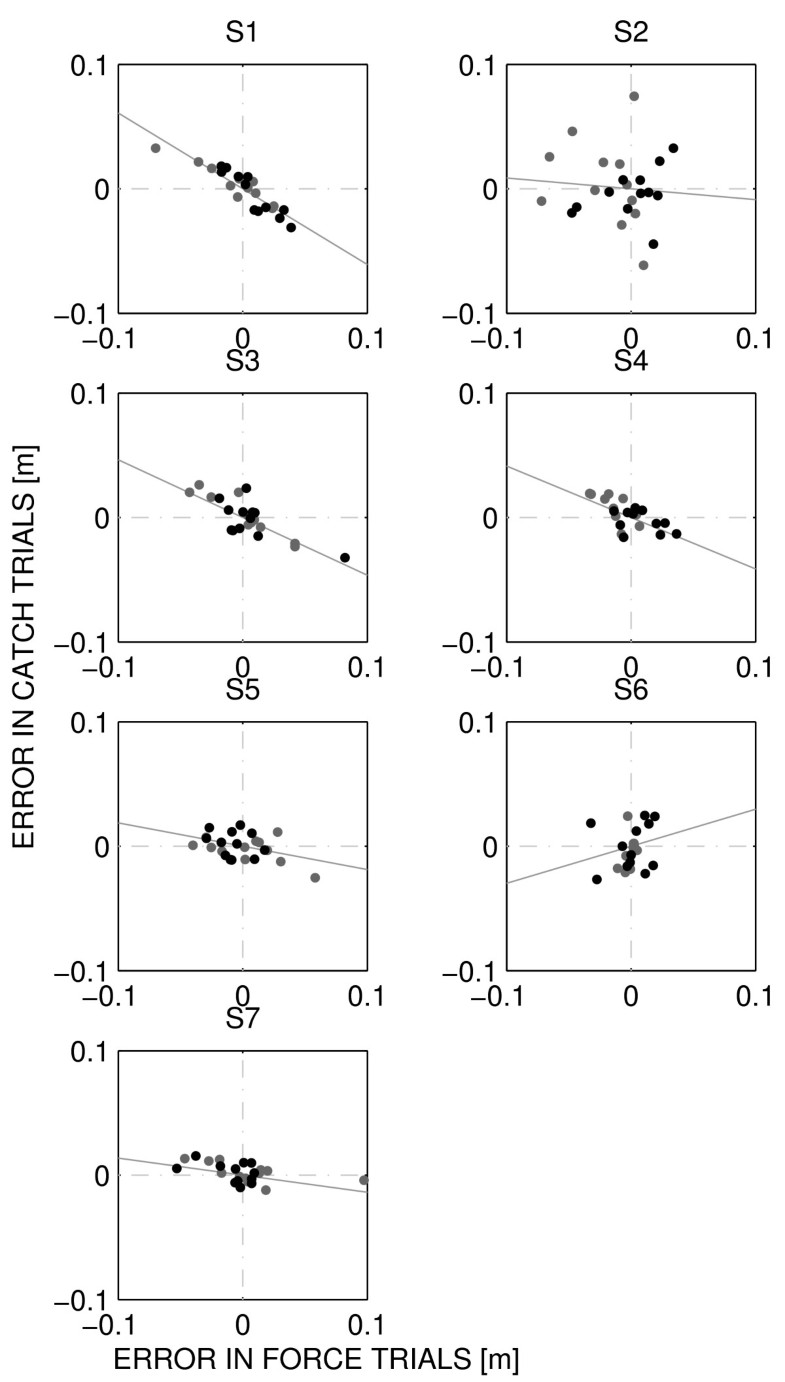 The slopes of the regression lines can be used to quantify the amount of adaptation. The estimated slopes, as well as the corresponding correlation coefficients r are, -0.61 (S1, r = 0.80), -0.09 (S2, r = 0.01), -0.46 (S3, r = 0.63), -0.41 (S4, r = 0.49), -0.19 (S5, r = 0.18), 0.30 (S6, r = 0.07), -0.14 (S7, r = 0.32). These results suggest that five subjects display signs of adaptation (negative slope, substantial correlation) to the force generated by the robot. Two subjects have small correlation, suggesting that little or no adaptation occurred.
Although the correlation was not significant, subjects displaying a greater NHPT improvement were also those displaying a greater amount of adaptation.
Discussion
In this feasibility study, we developed an adaptive robot training technique, and applied it to MS subjects with cerebellar symptoms, i.e. ataxia, tremor or both.
Adaptive robot training improves upper limb function
Across sessions, we found a significant decrease in the NHPT score - a quantitative measure of arm-hand coordination. Additional evidence for improved coordination is provided by the decreases in the ataxia and tremor scores (period 1, EE sessions only). Kinematic analysis of motor performance supports these results. At the end of a training session, movements become significantly smoother. In addition, over sessions, the curvature of movement trajectories decreases significantly.
The improved NHPT score is particularly remarkable, as it suggests that the improved coordination may transfer to tasks more related to activities of daily living [21]. In contrast, robot therapy in stroke subjects displays little generalization to movements that had not been explicitly trained [45, 46].
Most subjects showed a clear improvement in the first four sessions, and only few improved further in the second half of the training protocol. However, improvements in the first period predicted an additional (smaller) improvement in the second period. This says little on how many sessions could be appropriate to maximize subjects' benefit, but suggests that improvement in early sessions is predictive of a further improvement.
Is the observed improvement due to the robot, or it is just the effect of repeated exercise? Within a session, improvements were only observed after Subject Training, whereas Robot Training - during which the robot exerts no forces in 75% of the movements - did not appear to have an effect. This observation points to a specific within-session effect of the robot (robot-assisted Subject Training phase) when compared to exercise alone. These short-term effects, as well as adaptive processes that occur at different time scales [47] may contribute to the overall observed (between-session) performance improvements.
Error-enhancing vs error-reducing training
Previous studies [29, 34] on chronic stroke survivors suggested that adaptation to error-enhancing perturbations (error-enhancing training) can induce short-term improvements of motor performance. In contrast, adaptation to perturbations that opposed the initial lateral deviations (error-reducing training) induced a slight worsening of performance [29].
In the present study, we found no significant differences - neither short-term (within session) nor long-term (between sessions) - between error-enhancing and error-reducing training. This may be due at least in part to the small number of sessions and/or subjects. Furthermore, as noted in the Methods, the 'error-reducing' modality may actually tend to augment the error - although in an opposite direction with respect to the initial lateral deviation - so they may be no different in terms of recovery.
Actually, the cited study on stroke subjects only focuses on short-term (one session) effects, and it is unclear what effect would be expected over multiple sessions. Therefore, that study cannot be directly compared to our findings. Nevertheless, the latter may indicate that stroke survivors and MS subjects with cerebellar symptoms have distinctly different modalities of recovery.
In stroke subjects, recovery might be mostly driven by motor errors, so that it would be greater and/or faster if errors are amplified. Little is known about the mechanisms underlying functional recovery (if any) of MS subjects with cerebellar symptoms. However, one possible hypothesis is that in these subjects recovery may be facilitated by exercises that challenge their ability to deal with novel dynamic environments, for which the cerebellum plays an essential role [26, 27]. As a consequence, in these subjects recovery may not depend on the specific dynamic environment to which to adapt but, rather, on the mere task of adapting.
Further experiments are needed to test this working hypothesis.
It should be noted that the cross-over study design as a number of limitations. The effect of exercise during the first period does not vanish during the 2-weeks rest period. This is partly accounted for by the statistic procedures (performance at the beginning of treatment periods taken as covariate), but existing differences in the two treatment modalities as well as an interaction among them cannot be completely ruled out. Additional studies would be needed, involving more subjects and two separate treatment groups.
MS subjects adapt to unfamiliar dynamic environments
In adaptive training, robots do not just assist subjects while they practice movements (or resist to them) but, rather, they provide unfamiliar dynamic environments, to which subjects are required to adapt. Stroke subjects are capable to adapt to these environments, and when the latter are removed, after wash-out ot the after effects they exhibit improved coordination [34]. These studies, together with evidence of reorganization of the motor cortex driven by motor skill learning [48] have suggested that the neural processes associated with implicit motor adaptation may reshape the sensorimotor mappings altered by stroke [49]. The same cortical reorganization occurs in subjects with early MS, and might contribute to limit the consequences of irreversible tissue damage in lesions and normal-appearing brain tissue [50]. This would suggest that rehabilitation of MS subjects should primarily aim at facilitating the emergence/reorganization of compensatory strategies. Adaptive training seems an attractive way to promote such reorganization and, consequently, particularly promising for rehabilitation of MS subjects, who display different types and degrees of deficit, often with an important cerebellar component.
This pilot study provides new evidence that MS subjects are able to adapt their arm movements when they are exposed to a robot-generated force field. More specifically, our results suggest that, when the robot interacts with subjects performing movements, it is capable to achieve a consistent pattern of force to either enhance or reduce the subjects' errors. A comparison of the errors made during the early force trials and those made during the late catch trials clearly demonstrated that MS subjects are capable of adapting to both error-enhancing and error-reducing force fields.
Conclusions
This study suggests that adaptive-type robot therapy may be a useful and safe approach to improve cerebellar symptoms in MS subjects.
In particular, the finding that six subjects (out of 7) showed a clinically significant improvement in NHPT in pre-post analysis and an improved coordination is specially remarkable, as most medications and rehabilitation approaches are little effective with cerebellar symptoms.
However, unlike stroke subjects, we could not observe a clear difference in the effect of the two treatments (error-enhancing, error-reducing). This may indicate a different modality of recovery of these subjects with respect to stroke survivors. While in stroke subjects recovery is driven by motor errors, in MS cerebellar subjects recovery may be triggered by the mere adaptive training, irrespective of the specific perturbing environment). In fact, in our subjects the overall improvement was associated with a preserved ability, within a session, to adapt to unfamiliar dynamic environments.
We could not conclude on the ideal number and duration of the treatment sessions. However, most of the improvement occurred in the early exercise sessions (period 1) and its magnitude was predictive of additional improvements in later sessions (period 2).
The above conclusions need to be taken cautiously because of the limited size of our sample, and should be confirmed in a larger study. Nevertheless, this study may represent a starting point toward designing novel robot therapy approaches and to expand the range of application of robots in neuromotor rehabilitation.
Declarations
Acknowledgements
This work is partly supported by the Italian Multiple Sclerosis Foundation (FISM) (R19/2004).
Authors' Affiliations
(1)
University of Genoa, Department of Informatics, Systems and Telecommunications, Genoa, Italy
(2)
Italian Institute of Technology, Genoa, Italy
(3)
Department of Neuroscience, Ophthalmology and Genetics, University of Genoa, Genoa, Italy
(4)
Department of Neurology, ASL3 Genovese, Genoa, Italy
Copyright
© Vergaro et al; licensee BioMed Central Ltd. 2010
This article is published under license to BioMed Central Ltd. This is an Open Access article distributed under the terms of the Creative Commons Attribution License (http://creativecommons.org/licenses/by/2.0), which permits unrestricted use, distribution, and reproduction in any medium, provided the original work is properly cited.