The SmartHand transradial prosthesis
Christian Cipriani

1

Email author

,

Marco Controzzi

1 and

Maria Chiara Carrozza

1
Journal of NeuroEngineering and Rehabilitation
2011
8:29
Received: 25 October 2010
Accepted: 22 May 2011
Published: 22 May 2011
Abstract
Background
Prosthetic components and control interfaces for upper limb amputees have barely changed in the past 40 years. Many transradial prostheses have been developed in the past, nonetheless most of them would be inappropriate if/when a large bandwidth human-machine interface for control and perception would be available, due to either their limited (or inexistent) sensorization or limited dexterity. SmartHand tackles this issue as is meant to be clinically experimented in amputees employing different neuro-interfaces, in order to investigate their effectiveness. This paper presents the design and on bench evaluation of the SmartHand.
Methods
SmartHand design was bio-inspired in terms of its physical appearance, kinematics, sensorization, and its multilevel control system. Underactuated fingers and differential mechanisms were designed and exploited in order to fit all mechatronic components in the size and weight of a natural human hand. Its sensory system was designed with the aim of delivering significant afferent information to the user through adequate interfaces.
Results
SmartHand is a five fingered self-contained robotic hand, with 16 degrees of freedom, actuated by 4 motors. It integrates a bio-inspired sensory system composed of 40 proprioceptive and exteroceptive sensors and a customized embedded controller both employed for implementing automatic grasp control and for potentially delivering sensory feedback to the amputee. It is able to perform everyday grasps, count and independently point the index. The weight (530 g) and speed (closing time: 1.5 seconds) are comparable to actual commercial prostheses. It is able to lift a 10 kg suitcase; slippage tests showed that within particular friction and geometric conditions the hand is able to stably grasp up to 3.6 kg cylindrical objects.
Conclusions
Due to its unique embedded features and human-size, the SmartHand holds the promise to be experimentally fitted on transradial amputees and employed as a bi-directional instrument for investigating -during realistic experiments- different interfaces, control and feedback strategies in neuro-engineering studies.
Keywords
Rubber Hand Illusion
Prosthetic Hand
Robotic Hand
Actuation Unit
Serial Peripheral Interface
Background
The hand is a powerful tool and its loss causes a severe psychological and physical drawback. Despite the significant impact of losing a hand, numbers of amputees requiring a prosthesis are too small to push manufacturers to innovate their products, so that both control interfaces and mechanisms have barely changed in the past 40 years [1]. The most technologically advanced prostheses are myoelectric ones: one or two degrees of freedom (DoFs) motorized hands (or hooks) are activated by antagonist residual muscle contractions where the electromyographic (EMG) signal is picked-up by surface electrodes in the prosthetic socket and processed to functionally open and close the hand (or pronate/supinate the wrist). These prosthetic hands, commercially available since the early 1970's and produced by different manufacturers (Otto Bock, Austria; RSL Steeper, UK; Motion Control, Utah; LTI, Massachusetts), are robust, weigh up to 600 g and are able to impart up to 100 N to objects due to their pincer-like shape. Low functionality, cosmesis and controllability have been considered as the main drawbacks for such devices [2] and surveys on their usage reveal that 30 to 50% of upper limb amputees do not use them regularly [3]. The lack of musculoskeletal and proprioceptive sensory feedback in myoelectric prostheses is one of the main reasons for their rejection [3]: a stump with intact sensory feedback fitted with a body-powered prosthesis (that transmits vibration and grasping force to the stump through the harness) is often more functional than a myoprosthesis with no purposely delivered sensory feedback [4]. Some of these drawbacks could be overcome by a product that recently entered the market. In July 2007 a Scotland based company, Touch Bionics, has launched a novel multi-articulated prosthesis: the i-LIMB hand. This is the first-to-market prosthesis with five individually-powered digits and a thumb abduction/adduction passive movement. Consequently the hand is capable of different grasping patterns, nevertheless it still uses a traditional two-input EMG system to simultaneously open and close all fingers. Over and above, no sensory feedback is delivered to the wearer.
The development of a more functional and naturally controlled prosthetic hand has been an active research field for decades and is still one of the big research challenges in rehabilitation, for which a tight collaboration between engineers, neuroscientists, medical doctors and patients is required. The most natural/intuitive control is one that is driven by neural signals tapped from the human central (CNS) or peripheral nervous system (PNS). In particular with the use of a neural interface directly connected to the PNS or CNS that is able to replace the sophisticated bidirectional link between the brain and the hand actuators and sensors, an advanced robotic limb might be able to put user intent into action and provide the user with perception of the hand itself by delivering sensory proprioceptive and exteroceptive information [5]. On this basis, the sensors to be endowed in advanced prosthetic hands should not be chosen and used just for closing automatic control loops (as in commercial devices), but also with the aim of delivering afferent information to the user through an adequate user-prosthesis interface (UPI).
One of the most challenging tasks in this field is certainly that of developing a dexterous intrinsic prosthetic hand, i.e. a hand that contains all its functional components (actuators, sensors, electronics, etc.), that can be used for patients after a distal transradial amputation. In the past decades several examples have been developed in research: the Sven hand, the Belgrade, the Southampton, the MARCUS, the TBM, the RTR II, the SPRING, the MANUS, the Ultralight hands in Forschungszentrum Karlsruhe, the Soft hand, the KNU hand [6–16]. Even if these prototypes differ in mechanisms, sensory equipment, performance and objectives, they all share the requirements of being low power, low weight, still allowing a number of prehension patterns useful in activities of daily living (ADLs). Such constraints were met by the use of different underactuated mechanisms (fundamental for reducing the number of actuators) and clutching systems (to save power once the grasp is stable): i.e. the two basic mechanical components in a prosthetic hand. All these intrinsic hands have been designed with the aim of being controlled by EMG surface electrodes or other intelligent control schemes [17], so that in most of them the sensorization is limited and mainly employed for the low-level control of the grasp. Even if some attempts to connect them to non-invasive feedback systems have been done, [18–20], most of these prototypes (with the exception of the Southampton-REMEDI hand, that contains sufficient active DoFs for different prehensile patterns, and an extended sensory system) would not be suitable if neurally interfaced with a large bandwidth link due to either their limited (or inexistent) sensorization or limited dexterity [21]. Other significant research even if related to extrinsic actuated hands to be used as research prostheses platforms include the CyberHand [5], the Yokoi hand [22], and Vanderbilt University prototypes [23, 24]. In August 2008, researchers and companies supported by DARPA Revolutionizing Prosthetics Program (RPP) 2009 [25] have presented preliminary results at the Myoelectric Controls/Powered Prosthetics Symposium (MEC) held in Fredericton, NB, Canada. In particular: the RPP intrinsic hand [26], and a prototype from the Rehabilitation Institute of Chicago [27] were presented. Later, in May 2010 new prototypes or products from manufacturers were firstly exhibited at the ISPO (Intl. Society on Prosthetics and Orthotics) world congress held in Leipzig, Germany: in particular the Ottobock Michelangelo hand, the RSL Steeper Bebionic hand, and the second release of i-Limb, namely Pulse, from Touch Bionics.
The goal of this work was to design and develop a new, lightweight, dexterous, sensorized prosthetic hand with intrinsic actuation, i.e. a self-contained, transradial prosthetic hand able to be fitted in subjects with an amputation level, long below the elbow. This hand is meant to be clinically experimented by amputees employing different levels of interfaces, in order to investigate the effectiveness of more natural and intuitive control and feedback strategies. Interfaces under investigation will range from non-invasive EMG control and sensory substitution systems (as in [28, 29]), to neural electrodes directly implanted into the PNS (as in [30]).
To this twofold aim a prototype with advanced integrated actuation and sensory features, compared to previous works and state of the art, was developed and successfully tested. This paper presents an overview of the design (partially covered in [21, 31] and [32]) and focuses on the experimental characterization and discussion of the prototype performance, which is the unique contribution of this work. It demonstrates that due to its advanced embedded features and human-size, the SmartHand could be experimentally fitted on transradial amputees and employed as a bi-directional instrument for investigating -during realistic experiments- different interfaces, control and feedback strategies. Therefore the development of this hand opens up promising possibilities for the development of intuitive UPI and upper limb prosthetics in general.
Requirements and Design Principles
In the design of a transradial prosthesis, the hand cannot be conceived to reproduce its human model where the hand is a non-separable part of the arm, deeply integrated with it (as in other designs like [
5
,
22
–
24
]), but must be considered like an independent, modular, self-contained end effector. Such requirement makes the robotic design a very challenging task that needs to be carefully addressed.
Functional
requirements for our design have been set according to interview results among the amputee community [
33
], and to the approximate percentage of utilization of the main grips in ADLs [
34
]. This hand should allow amputees to achieve:
1)

Power grasps (used in approximately 35% of the ADLs);

2)

3)

4)

Index pointing (useful for pressing buttons, etc.);

5)

Basic gestures (counting).
Biologically
(i.e. in terms of bio-inspired design), the prosthesis should attempt to compare with the human hand in terms of:
1)

anthropomorphism: i.e. size and weight (about 400 g), number and distribution of articulations, number and distribution of independently actuated DoFs;

2)

static and dynamic biomimetism [35];

3)

sensorization: types of sensors and distribution [2];

4)

performance: speed (whole hand closing in less than 2 seconds) and grasping force (able to stably handle everyday objects).
The lack of high power density actuators yielded to design a device strongly based on underactuated and differential mechanisms. Figure
1A
presents such architecture: there are 16 DoFs (three for each finger, plus one for the thumb abduction/adduction axis) and only 4 motors (i.e. 4 degrees of actuation, DoAs) that actuate five underactuated fingers based on Hirose's soft finger [
36
]. These are flexed just by a single tendon, and extended by torsional springs housed in the joints (as in the RTR II, and the CyberHand); their inherent differential mechanism allows all phalanxes to get in touch with the grasped object, allowing therefore, multi-contact stable grips. Fingers are operated using nylon coated steel tendons, pulleys and steel Bowden cables by 4 non-back-drivable actuation units based on DC motors located inside the palm. Thumb and index flexion/extension are independently actuated (by M1 and M2 in Figure
1A
), whereas the middle, ring, and the little fingers are joined together (actuated by M3) by means of an adaptive grasping mechanism (AGM). The fourth motor (M4) is used for the thumb abduction/adduction movement, allowing different prehension patterns useful in everyday life. An actuation distribution like this one allows the hand to fulfil the functional requirements previously stated.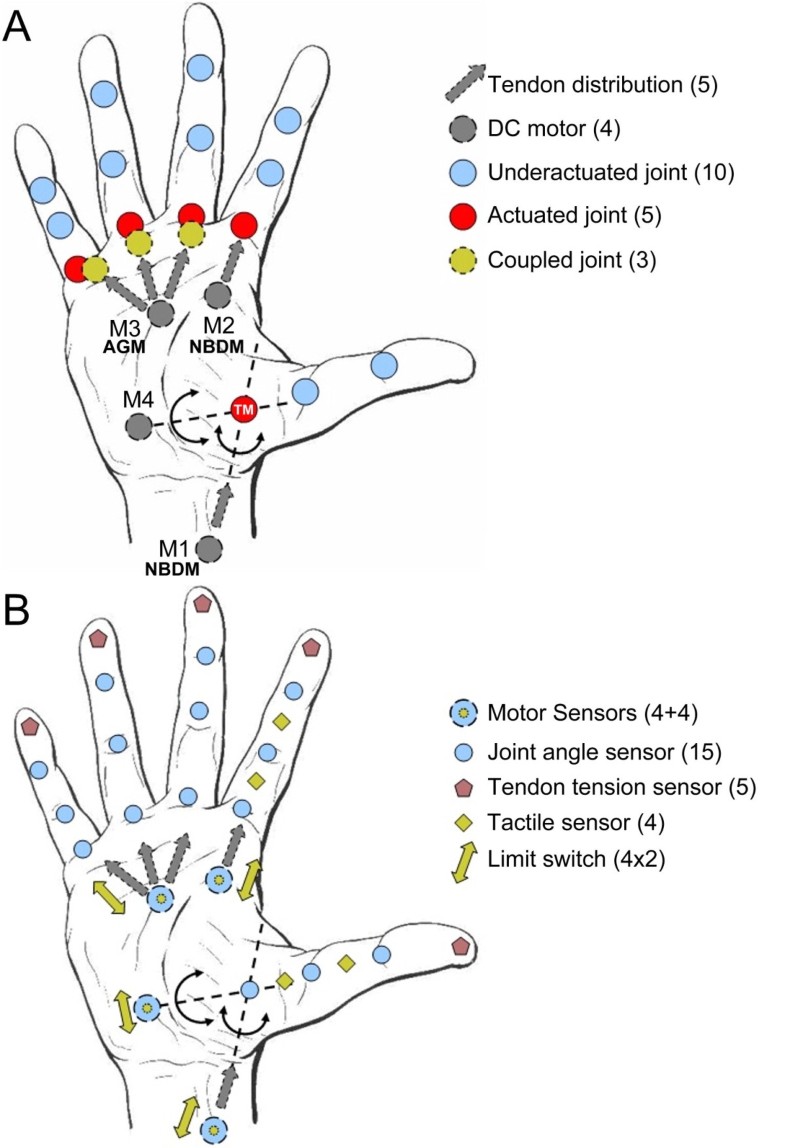 The hand sensory system is designed to be used both for the automatic control of the grasp (action) and for delivering sensory information to the user (perception) by means of UPIs with different degrees of invasiveness. In fact, recent studies have preliminarily shown the possibility of delivering force and position afferent information directly to the PNS, by means of an implanted neural interface [30, 37], or touch, pressure and temperature sensations by employing a non-invasive sensory feedback system to redirected parts of the body after targeted reinnervation procedure [38]. More recently it has been shown how amputees can be made to experience a rubber hand as part of their own body by simply tricking their brain using the so-called rubber hand illusion[39]; a simple method based on a prosthesis equipped with tactile sensors for transferring sensations from the stump to the prosthesis was then outlined. Based on the reported studies, a sensor set that provides three different types of information, namely, position, tactile/pressure and force, was chosen. The spatial distribution of sensors in the hand (shown in Figure 1B) is similar to the natural concentration: higher on the independently actuated thumb and index fingers [40]. There are 32 proprioceptive and exteroceptive sensors based on traditional technologies embedded in the hand: 15 Hall effect-based angle sensors (integrated in all the finger joints), 5 strain gauge based tendon tension sensors (as in [5]) integrated in the fingertips (thus measuring the grasping force of each finger), 4 current sensors (one for each motor) and 4 optical tactile/pressure analog sensors (based on [41]) in the intermediate and proximal phalanxes of the thumb and index. Actuation units are also equipped with position sensors (either a resistive potentiometer or a digital encoder, measuring the released tendon length) and pairs of digital proximity sensors acting as limit switches (avoiding mechanical collisions). A detailed presentation of the SmartHand sensory system features is presented in [21].
Robotic Hand Design
The hand is composed of a number of elements containing mechanisms, sensors and necessary electronics. Specifically it consists of: (i) 5 underactuated fingers, (ii) 2 capstan-based actuators driving the thumb and index flexion/extension (connected to M1 and M2), (iii) 1 adaptive grasping mechanism driving the middle-ring-little fingers (AGM connected with M3), and (iv) the thumb abduction/adduction mechanism (on M4). Each part is presented in detail in the following sub-sections.
Performance Analysis
Pictures of the SmartHand are presented in Figure 6, where a qualitative comparison with a traditional prosthesis and with the healthy hand of a transradial amputee are shown (a detailed comparison of the SmartHand with other research and commercial hands is presented in [21]). The weight of this hand is close to the natural hand weight and comparable to actual commercial prostheses: 530 g. This does not include the standard wrist attachment (145 g) and batteries (that are usually hosted in the prosthetic socket proximally to the residual limb). Performance with relation to the prosthesis requirements listed in the Requirements and Design Principles section and to practical usage have been evaluated. This comprehensive list of measured features includes: (i) finger dynamics, (ii) speed, (iii) grasping capabilities, (iii) grasping force, (iv) degree of adaptability, (v) supporting grasp capabilities and (vi) power consumption.
Discussion
The effective usability in domestic environments of innovative brain machine interfaces for prostheses control may be better evaluated (both functionally and cognitively) with tools that allow the user to interact with the environment itself rather than using virtual reality scenarios. To this aim, duplicating the complexity of the entire range of movements of the hand is hard enough provided infinite weight and size, but it needs to be accomplished within a slender morphology, replicating the look and the weight of the human hand. The Anatomically Correct Testbed (ACT) [47] and the commercially available Shadow robot hand[48], with their bulky actuation/control units, represent clear examples of such problem. In the constrained volume imposed by the biological model, trade-offs for approximating the natural hand are therefore mandatory. Several self-contained robotic prosthetic hands suitable for a transradial level of amputation have been developed up to now, nonetheless all of them would be rather inappropriate if/when a large bandwidth bi-directional link for control and perception would be available. Therefore, a successful integration of commercial components and state of the art techniques into a working anthropomorphic robotic hand still nowadays represents an open-problem in upper limb prosthetic research. The novelty of this prosthesis compared to previous prototypes and previous authors' work, is that it embeds in 530 g human-sized palm and fingers: (i) a set of non-back-drivable actuators allowing 85% ADLs grips, (ii) a sensory system comprising sensorial information perceivable by the patients using state of the art invasive or non-invasive interfaces [30, 37–39], (iii) a low-power flexible controller able to drive actions and communicate in real time with external brain-machine interfaces. These combined features make the SmartHand prototype a unique robot/instrument for motor control and sensory feedback neuroscientific experiments with upper limb amputees.
Some aspects of the hand may be further discussed. Globally, the achieved mechanical, speed, and grip-power performance are considered satisfactory for the purposes under investigation. The maximum speed for example (closing time 1.5 s), is sufficiently high that patients would need significant training -aided by visual input- for matching the reaching movements of their limbs to the robotic hand speed. The 10 kg suitcase lifted by the hand, represents an interesting figure that robot hand designers should aim to. Regarding the grasping force, the hand was able to stably grasp objects without slippage; however while a 3.6 kg seems to be a sufficiently heavy object to maintain in a power grip prehensile form, an 800 g lateral grip could be inadequate for daily living activities (e.g. in the task of turning a key in a lock). Without replacing the actuation unit, such value may be improved by changing the mechanical architecture of the thumb from Hirose's configuration to a fixed kinematics scheme (as e.g. the Southampton hand finger). Regarding this point, it is important to underline that grasp stability strongly depends also on friction and compliance between materials, therefore, the use of a cosmetic glove would probably improve it. Regarding the weight (530 g) although similar to other multi-fingered commercial and research prostheses, it might become too heavy for the operator, especially once writs, batteries and cosmetic glove are added. The hand would be worn by the operator on the end of a closely fitting external socket (as shown in Figure 6), hence the weight would bear directly onto the skin of the stump. Since the lever-arm created is large the weight can obstruct blood flow in the underlying skin resulting in symptoms ranging from discomfort, to skin breakdown. Additionally heavy prostheses may cause damages to the wearer like elbow and shoulder overuse, rotary cuff problems, neck and back pain. For such reasons, if a more robust version of the SmartHand will be reengineered in the future, significant efforts should be spent to reduce its weight.
In the authors' opinion, robotic researchers should move towards the development of highly dexterous devices not only able to perform actions, but also ready to provide perception by means of a comprehensive artificial sensory system, in order to match the interface requirements and limits. Among the sensory sensations that may be transferred to the amputee by means of an adequate interface, joint position, touch and force sensors are included whereas only the temperature is not. Slippage and palm sensors are not included either but could be embedded in future versions of the hand. Even if currently there is no viable means to transfer all this afferent information to the amputee, guidelines for doing so have been traced [49], and novel -potentially revolutionizing- interfaces are nowadays currently being investigated [30, 37, 38]. To avoid the situation where the limiting component of the system is the artificial hand, whenever a novel large bandwidth interface will be ready for chronic clinical implantation, robotic research should be already prepared. It is also clear that for a robot, reliability depends on the number of moving parts and wires of the system, therefore a suitable compromise should be found based on the effective amount of information that can travel through the interface.
Conclusions
The authors have presented the design and the performance evaluation of a 16 DoFs self-contained robotic hand to be used as a research tool for neuro-controlled upper limb prosthetics. Motion is generated by 4 brushed DC motors and transmitted to five underactuated fingers by means of non-back-drivable and differential mechanisms. Its actuation distribution allows the hand both to stably perform fundamental grips useful in activities of daily living, to independently point the index and counting. The fingers contain a total of 32 force, position and tactile sensors, and the hand hosts an internal control architecture able to plan grasps and to exchange with the external world proprioceptive and exteroceptive sensory signals. The weight is close to the natural hand weight and comparable to actual commercial prostheses (hand 530 g plus 145 g for the standard wrist attachment). Speed is comparable to commercial prostheses and slippage tests have shown that the hand is able to stably grasp with a cylindrical prehensile pattern and certain friction and geometric conditions up to 3.6 kg objects, nevertheless it is able to lift a 10 kg suitcase.
Future work will address the development of a cosmetic, protective glove in order to improve the aesthetic and grip of the hand. Functionalities will be tested in experimental sessions by amputees using UPIs with different levels of invasiveness, while the long term objective is to connect the hand directly to the human nervous system by means of neural electrodes in order to investigate the effectiveness of establishing an intuitive, bidirectional flow of information between the nervous system of the amputee and the robotic hand.
Declarations
Acknowledgements
Authors would like to thank N. Funaro, A. Persichetti, C. Filippeschi, R. Lazzarini, R. Di Leonardo, A. Melani, F. Þorsteinsson, A. Halldorsdottir, and S. P. Murdoch, for their precious help. This work was supported by the SMARTHAND project (NMP4-CT#2006-33423).
Authors' Affiliations
(1)
Physical Medicine and Rehabilitation, The BioRobotics Institute, Scuola Superiore Sant'Anna, Rome, Italy
Copyright
© Cipriani et al; licensee BioMed Central Ltd. 2011
This article is published under license to BioMed Central Ltd. This is an Open Access article distributed under the terms of the Creative Commons Attribution License (http://creativecommons.org/licenses/by/2.0), which permits unrestricted use, distribution, and reproduction in any medium, provided the original work is properly cited.